Ken Jennings' NSFW Joke Delights Fans Amid 'Jeopardy!' Return
Ken Jennings marked his return to Jeopardy! with a somewhat blue quip, and now fans are urging producers to make him the full-time host.
During the "Double Jeopardy!" round, Jennings read a clue for the category "Active Bible Verses." He said: "Since no one had done this for 40 years, God told Joshua to get a knife and do this to male Israelites."
Fourth grade teacher Erica Weiner-Amanchi, from Philadelphia, Pennsylvania, was the first to buzz in.
"What is: circumcise," she guessed correctly. The 48-year-old former contestant then gave a cheeky, off-the-cuff response: "That is correct. A painful $2,000 for you!"
Several social media users quickly reacted to the remark, with many hoping he would permanently replace beloved presenter Alex Trebek, who hosted the popular syndicated quiz show for 37 seasons.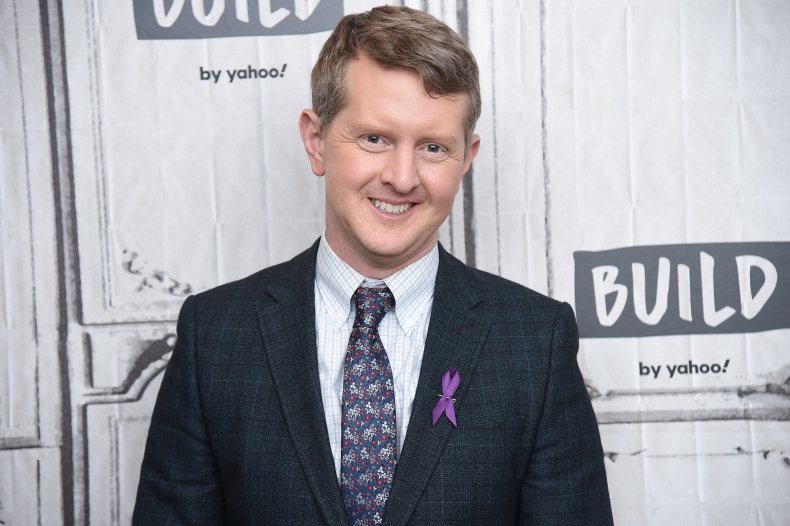 "Ken Jennings just made a circumcision joke on Jeopardy!, make him the official host already," Men's Health culture editor Evan Romano urged on Twitter. "Probably just a coincidence, but @KenJennings is back one night and 'shuttlecock,' 'circumcision' and 'bush' are all Jeopardy! answers #WhatIsFreudian," writer and photojournalist Gregory Anderson joked via his own verified account.
Other fans got in on the commenting as well, with one writing: "'A painful $2,000 dollars for you,' @KenJennings continuing to be one of my favorite humans ever. @Jeopardy has the easiest decision in their hands." A second said, "'A painful $2,000 for you.' Thank you. Welcome back. You were missed."
Jennings returned to the stage on Monday, after last appearing on Jeopardy! in May. "I'm handing the keys back to the talented actor-producer-writer-director (!) @missmayim for a few months," he tweeted to his nearly 500,000 followers. "We are lucky to have her! Thanks for watching, and I'll be back before the end of the season."
The game show is still searching for a full-time host following Trebek's death from pancreatic cancer in November 2020. Jennings and The Big Bang Theory actress Mayim Bialik have shared hosting duties for season 38, which wraps in less than two weeks on July 31.
In April, Bialik, 46, told Newsweek that while she's enjoyed her experience thus far, she's struggled with the criticism she's received online.
"It's been unbelievable," she said. "It's an unbelievable turn of events in my life and career to have this opportunity. But yes, I did not know the depth of in particular the social media presence of people who are so passionate about Jeopardy!"
Initially, now former executive producer Mike Richards landed the position as host, with Bialik hosting a spin-off series of the franchise. However, just over a week later, Richards stepped down from his duties after offensive comments he made on a podcast resurfaced.
Although it is not yet known when an announcement will be made about the role, current executive producer Michael Davies told Variety in June that fans can expect to hear something "very, very soon."
"But with all of our plans for Jeopardy!—which is more Jeopardy!, not less, more versions—we're going to need multiple hosts to represent the entire audience, to represent the entire country, in order to take this franchise forward."
He added: "Mayim and Ken have done [an] incredible job hosting."