Jaylen Brown's cautious approach with Celtics is realistic move

Celtics
Woj explains why he thinks Brown is a taking a "realistic" approach to the situation.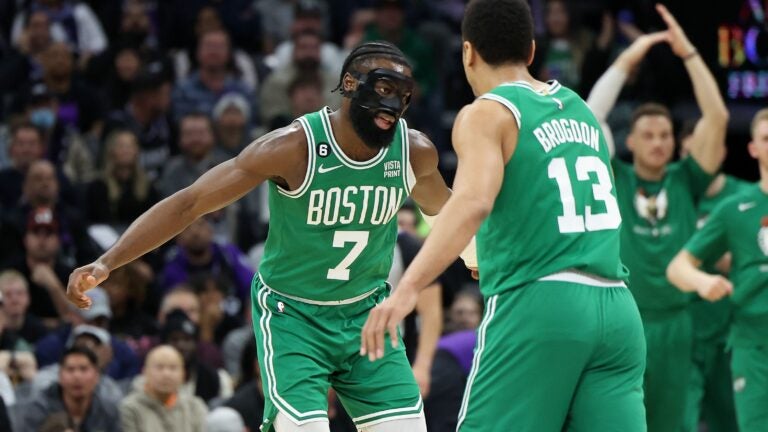 Jaylen Brown took a cautious, non-committal approach to questions about his future in Boston during an interview with the Ringer which was published this week.
He didn't say that he's planning to stay long term. He also didn't say that he's leaving. His contract doesn't expire until the summer after the 2024 season. He's most likely here at least until then.
His overall message about the upcoming decision was: "we'll get there when we get there."
Part of the reasoning behind this approach, Brown explained, is that he didn't want Celtics fans to "speculate" and "go crazy."
Boston fans tend to be knowledgeable and passionate. Many also tend to love rumors, hot takes, and worrying about situations before they actually happen.
So, Brown reminded folks that they're concerned about a decision that's more than a year away.
But, is that worry justified?
ESPN's Adrian Wojnarowski said on ESPN's "Get Up!" Wednesday morning that he didn't think the comments were worth much of an overreaction.
"He is a thoughtful individual," Wojnarowski said. "Not every player is going to give up his leverage when he talks about it publicly. I didn't think the comment was that incendiary. I thought he left it open-ended."
There are plenty of reasons for Brown to leave such a question open-ended.
Some of the reasons that would be bad for Celtics fans include:
— He's admitted that there's some distrust between him and the Celtics, and said he had to get Brad Stevens and Jayson Tatum on the phone together to confirm that he wasn't being traded for Kevin Durant.
— He has issues with a segment of the fanbase which he considers "extremely toxic."
— He probably the kind of leverage that could land him elsewhere if that's what he really wants, so it would make sense if he decides to test that.
Some of the reasons that could be good signs for Celtics fans are:
— Boston can pay him more than any other team with a supermax extension, and these kinds of decisions often come down to the money.
— He's in a position to legitimately contend for a NBA titles for a long time here, which can only be said about a few places.
— He's been in Boston for seven years, has never played anywhere else, and even though he and the Celtics may have some trust issues, Brown seems open to listening and keeping his options open.
 "As much as we like it here and enjoy being here, you see where life takes you," Brown told the Ringer. "You see how the process goes. All you do is really focus on what's in front of you right now, to be honest."
Kyrie Irving, a friend and former teammate of Brown, once said that he'd like to return to Boston if the Celtics faithful would have him. Then he left to team up with Kevin Durant in Brooklyn. Many Celtics fans still haven't forgiven him for it.
Earlier this month, Darius Slay, a Pro Bowl cornerback with the Philadelphia Eagles, tweeted: "Nothing but love Philly!! Lets see where we heading next." Two days later, he re-signed with the Eagles and tweeted that he was back like he never left.
A lot can happen in a year. Brown said he doesn't know what his decision will be at the moment. He hasn't tipped off his contract year yet. The book hasn't even been closed on this season.
Brown said he wants to see how it all plays out.
"Boston knows," Wojnarowski said. "With Jaylen Brown and with Jayson Tatum, you have to treat every year as though it's your best chance to win one and to win another. Because as talented as Boston is, probably the deepest roster in the league, this is a year-to-year proposition in the NBA."
Sign up for Celtics updates🏀
Get breaking news and analysis delivered to your inbox during basketball season.