Jaylen Brown, Celtics say lucrative deal 'made sense for everybody'

Celtics
Jaylen Brown just received the most expensive deal ever given to an NBA player. To the Celtics, he's worth every penny of it.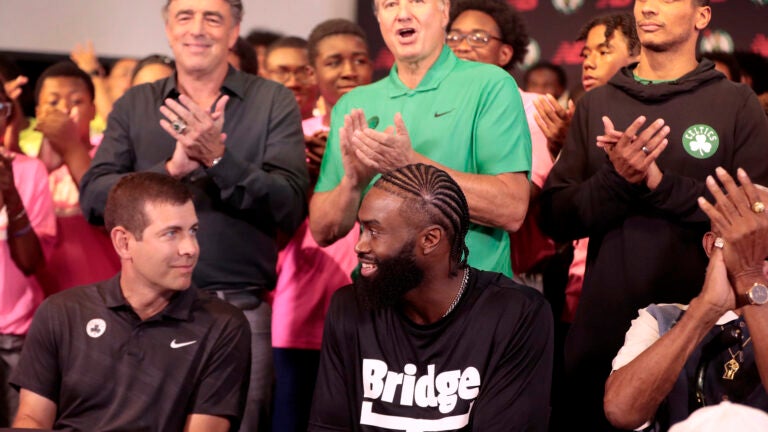 The Boston Celtics took a risk in the 2016 NBA Draft. The kid from Atlanta they selected third overall was deemed a project at the University of California, complete with shot selection issues and the propensity to get into foul trouble. But he got better and better up to this past year, when Jaylen Brown was named to his first-ever All-NBA team.
On Sunday, Brown agreed to sign the richest contract in NBA history with the team who first took that chance on him.
"He's a key," Celtics owner Wyc Grousbeck said of Brown. "Jaylen stood tall for seven years here, improving, to my mind, every single year with hard work and with true talent and intensity."
The hard work paid off, as many packed the sixth floor of MIT's Media Lab Wednesday to watch Brown sign his lucrative extension. But the room wasn't just filled with media members. Members of Brown's 7uice Foundation came to watch this monumental moment, a gesture that Brown couldn't be any more thankful for.
"You guys represent the next generation," Brown said to his students, "you represent the future. And everything I do is to try and make this world a better place. So thank you all for being in attendance, thank you all for being up here."
The media lab was a new building for most of the media members in attendance. But it's where Brown has spent most of his summer. It's where he regularly meets with students in his 7uice Foundation's Bridge Program, which helps give STEM-related education to underrepresented minority high schoolers who wouldn't have that opportunity otherwise. It was also where he was when his new contract was finalized.
 To Brown, there was no better place to announce this extension.
"What more beautiful place [is there] than to be in an environment with youth?" Brown asked. "To be in an environment for learning that's supposed to be cutting edge and make the world a better place?"
Brown said that everything he does is to make the world a better place. It's why he works as hard on the court as he does. Celtics president Brad Stevens lauded the work Brown has put in since his rookie year to improve as a player and how it reflects who Brown is as a man.
"From the moment Jaylen got here, it's been about growing, it's been about getting better, it's about tackling every challenge," Stevens said. "I think that's a great separator when you're talking about a player, when you're talking about a teammate, when you're talking about a person that you want to be associated with, and you want to have a long-term relationship with."
The Celtics wanted a long-term relationship with Brown no matter the cost, and Brown agreed. Brown said that the extension negotiations were smooth throughout the entire process, and that both parties understood each other well enough to get a deal done.
"From my standpoint," Brown said, "[The Celtics] understood where I came from, they understood where we came from and it was all about meeting in a place where it made sense for everybody."
Both parties were happy to extend Brown. But any player earning as much money as he does will undergo intense scrutiny and criticism whenever he touches the court. Brown said that pressure only inspires him to work even harder.
"I don't shy away from pressure," Brown said. "I know what the expectation level is required and I know the work that is required. Everything about me is about work. So I look at it as another challenge to get better. Another challenge to improve on things."
Brown has gotten better. He is a two-time NBA All-Star and a reigning member of the All-NBA Second Team. But he believes that he can get even better and will do everything in his power to do so.
"Nobody has seen my best yet," Brown said. "And so God willing, I'll be able to put my best foot forward and do what I do best." 
From his talent on the court to his service off of it, Celtics leadership says there's a reason Brown is now the wealthiest man in NBA history.
"He's a true Celtic," Grousbeck said. "He's a Celtic for years to come."
Sign up for Celtics updates🏀
Get breaking news and analysis delivered to your inbox during basketball season.