Jay-Z Says Beyoncé Should've Won Grammys Album Of The Year
Her own husband Jay-Z said as much during a pre-ceremony interview with Tidal published Monday. The legendary rapper told journalist Elliott Wilson that "Renaissance," Beyoncé's critically acclaimed hit, should take the honor. Harry Styles' record actually won the Grammys crown.
"The truth is, we grew up wanting to be on the Grammys, and it was our goal," said Jay-Z. "We just want them to get it right. That's what we want … Even with Bey, I felt like they missed the moment. Not just 'Lemonade,' [but] when Beck won over her. I was like, 'Oh, y'all missed it.'"
"Look what it's done to the culture," Jay-Z told Wilson of "Renaissance." "Look how the energy of the world moved. They play her whole album in the club. I don't know if I've ever seen that. The whole entire joint — like, everything? Every remix is amazing. Everyone's inspired. It has inspired the world."
Jay-Z said an album that "just inspires creativity" ultimately "has to be album of the year."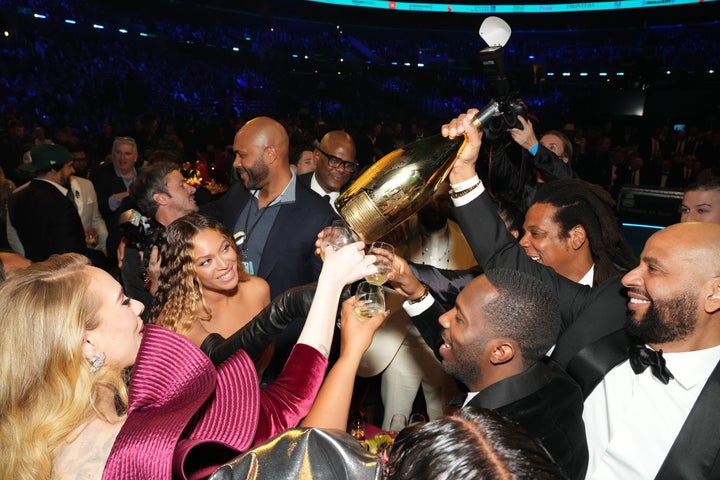 "I think on nights like tonight it's important for us to remember there is no such thing as 'best' in music," said Styles in Sunday's acceptance speech. "This doesn't happen to people like me very often and this is so, so nice."
"Obviously it's just music and it's all subjective, but you got to be in the ballpark," Jay-Z told Tidal. "We grew up watching Michael Jackson and Stevie Wonder. Stevie Wonder won three out of four years in a row. Come on, man. They got that shit right. … It was no politics."
Jay-Z, who performed the DJ Khaled hit "God Did" at the ceremony — and rapped his entire four-minute verse while seated at what appeared to be a recreation of Leonardo da Vinci's "Last Supper" — said he still had a great time at Sunday's show.
"I probably won some joints I shouldn't have won and I probably lost some joints I should've won," he told Wilson. "That's the way it goes. So I actually had a party. I had a great time staying out until 6 in the morning."