'Huge' Taylor Swift fan Mike Gesicki reveals his go-to song

Patriots
Gesicki attended Swift's concert at Gillette Stadium, one of the many ways he's been adapting to New England.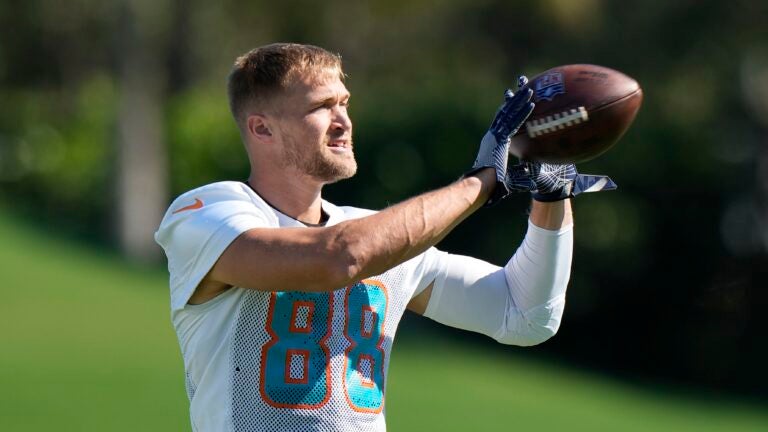 When Taylor Swift was in town a few weeks ago, Patriots tight-end Mike Gesicki took some time to catch one of her shows at Gillette Stadium.
He's a "huge" fan of Swift, he said, and his favorite song that she performed was "Enchanted."
"That's my go-to," Gesicki said of the song. "I was fired up when that came on."
Hanging out at the Swift concert is just one of the ways the 6-foot-6-inch, 250-pound pass catcher has spent time as he's gotten used to New England.
Gesicki spent time during the offseason staying at Mac Jones's house and working out with the quarterback.
"Mac is awesome. That's my guy," Gesicki said. "He's been incredible as a leader. He's been great out there physically throwing the ball with timing, and throwing a very catchable ball, all that kind of stuff. He likes to have fun. It's been a cool offseason for us trying to gel and get on the same page."
The former Miami Dolphin described his transition to the Patriots as "smooth." The 27-year-old tight-end signed a one-year deal with the Patriots in March worth up to $9 million.
"Obviously, coach Belichick has been doing this for longer than I've been alive," Gesicki said. "He obviously has his rhyme and reason on why he does what he does, and it's extremely successful, so you just fall into place with that. Coach [Bill] O'Brien has been awesome, with his staff and Will [Lawings] the tight end coach. Everybody has been great to deal with, I've really got no complaints."
Gesicki is listed as a tight end, but he's more of a big receiver, Belichick explained in March. His production got slashed dramatically last season with 32 catches on 52 targets for 362 yards while playing in all 17 games. The year prior, in 2021, he recorded 73 catches on 112 targets for 180 yards.
Still, with his combination of size, athleticism, and pass-catching ability, the Patriots hope he'll be able to contribute. He's struggled as a blocker in the past, but acknowledged that it's part of the tight end position and something he has to work on.
"I think right now, in terms of the tight end position, there's a lot and you have to be able to do both," Gesicki said. "Without getting into all the specifics, just like any other tight end you've got to be able to do both. I think I've been doing that."
Gesicki said he enjoys playing for offensive coordinator Bill O'Brien, who recruited him to Penn State years ago.
"It's been awesome," Gesicki said. "Coach O'Brien has done a really good job of coming in here and bringing everybody along with him. Everybody has kind of bought into how he coaches. He's got a lot of energy. It's been really cool to see that first hand be a part of it, and the guys are excited to come out here each and every day."
Sign up for Patriots updates🏈
Get breaking news and analysis delivered to your inbox during football season.