How Volodymyr Zelensky Used Sean Penn's Star Power to Win U.S. Support
There's a moment in Sean Penn's documentary, Superpower, about Ukrainian President Volodymyr Zelensky, in which the actor gets to interview the leader, just hours after Russia's invasion.
The scene illustrates Zelensky's savviness when it comes to using his appeal with Hollywood celebrities—and his natural charisma—to win the public's hearts and minds.
"Zelensky's savviness has helped garner support for Ukraine and create public pressure on allied governments to provide weapons, funding and technical expertise," Kelli Matthews, a senior instructor in public relations at the University of Oregon, told Newsweek.
"His public persona is authentic, empathetic, fierce and patriotic. Those values come through and allow him to connect with people."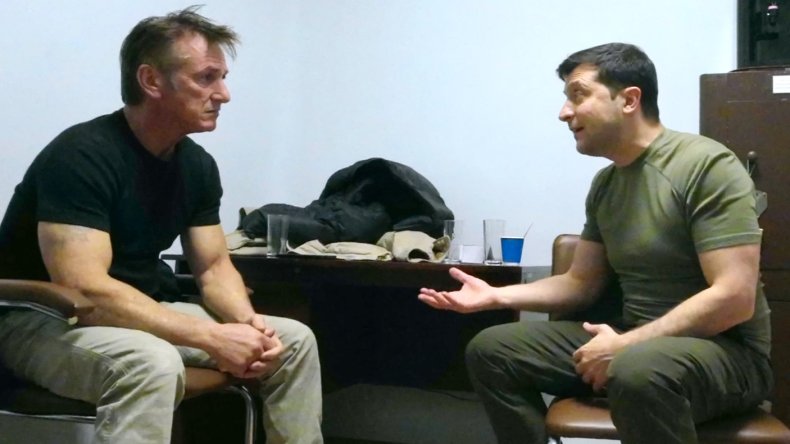 That's evident in Superpower. Penn and his pal Aaron Kaufman originally set off to the Eastern European country to make a documentary for Vice about Zelensky's rise from TV comedian to president of Ukraine when, on February 24, 2022, Russia began its war efforts against its neighbor.
Their original plans to make a light-hearted film were thrown out the window and became a story of the Ukrainian people's resilience, led by a fearless president.
Penn and his team knew they had to get out of not only the capital, Kyiv, but also Ukraine once Russia invaded, but not before speaking to Zelensky.
A scene in Superpower shows Penn and the film crew waiting in a cramped, windowless room for hours, not sure if Zelensky will grant them any time for the interview, considering the circumstances.
Zelensky's chief of staff, Andrii Borysovych Yermak, comes in with an update and explains to Penn why they have agreed to the interview.
"It's necessary that somebody explain to [U.S. President Joe] Biden that now all of the world is looking to him," he says.
After a long wait, Zelensky enters the room dressed in army khakis and it becomes clear that speaking to someone as high profile as Penn is critical to his war efforts as much as sending troops to the frontline.
During the chat, Zelensky pleads to Penn and often looks over to the camera, knowing he has to convince his ally's general public that Ukraine's cause is worthy, as much as its leaders.
"It's great, great that you are here. It's very important now, all the support….Americans have to hear," Zelensky explains.
After the meeting, convinced by Zelensky's message, Penn goes on a media blitz tour on behalf of his new friend. The liberal actor even appears on Fox News to chat with his political nemesis, Sean Hannity. Both acknowledge that they've put aside their differences to speak about Zelensky.
"I met him face to face for the first time the day before the invasion, and then spent time with him, which we document in the film, during the invasion, on the day of the invasion," Penn says of Zelensky. "I don't know that there's a person on Earth who could know that they were born for such a day that they could rise to it. In him, I saw something that I've never seen before in my lifetime."
While Penn concedes that he and Hannity will never agree on politics during the interview, he notes that they share a concern for the Ukrainian people.
"You and I can argue all day, but I look at you and I think you believe in this country in your way, I believe in it in mine," Penn says. "When you step into a country of such incredible unity, you realize what we've all been missing."
Even Hannity seems moved by Penn's passion—and, by extension, Zelensky's. Hannity's next guest, former House Speaker Newt Gingrich, remarks to the host afterward: "That may have been one of the most impactful and amazing interviews of your entire career."
Penn meets with the president several more times, even gifting him one of his Best Actor Oscars. And Zelensky makes clear in the interviews how much he admires the U.S. and its promise of freedom, telling Penn about his first visit to the U.S. in 1997, when he visited New York, Los Angeles and Boston.
"I wanted very much to go to the country where freedom [is], to find it, to have this feeling," Zelensky tells Penn. "Ukraine has so long time wanted to be free, and Ukrainians didn't understand—me also—we didn't understand that we have to pay for it. And we didn't understand the high price of it. This understanding of freedom came with the war, with the fighting for this freedom.
"For Americans to understand what is going on here, and to understand the price, they can feel it only if they will be [in] the war, and I don't want them to fight in the war; they've had already many different wars….If we will not win now, Americans will fight, in some years, with this enemy. Can tyranny win, or not? What will be the end of this war? If I fight, I should win. Because if you are not ready to win, don't fight."
But Penn's not the only Hollywood star keen to get close to Zelensky, or the only celebrity the Ukrainian president has leveraged to publicize the war.
Some other stars to visit Kyiv have included Jessica Chastain, Angelina Jolie, Ben Stiller, rock band U2, Liev Schreiber, David Letterman and Orlando Bloom.
Even Star Wars actor Mark Hamill has lent a hand to Ukraine's efforts after being asked to do so by the government. He raffled off autographed posters to help raise funds for RQ-35 Heidrun drones. Hamill even recorded an air raid message featuring the iconic Star Wars phrase, "may the force be with you."
"When my business people said President Zelensky contacted us, I said, 'make sure it's not something pranking me,'" Hamill said in February on the U.K. show Good Morning Britain. "I don't get contacted by world leaders, hello?
"So when he asked me to do what he wanted me to do, I didn't have to think about it for a second, of course. He asked me to be the ambassador to the army of drones; they protect the people."
Ukraine's president has leaned into his background as an actor to make a plea for help to A-listers on some of the biggest stages in the world, appearing via satellite at a number of major Hollywood events, including the Grammy and Golden Globe awards—where Penn introduced him. He also appealed for support from the public and allied governments at the Cannes and Berlin film festivals.
"Zelensky has demonstrated his media savviness throughout the war not only with his willingness to talk to traditional media and participate in projects like Superpower, but in his own use of social media for telling a real-time story of what's happening on the ground in his country," Matthews explained.
Zelensky's comfort with the media "is likely a combination of learned skill and instinct," according to Matthews, who added that while his TV career helped him develop that instinct, he has an "authenticity and empathy which feel very real."
"That's not likely a learned skill," Matthews said.
While Zelensky relies on his celebrity pals to bolster his war efforts, the relationship is a two-way street.
"As Volodymyr Zelensky comes from the world of celebrity in his own right, the kinship with respected entertainers helps him look Western and popular, hence, we all want to be on his side of this," Juda Engelmayer, the CEO of New York-based public relations firm HeraldPR, told Newsweek in March.
"It is all perception and theatrics, and it works. For the actor himself or herself, it could satisfy a yearning to be a thoughtful leader on issues, like Sean Penn, but it also helps make them marketable for big speaking engagements, and acting roles by studios who think that the ideologies of the activist actors will bring more box office/streaming consumers and the like. It can make someone more relevant and help the actor earn more roles and/or commercial placements."
Superpower is now available to stream on Paramount+.