Historian Likens Florida Book Bans Under Ron DeSantis To Communism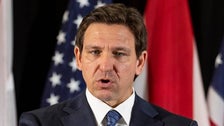 Timothy D. Snyder, a history professor at Yale University, argued Wednesday that efforts to ban books under Florida Gov. Ron DeSantis (R) are reminiscent of communism.
"When I look at Florida, I have to say what I think about is communism," Snyder said during an interview about threats to democracy. "The book bans and the public gatherings and the singling out of authors and the denunciations."
"It's funny, all this stuff is supposed to be anti-communist but as a historian of communism, that reminds me of some of the basic things that were wrong about communism," he continued. "Those denunciations and the book bannings and getting people all rallied up about authors who are supposedly contaminating other people."
DeSantis, a likely 2024 presidential candidate, and his allies have targeted education they claim is harmful to children ― including the acknowledgment of LGBTQ+ people, racism and other topics.
The governor signed a bill last year that grants parents access to lists of books used in schools and allows them to object to materials they don't want their children to use in the classroom.
Earlier this month, Literary group PEN America slammed DeSantis' claims that only "pornographic and inappropriate" materials have been pulled from classrooms and pointed to 565 books banned in Florida classrooms in the 2021-22 school year.
You can watch Snyder's interview with MSNBC host Ali Velshi below.