Herschel Walker Says Trump Has Done More for African Americans Than Obama
Senate hopeful Herschel Walker recently said former President Donald Trump has done more for the African American community "than the last four presidents put together," as early voting for Georgia's Senate race gets under way.
In September, Trump gave the former football star his endorsement in what is looking like a tight race against Democratic Senator Raphael Warnock in December 6's runoff election.
Georgia law requires candidates to receive at least 50 percent of the vote to win an election, and neither Warnock nor Walker did so during the November 8 midterms. Warnock won about 49.4 percentage points, while Walker won about 48.5 percent of the vote, with libertarian Chase Oliver winning the remainder vote.
Walker told the conservative network Real America's Voice that he was "very honored" to get the former president's endorsement whom he praised for his contribution to the African American community.
"It's sad that our media have tried to say that this president didn't do anything for the African-American community when yet he did more for the African American community than the last four presidents put together," Walker said, referring to a list of White House occupants dating back to Bill Clinton and Barack Obama. "He gave a lot of opportunities to a lot of the African American community, not just to the African American community but to the whole of the United States."
Questions were raised about Walker's candidacy after it was reported that he had been claiming a "principal residence" tax exemption for a property in Texas, despite registering to vote in Georgia.
CNN reported that tax records showed Walker received a homestead tax exemption this year for a house in Dallas, which saved him around $1,500 by declaring the property his "primary residence," something he has done since 2012.
The Constitution requires Senate candidates to live in the state they are running for office in.
Newsweek has contacted the Walker campaign for comment.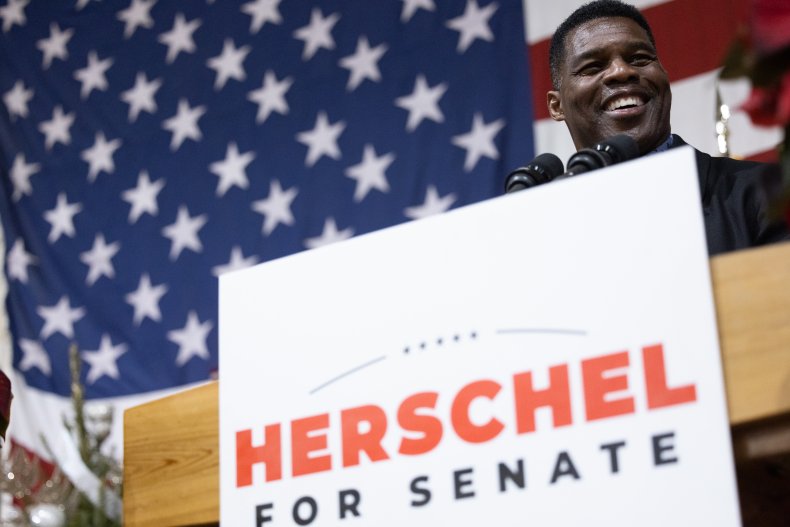 Walker's Chances of Beating Warnock in Georgia Runoff
Unlike last year's runoffs, control of the Senate is not on the line, with Democrats having won 50 seats already and Vice President Kamala Harris giving the party a tie-breaking vote.
However, the stakes remain high because a Warnock victory would give Democrats the majority outright as well as a majority on committees, allowing them to advance President Joe Biden's nominees more easily.
After Georgia's Supreme Court allowed counties to offer early voting on Saturday, Democrats said they expected as many as 22 counties to do so—some in areas around Atlanta, including DeKalb and Fulton.
The latest polling puts Warnock 4 points ahead of his Republican challenger, according to RealClearPolitics. It was based on a poll by Fabrizio Ward & Impact Research of 500 likely voters between November 11 and 17. The survey had a margin error of 4.4 percentage points.
Meanwhile, a previous poll conducted by Landmark Communications between November 4 and 7 had Walker just 1 percent ahead of Warnock, according to FiveThirtyEight.
Meanwhile, as of Saturday, the latest from Oddschecker.com put the Democratic candidate's chances of winning at -556, or a probability of 84.5 percent. The odds for a Republican victory were +400 or a 20 percent probability.
Do you have a tip on a politics story that Newsweek should be covering? Do you have a question about the Georgia Senate runoff? Let us know via politics@newsweek.com.