Grumpy Golden Retriever Warms Hearts as She's 'Not a Morning Person'
A golden retriever called Lady has gathered over a million followers on TikTok for her hilarious antics.
The pup regularly delights viewers with her beach days, or by playing with her favorite toy and showing off her moods. In the video, the text overlay jumps on the viral "She's a 10 but…" trend, saying: "She's a 10 but gets super grumpy in the morning." One user commented: "Oooo that baby is tired."
The "she's a 10" trend has been doing the rounds on social media platforms for a few weeks and is essentially a format for people to talk about their partners who are very attractive, but have odd habits.
Lady the golden retriever can be seen looking like butter wouldn't melt in her mouth, holding her favorite stuffed toy in her mouth one moment, but then the video cuts to a very grumpy looking Lady at the top of the stairs with the instruction: "Be extra nice to her in the morning."
Many users sympathized with Lady's dislike of early mornings, with one user writing, "apparently she is me…I am she. I too am not a morning person sweet girl, it's okay," while another wrote: "I look like that every morning when the alarm goes off."
"Me before coffee," wrote someone else.
Website Loyal Goldens suggests that adolescent golden retrievers usually sleep between 12 and 14 hours a day, but can sleep up to 18. "It's important to mentally stimulate dogs at this stage to increase their intellectual capacities. If a dog doesn't receive enough stimulation and is simply left in a room or yard alone, they're going to sleep more – because why not? It's not like there's anything else to do.
"It's essential to keep in mind the motivation and energy levels of your Golden Retriever. If a highly driven dog, like a Golden, don't get enough exercise, they can become lonely, bored and even destructive, and they'll begin to either sleep much less or much more. If you're concerned about your dog's sleeping patterns, it's always a good idea to discuss it with your vet.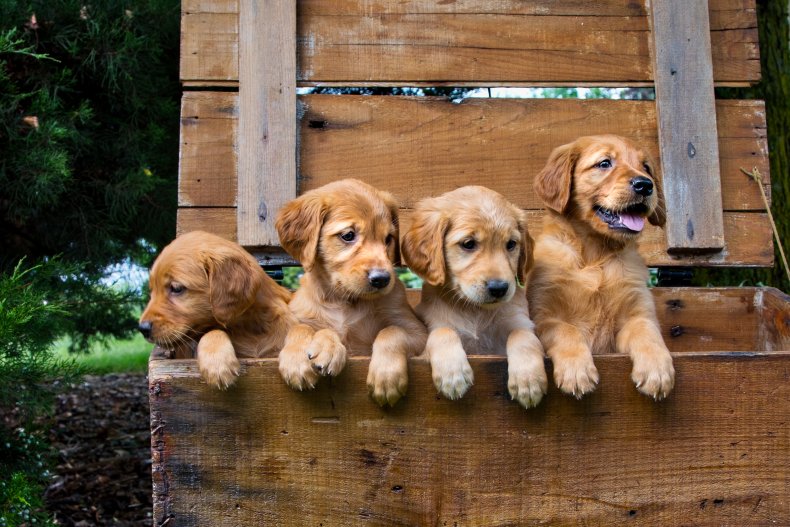 Do you have funny and adorable videos or pictures of your pet you want to share? We want to see the best ones! Send them in to [email protected] and they could appear on our site.