'Growing food is an act of resistance'

Gardening
Food justice activist Karen Washington urges aspiring gardeners to 'be fearless.'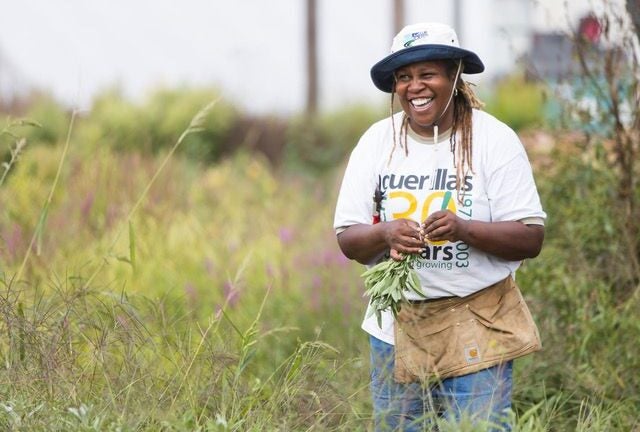 It's never too late to pick up gardening — or to turn it into a career.
In the Bronx, N.Y., between skyscrapers and cement sidewalks, Karen Washington decided to try something new and started growing food. What started as a hobby gradually grew into a passion for food justice activism. After working as a physical therapist for more than 30 years, Washington switched gears to become involved in food and social justice. Washington, who lives in Georgia now, is a cofounder of Rise & Root Farm in Chester, N.Y., and has been active in community gardens since 1985.
On March 18, Washington was a guest speaker at the 47th Annual Gardeners' Gathering, held at Northeastern University. Here's the advice she had to give for aspiring gardeners looking to branch out into food justice and activism.
How did you transition from gardening as a hobby into a career in food justice activism?
A lot of cities in the country were going through a financial crisis. A lot of people's power and privilege left. Those that were left behind took it upon themselves to take over empty lots, clean them out, and turn them into community gardens. That's how I got involved in the community garden movement and found my voice in activism.
What are the most important things beginners should keep in mind when they are first starting to garden?
Have fun getting dirty and playing in the soil. Be fearless. I was fearful of the soil myself until I put both my hands in and felt that connection of belonging. Come in with curiosity and excitement.
What is the difference between a community gardener and a food justice activist?
I don't think they should be separated. Gardening is part of the environmental footprint. We have issues with the environment. You want to be political. You want to be an activist. You have to be part of the environment when you're gardening. You can't just be a gardener and not be an activist. Growing food is an act of resistance.
Why is it important for younger generations to get involved?
I want people to understand the history on how we got to this point. As a Black woman, my history, when it comes to the food system, was around slavery. I peeled back to see some of the injustices that were made in the system, which has been exploitative and extractive. Young people need to be cognizant and need to be involved. This is your earth. This is what is handed to you. You must be involved to make sure that the planet is inhabitable.
Some people have taken an interest in gardening as a hobby. Some even want to begin their journey in fighting for food justice but don't know where to start. Where should they start?
I would love everyone to be a farmer, but that's not the case. But everyone can be a conscientious consumer and ask questions, especially when they go to a store. They can ask, "Where does this come from?" Promote local, help local farmers, and then understand the concept of the full system.
What advice would you give to gardeners who are looking to make an impact in their community through growing food?
If you help somebody, we all benefit. Young people, you have to be vocal. This is the time you have to step up and be heard collectively. Don't be afraid to challenge the full system and to challenge history. Don't be afraid to stand up for justice.
Address newsletter
Get the latest news on buying, selling, renting, home design, and more.