Ex-Football Star Whose Diet Photos Horrified Internet Running for President
A former footballer whose diet photos horrified online viewers has announced he is running in the 2024 presidential election with the hope of educating people to make healthier choices.
Zack Strength, who had planned to become an NFL pro before injury forced him out of the game after a promising career at the University of Southern California, is now making his name by sharing his intense workouts and his diet, which includes thick steaks and mountains of eggs.
He told Newsweek that he wants to help people make "healthier choices" and "reduce and quit the consumption of harmful substances like alcohol, unnecessary prescriptions and chemicals in foods."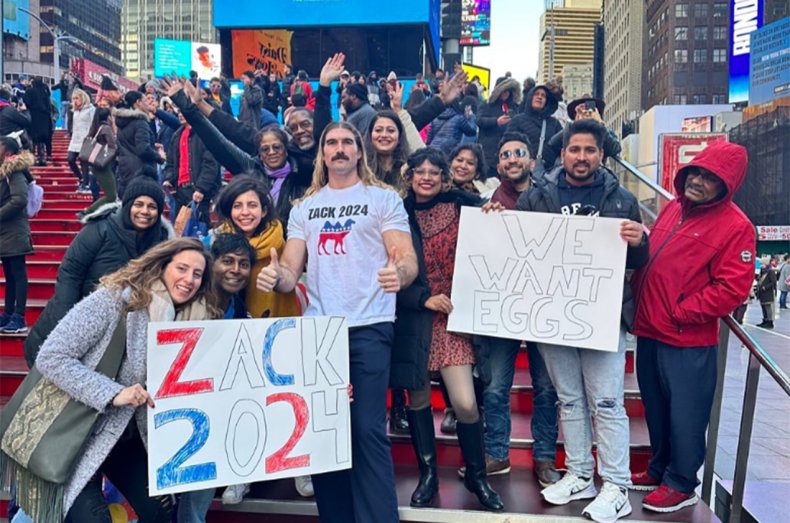 The New York City resident is the treasurer of the Prohibition Party, the nation's oldest existing third party. Strength, who works in finance and technology when not at the gym, said he is planning to "focus on helping America become a healthier country through better education and encouragement on nutrition, fitness and health-related topics."
Talking about his policies, Strength said that he wants to provide "better education on the benefits of whole, natural foods and the harms of ultra-processed and refined foods."
He also said he was for "educating people on the benefits of exercise such as strength training, cardio, simply being more active throughout the day."
While a healthy lifestyle is at the top of his agenda, Newsweek asked Strength about his positions on other areas of importance to voters, namely the environment, the economy and foreign policy.
Speaking about the former, he said, "I previously wrote an article for the National Prohibitionist [newsletter] on promoting regenerative farming, which has several positive environmental impacts, including improving biodiversity of the land, eliminates the chemical pollution associated with fertilizer and pesticide runoff, uses less fuel and plastics, as the food is to be distributed locally."
As for foreign affairs, Strength said: "I have a very hard anti-war stance. I'm tired of seeing violence across the globe and tired of seeing people sent to the front lines and risk their lives to serve the interests of politicians.
"I believe in diplomacy and building on relationships with our allies, as well as making a massive effort to improve relationships with our adversaries," he said.
Strength went on the attack President Joe Biden's handling of the economy, saying, "The government has an overspending problem which needs to be addressed. The budget and spending must be audited in order to eliminate unnecessary spending, which will reduce the national debt as well as make available funds to reallocate to items that will put less financial strain on Americans.
He went on: "This includes government-subsidized economic development projects founded on the constitutional principle of 'promoting the general welfare' rather than as propositions primarily benefiting the rich and influential."
Strength returned to his core message about promoting healthy eating and said targeting the cost of natural foods would be on his agenda.
"I would also like to take initiatives to lower the cost of whole, natural foods, make it easier for small and family-owned businesses to be profitable, incentivize local farming, eliminate predatory lending in the student loan space, and address the problem that in several areas there are a lot of vacant properties yet people are struggling with high housing costs," he said.
Do you have a tip on a sports story that Newsweek should be covering? Do you have a question about diets? Let us know via entertainment@newsweek.com.