Eric Trump Tells Donald to Testify Before Jan. 6 Committee: 'Make Popcorn'
Eric Trump has suggested that his father, former President Donald Trump, should testify before the House of Representatives' Select Committee investigating the 2021 Capitol riot.
Trump made the remarks at the "ReAwaken America" rally in Manheim, Pennsylvania on Friday where he also briefly called his father and had him address the crowd.
The House Select Committee has issued a subpoena to former President Trump ordering him to testify before the panel on his alleged role in efforts to overturn the results of the 2020 presidential election.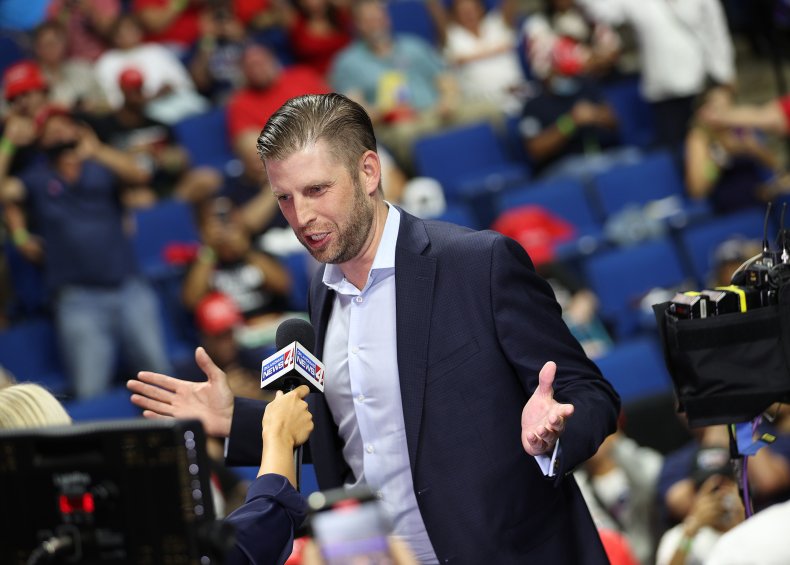 Eric Trump suggested that his father's appearance before the committee could be entertaining and that the former president would take the opportunity to discuss unfounded claims that the 2020 election was stolen.
"My father finally got a subpoena from the January 6 committee. Did anybody see this?" Trump said.
"This hoax committee. And I'm telling you, I told him a minute ago—I go, you have to go testify, because it will be the greatest entertainment. Who wants to pop a beer, make some popcorn, and watch Donald Trump talk about election fraud in the United States of America?" he said.
Amid clapping and cheering from the crowd, Trump then phoned the former president and praised the "amazing crowd" in the call with his father, while Trump praised his son, calling him a "great guy."
"We're gonna bring this country back because our country's never been in such bad shape as it is now," the former president said over the phone.
Newsweek has asked former President Trump's office for comment.
The January 6 committee recognized the historic nature of the subpoena when the panel formally ordered the former president to testify either in person at the U.S. Capitol or remotely on November 14. They also ordered Trump to hand over documents including text messages, phone calls and other communications.
"As demonstrated in our hearings, we have assembled overwhelming evidence, including from dozens of your former appointees and staff, that you personally orchestrated and oversaw a multi-part effort to overturn the 2020 presidential election and to obstruct the peaceful transfer of power," the committee wrote to Trump.
The former president responded in a post on his Truth Social site, reiterating unfounded claims of election fraud in 2020 and saying: "No work was done by the Committee on Election Fraud … Despite very poor television ratings, the Unselect Committee has perpetuated a Show Trial the likes of which this Country has never seen before."
Eric Trump was speaking on Friday at an event that's part of the "ReAwaken America" tour where Pennsylvania GOP gubernatorial candidate Doug Mastriano was also slated to attend.
The event has been accused of having links to proponents of the QAnon conspiracy theory but event founder Clay Clark told The Philadelphia Inquirer the tour is not QAnon-focused.