Dr. Oz Pennsylvania Roots Not Deep Enough for Most Voters, Exit Poll Shows
The majority of Pennsylvania voters say Republican Senate candidate Mehmet Oz has not lived in the state long enough to represent it, according to an exit poll from CNN.
Polling in the key battleground state found that 54 percent of voters in the state think he hasn't lived there long enough to be an effective senator—an argument that Oz's Democratic candidate John Fetterman spent much of his campaign trying to make.
Over the course of the election cycle, Fetterman, who was born and raised in Pennsylvania, has sought to highlight Oz's ties to New Jersey, where the Republican has lived for decades, and has accused Oz of being a political carpetbagger. Fetterman has even recruited several celebrities from New Jersey to help him in those efforts, recording videos with Jersey Shore's Snooki and The Sopranos' Steven Van Zandt, as well as started a petition to add Oz to the New Jersey Hall of Fame.
In response to Fetterman's attacks, Oz has argued that Pennsylvania voters are more focused on his campaign issues than his place of residence.
"People don't really care where I'm from. They care what I stand for," Oz told the Associated Press in August.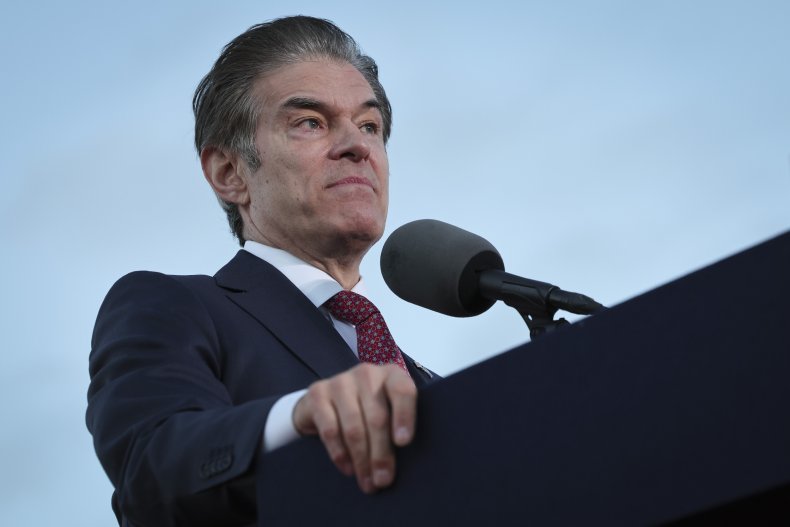 CNN's exit poll also found that 49 percent of Pennsylvania voters think Fetterman's health is an impediment for him to be an effective senator—a point Oz's campaign has seized on after the Democrat suffered a stroke the day before the May primaries.
After Fetterman trolled Oz over his crudité video, which was meant to highlight inflation, Oz hit back at the Democrat, saying that if Oz "had ever eaten a vegetable in his life, then maybe he wouldn't have had a major stroke."
The battle over Fetterman's health spilled out onto the debate stage last month when the two candidates participated in the only debate of the race.
In his opening remarks, the Democrat said, "Let's also talk about the elephant in the room: I had a stroke. He's never let me forget that." As the debate went on, signs of Fetterman's recovery became revealed to the public as he halted throughout his responses.
The Senate race in Pennsylvania is one of the most closely watched races in this year's midterms as Fetterman and Oz fight to fill the vacancy left by retiring Republican Senator Pat Toomey. Although Fetterman held a commanding double-digit lead for much of the summer, Oz was able to rapidly narrow the gap in recent weeks.
At the end of September, Fetterman was projected to have an 83-in-100 chance of winning the race, according to FiveThirtyEight. In the election forecaster's final prediction, Oz had the advantage with a 57-in-100 chance of holding Pennsylvania's seat for the GOP.
According to CNN, the exit poll conducted by Edison Research is "a combination of in-person interviews with Election Day voters and telephone and online polls measuring the views of absentee by-mail and early voters." More than 1,600 voters participated in the survey.