Donald Trump's Cold War With Ron DeSantis Is Now Full-Blown Conflict
Ron DeSantis faced a wave of attacks from prominent Donald Trump supporters after insisting he won't be "getting involved" in the former president's potential extradition to New York if he is charged over an alleged $130,000 hush payment sent to adult film star Stormy Daniels in 2016.
Reacting to the rumors on Monday, DeSantis said: "We're not getting involved in it in any way."
While he has yet to announce his candidacy, polling indicates DeSantis could be Trump's most dangerous rival in his bid to secure the 2024 Republican presidential nomination.
Speaking to reporters on Monday, DeSantis refused to say he would fight any attempt to extradite Trump to New York, though he did criticize Manhattan District Attorney Alvin Bragg for his investigation.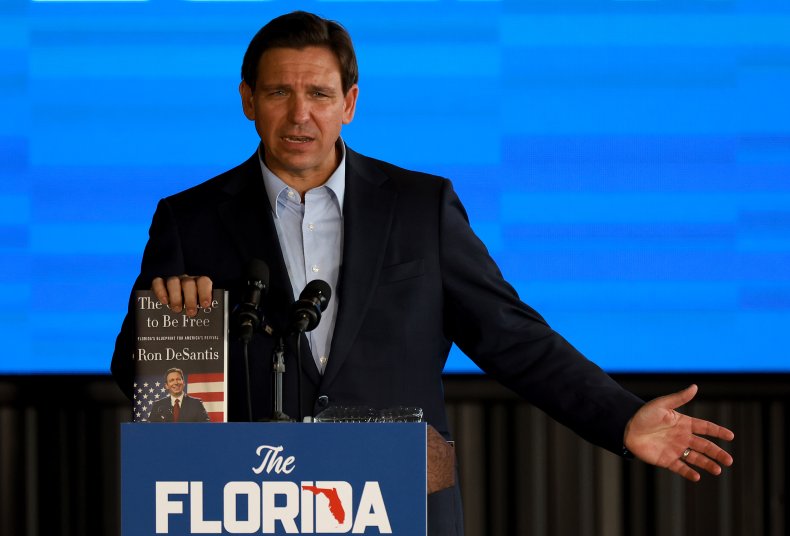 "I have no interest in getting involved in some type of manufactured circus by some Soros DA," DeSantis said. "He's trying to do a political spectacle….I've got real issues I've got to deal with here in the state of Florida."
Pointedly, DeSantis also said: "I don't know what goes into paying hush money to a porn star to secure silence over some type of alleged affair."
The answers came under fire from leading Trump supporters, including Steve Bannon, who in remarks highlighted by the Patriot Takes Twitter account said: "Governor DeSantis you're better than this. That was a weasel approach. And don't throw in the thing about the porn star, I don't need to hear from you ok. Don't need to hear it."
Donald Trump Jr. responded by claiming DeSantis is "owned by the billionaire donors" and "100 percent controlled opposition."
He added: "I was hoping for a strong response but we got a milquetoast response. We got weaker than most RINO Republicans. We got a weaker response than a lot of Never Trump Republicans.
"I spent a lot of time with DeSantis personally…guys unfortunately one-on-one it doesn't exist and this week made it clear."
A clip of Trump Jr.'s comments was posted on Twitter by Ron Filipkowski, who claims to "monitor and report right-wing extremism."
Trump fired back at DeSantis via his Truth Social website.
In a since-deleted post, he said: "Ron [DeSantis] will probably find out about this sometime in the future when he's unfairly and illegally attacked by a woman (or possibly a man!) with false accusations."
Trump is being investigated over claims he arranged a payment of $130,000 to Daniels in 2016, to stop her going public with the claim he'd cheated on wife Melania with her.
On Saturday, Trump posted on Truth Social that he expected to be arrested on Tuesday, and called on his supporters to protest.
Newsweek reached out to Donald Trump via his official website and DeSantis via email for comment.