Daughter Wears Mom's Prom Dress From 1990: 'Classics Never Die'
A video of a daughter wearing her mom's old prom dress to her own prom has gone viral on TikTok, where it has received more than 682,000 views.
The clip, posted by user @heyyitsmechlo, was shared with a caption saying: "Nicola making her debut."
The video began with an image showing a woman wearing a red sleeveless dress that appeared to have a bejeweled neck adorned with various colorful stones. A message overlaid on the video read: "My mom wearing her dress to her senior prom in 1990."
The clip then showed a video of another woman appearing to wear the same dress, while standing at the top of a staircase. Another message overlaid across the clip read: "Me getting to wear it 30 years later."
The video captured a wider view of the dress, which revealed a thigh-high slit and halter nect line, as the woman walked down the stairs before doing a twirl as the clip ended.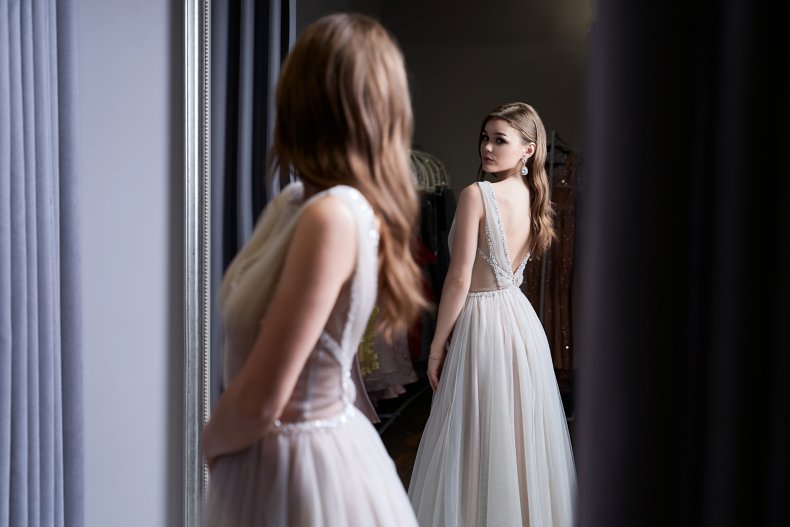 Following the pandemic, students have been keen to return to in-person interactions after many classes were moved online, while many school activities, such as proms, were either canceled or postponed.
A Pew Research Center survey of teens aged 13 to 17 conducted in April-May 2022 found that the majority (65 percent) of teenagers in the U.S. preferred school to be completely in person after the pandemic was over.
Proms have returned to the social calendar in the post-COVID era, but of course attending a prom has never been a cheap affair. The cost of buying a new dress, corsages and boutonnieres as well as renting a tuxedo and limousine all add up to a sizable amount.
Supply chain issues during the pandemic that led to mass shortages and saw prices surge are reportedly starting to ease for retail-focused industries, Reuters reported earlier this week.
But up until last year, the cost of prom dresses and other prom-related expenses remained high, Pennsylvania's Patriot-News reported back in April 2022.
According to data compiled by the local newspaper, the average cost of a prom dress in the local area was reported to reach up to around $700 before the cost of alterations, while tuxedo rentals cost up to about $250. The price of a limousine rental was reported to be up to $1,500, before the cost of fuel.
So giving an old dress a new shelf life, like the daughter in the latest viral video did, could be one way to cut prom expenses.
TikTokers were delighted by the latest viral video, amazed by the resemblance between the daughter and her mom as a teen.
User lunapark680 said: "Twin sisters," and Marc agreed, saying "[oh my god] her twin."
User chriswilde52 simply said: "Wow, beautiful," while user youdkmexx said: "This is adorable."
Sevans said: "That's just perfect, I hope there are many more generations to follow."
User gosaunders71 said: "Yep, classics never die; beautiful dress."
Suzanne Marie Saenz wrote: "It's awesome that she wore the dress…these kids nowadays would not have done it! Congratulations…beautiful."
Newsweek has contacted the original poster for comment via TikTok. This video hasn't been independently verified.
Do you have a similar video to share? Send it to life@newsweek.com with some details and your story could appear in Newsweek.