Cruise Ship Passenger Left to Die After Medics Took An Hour to Arrive
Edmund Rucker died after diving off a pier in Roatan, Honduras, on March 15 during a stop on a week-long cruise.
Jeremy Lewis, who was traveling with his family on the same cruise ship, said he saw Rucker jump off the stricture.
He said he swam out and helped pull him ashore with the help of two others and perform CPR on the beach.
It took almost an hour for medical personnel to arrive on the scene, Lewis told Newsweek.
A father who died after diving off a pier in Honduras was pulled ashore and given CPR by people on the beach, while medical personnel didn't arrive for almost an hour, a passenger on the same cruise as the man told Newsweek.
Edmund Rucker died on March 15 when the Allure of the Seas docked at Roatan, an island off the Honduras coast.
Jeremy Lewis, who was on the week-long Royal Caribbean cruise with his family, told Newsweek that he happened to be watching from the beach when Rucker jumped and helped pull him ashore.
People—including children and teenagers—were jumping off a structure that was apparently once used as a zip line platform, said Lewis, an officer with the Moore Police Department in Oklahoma.
"He was the first person I saw that actually dove in," he said.
"It took a second for him to come up, a little bit longer than normal. He wasn't underwater very long. But he came up, it looked like he was just floating. And I could tell from the people that were on the platform waiting to jump after him, they kind of started panicking like something wasn't right."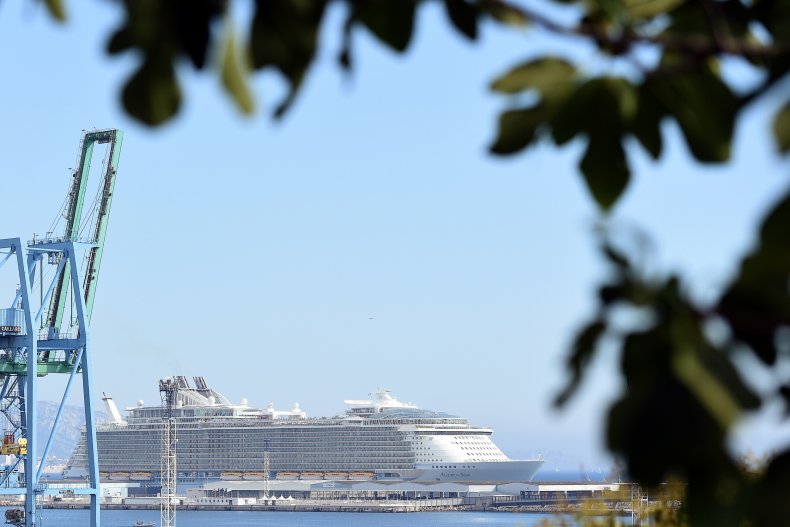 Lewis said he swam out to where Rucker was as did two other men and together, they brought Rucker to the beach.
There, Lewis said he and a woman who said she was a nurse performed CPR.
"We were having to do regular CPR. There was no defibrillator. This is a big beach with a lot of resorts and there was no medical help at all," he said. "It was at least 50 minutes before a medical person got there."
In a post on a Facebook group for the cruise's passengers, seen by Newsweek, a woman who identified herself as a nurse said CPR was administered to Rucker for at least 45 minutes.
Without "the tools we need and the extremely poor response time/lack of emergency personnel he did not make it," she wrote. "Please be extra careful out there when outside of the US, we often take for granted our resources."
Lewis said it was "disturbing" that it took almost an hour for medical personnel to arrive on the scene given that the island is quite small.
"It's very sad since you can drive from one side of the island to the other in less than that amount of time," he said. "There was no way to keep him alive that long."
Lewis said he and his daughters, aged 16 and 22, were forced to cover Rucker with towels and use umbrellas to shield his body.
"They've never seen anything like that and it was not good for me either," he said. "But it was more feeling for the family. He had…three boys and a daughter that were there and his wife.
"It was just a bad, bad deal. Plus, we couldn't get him off the beach. I mean, there was no help from anyone from Honduras."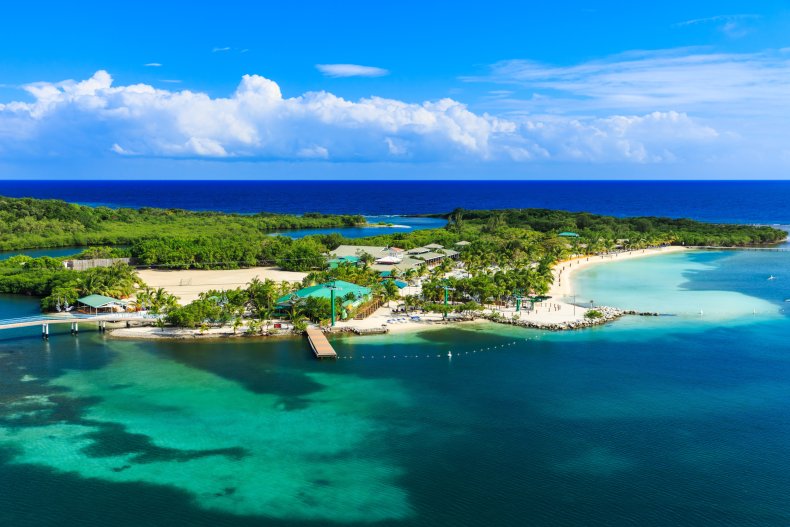 According to local newspaper El Heraldo, Rucker's body remained on the beach for at least four hours because employees of the Public Prosecutor's Office were on strike. Authorities in Roatan could not immediately be contacted for comment by phone.
His body was eventually put back on the Allure of the Seas to return to the U.S.
Crew on the ship did not provide information to passengers about what had happened, according to Lewis, and some inaccurate information did circulate.
But his account "is exactly how it happened," he said. "I watched him dive in, I pulled him out and I was there the whole time that we were giving CPR."
In a statement to Newsweek on Tuesday, a Royal Caribbean spokesperson said: "While ashore in Roatan, Honduras, a guest sailing on board Allure of the Seas sadly passed away. Royal Caribbean International is providing support and assistance to the guest's loved ones at this time." The cruise line has been contacted for further comment.
A GoFundMe page has also been set up to help the Rucker family with funeral and other costs.
The family "are suffering from a sudden and tragic loss of their hero and patriarch," Jeff Hornback wrote on the page, which has collected more than $28,000 in donations.
"Eddie Rucker passed away unexpectedly, leaving his wife and four children behind to deal with the emotional and financial challenges that come with the loss of a loved one."