CPAC Chair Matt Schlapp Accused Of Groping Staffer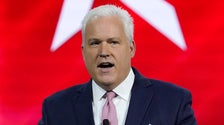 A lawsuit filed Tuesday in the Virginia Circuit Court in Alexandria accuses Schlapp of "aggressively fondling" the unnamed man's "genital area in a sustained fashion" while the two were alone in a car on Oct. 19. The man is seeking $9.4 million in damages, according to Politico.
The staffer had accepted a drink invite from Schlapp as a networking opportunity, according to NBC News, and was driving him back to his hotel when he says the CPAC head honcho placed his hand on the staffer's leg and "began aggressively fondling Mr. Doe's genital area in a sustained fashion," according to the lawsuit.
The staffer was "frozen with fear and panic," according to the lawsuit, but reportedly declined Schlapp's invitation to come up to his room.
Within hours of the incident, the staffer recorded a video recounting the incident and shared it with Walker campaign officials, who got him in touch with a lawyer and said he didn't have to chauffeur Schlapp again, NBC News reported.
Schlapp contacted the aide the next day about a ride from the hotel. He responded that he "was uncomfortable with what happened last night," and said another driver would be working with Schlapp, according to screenshots shared with NBC News.
Schlapp texted back, "Pls give me a call," before repeatedly calling the staffer and later sending another text that read, "If you could see it in your heart to call me at end of day. I would appreciate it."
NBC News confirmed that the phone number that the texts were sent from was Schlapp's.
Schlapp denied the allegations in a statement from his lawyer, which he posted on Twitter after the lawsuit was filed. He claimed his family was "suffering unbearable pain and stress" due to the claim and was considering a countersuit.