Cornel West's Threat to Biden Hinges on Him Overcoming a Major Hurdle
Progressive scholar Cornel West's path to the presidency—and ambitions of posing a genuine challenge to incumbent President Joe Biden—faces numerous hurdles: a lack of resources, a lack of name recognition, and the lack of a major party backing his campaign.
A bigger issue, however, might be the fact he faces a long road to even get his name on the ballot.
According to a Monday blog post by Ballot Access News, the People's Party—the Bernie Sanders-inspired political movement West plans to run with—only has access to the ballot in one state—now-reliably conservative Florida. (A dead link on the party's website also claimed it got ballot access in Virginia in 2022, though that post has since been deleted.)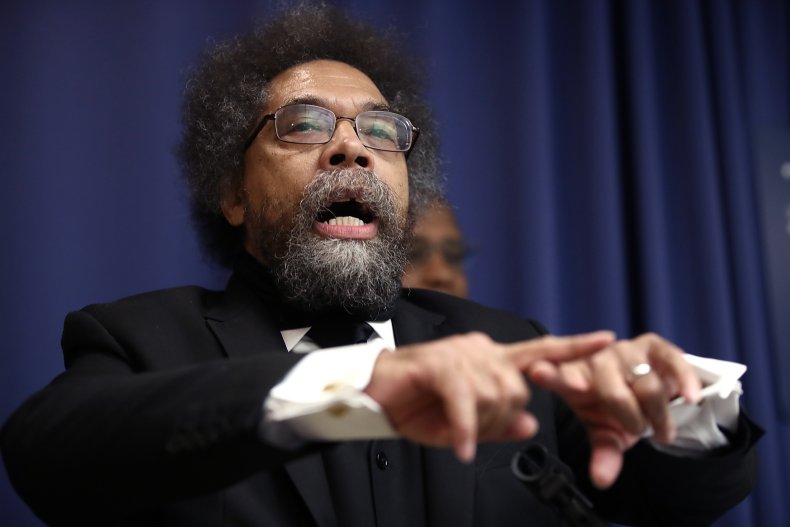 Newsweek has reached out to the People's Party for comment. However, it appears they will face a high threshold to meet to get listed anywhere else. Assuming he earns the party's nomination, West will likely need to obtain more than 674,000 valid signatures in 45 states and the District of Columbia or, at the very least, organize a formal campaign in four different states, to appear on the ballot nationwide.
Given that fact, some on social media were surprised Tuesday that West had not aligned himself with a more established political party.
The Green Party—whose values closely align with West's—currently has ballot access in 17 states across the U.S., though it still largely pales in comparison to the 33 states in which the more conservative-leaning Libertarian Party appears.
Others expressed dismay at West lending credibility to a progressive organization they felt was doing little to make a genuine push to promote progressive values.
"Love Cornel West running for president. Hate him lending credibility to a horrible, disorganized, grifter-led organization that is not an actual political party and does not have the leadership or infrastructure to get widescale ballot access," Jordan Chariton, a journalist with left-leaning outlet Status Coup, wrote on Twitter after the announcement. "Go Green or independent."
Newsweek has reached out to West's campaign for comment. But while he has a platform and an ethos, it's not immediately clear whether he has a strategy, or even any indices where West's campaign intends to place its focus in an effort to extract progressive policy concessions from Biden.
He could seek to tailor his campaign solely on swing states like Wisconsin, Arizona and Georgia, which could potentially offer him the leverage necessary to move candidates like Biden to the left similar to how other candidates did in the 2020 election cycle.
But doing so would also be risky, particularly given the fact Biden's victory in the electoral college last cycle came by approximately 44,000 battleground state votes in what was the highest turnout election in U.S. history.