Chicago Spending Over $50 Million on Migrants Divides Democrats
Chicago's City Council has approved $51 million in 2021 budget surplus funds to be used in caring for the hundreds of Latino immigrants that are flooding the city, a vote that divided the council's Democrat aldermen.
The plan has created a rift between the Black and Latino communities in the city, with some residents requesting that the additional funds be used to address Chicago's homeless population or to invest more in Chicago's Black population, which they say has been neglected for decades. However, since Texas Governor Greg Abbott began busing immigrants to Chicago and other cities last year, the city has seen a growing crisis over its immigrant population, with hundreds of migrants sleeping on the floor of police stations in the city.
A report from PBS TV station WTTW said that care for the migrants could exceed $112 million through June. City leaders have been scrambling to find space to house the flood of people, which has picked up in intensity as issues concerning the U.S.-Mexico border and the expiration of the Title 42 policy have divided national Republican and Democratic leaders.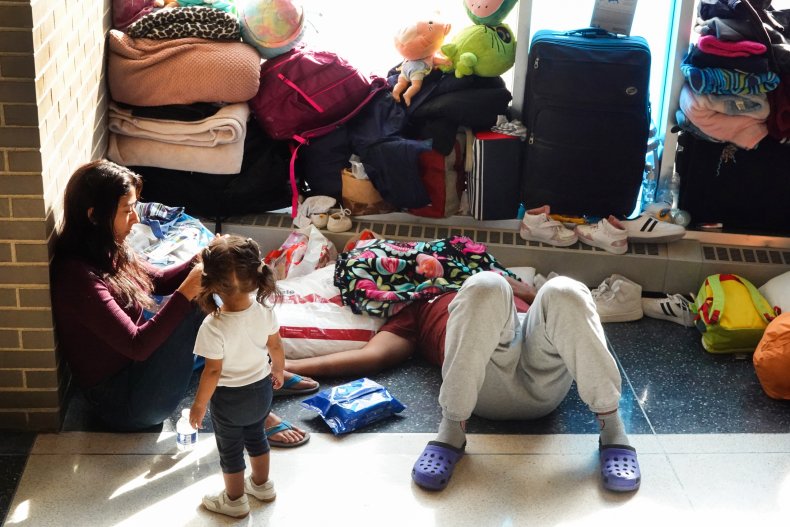 On Wednesday, the City Council approved the use of the $51 million in 2021 surplus funds in a 34-13 vote. A dozen Democrats joined the lone independent in voting against the bill. The money will be used to provide food, housing and staffing in response to the city's migrant crisis.
Newsweek reached out to Mayor Brandon Johnson's office by email for comment.
Tense and aggressive discussions led up to the vote, according to tweets from WTTW politics reporter Heather Cherone. Aldermen reportedly yelled over each other numerous times, and members of the crowd were removed by security. Cherone said that the meeting was out of control and that the "intense debate," which lasted for 90 minutes, "featured racist abuse."
Democratic Alderman David Moore, who spoke against the proposal, said that Chicago must take care of its own residents before aiding immigrants.
"Make sure you put your mask on first before you help someone else. And so we have to put our mask on first, and we have to help the residents of this city," Moore said, according to a tweet by Cherone.
However, the majority of the aldermen felt that something had to be done to address the crisis.
"We can't have people sleeping on the floor of police stations," Democratic Alderwoman Maria Hadden said during the debate before voting yes on the proposal.
The aldermen who voted against the bill were Moore, Greg Mitchell, Michelle Harris, Marty Quinn, Raymond Lopez, Derrick Curtis, Monique Scott, Emma Mitts, Nicholas Sposato, Anthony Napolitano, Brendan Reilly, Anthony Beale and James Gardiner.
Debra Silverstein, Silvana Tabares and Brian Hopkins didn't vote.