Celtics one step closer to an improbable comeback against Miami

Celtics
"I think once we got ourselves together, we all looked each other in the eye and said, 'Hey, we're not going out like this.'"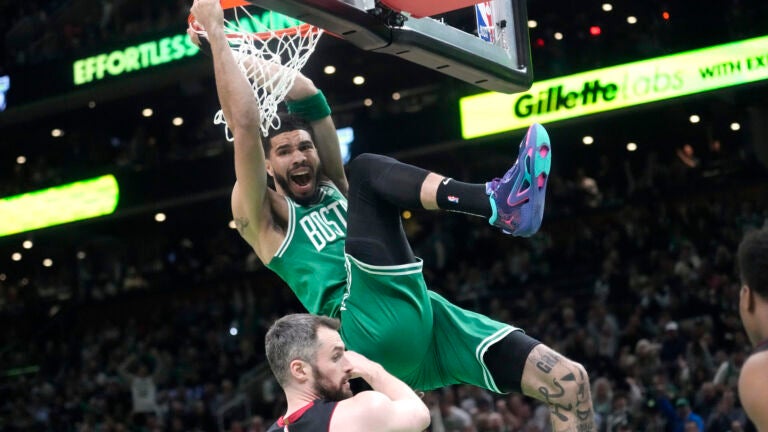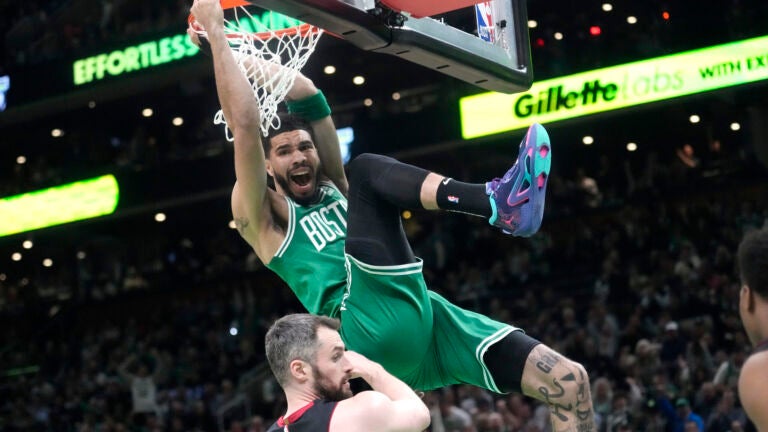 The Celtics have been staring at improbable odds for close to a week now.
But their messaging hasn't wavered since falling into an 0-3 hole against the Miami Heat.
"Don't let us win one," was the mantra echoed by both Marcus Smart and Jaylen Brown on Tuesday — just hours before Boston kept its season alive with a Game 4 victory down at Kaseya Center.
And minutes after the Celtics became just the 13th team to force a Game 6 after three straight losses, Brown stuck to a familiar and focused script.
"They let us get two, so don't let us get another one," Brown said on TNT's broadcast following Boston's Game 5 win in the Eastern Conference Finals on Thursday.
The Celtics are halfway to a seemingly impossible goal. They're the 150th team in NBA history to find itself in an 0-3 hole in a best-of-seven series. The first 149 each lost their series.
But momentum has shifted back in Boston's favor over these last two games, with that energy carrying over into a raucous TD Garden crowd on Thursday night.
"We've got the best fans in the league," Jayson Tatum said. "Up until today, this series, we haven't given them much to cheer for at home. I'm glad our performance matched the energy they were giving us."
With one game separating them from elimination, some of the pillars of the Celtics' success this season are lifting them up once again.
After sinking just 29 percent of their 3-point attempts through the first three games of this series, Boston is now up to 40.4% shooting from beyond the arc in Games 4 and 5. In contests where the Celtics are shooting 40% or greater from 3-point range, they are now 38-2 on the season.
Add in a stingy, connected effort on defense down the other end of the court (16 Miami turnovers), and Boston is rewriting the narrative in a series where the Celtics were viewed as the superior team on paper.
Finally, Joe Mazzulla and his team are proving it out on the court.
"One of our assistants put it in great perspective. The season's like nine months long and we just have a bad week," Mazzulla said of Boston's lackluster showing in Games 1-3. "Sometimes you have a bad week at work. We obviously didn't pick the best time to have a bad week, but we did. We're sticking together and fighting like hell to keep it alive and the guys are really coming together."
For Brown, there was no critical off-day meeting to "galvanize" this roster once again leading into Game 5. Given the stakes involved, Boston has not had to dig deep to find the necessary urgency to keep fighting back.
"I think once we got ourselves together, we all looked each other in the eye and said, 'Hey, we're not going out like this.' We represent the organization, but we also represent ourselves and our family," Brown said. "And obviously we haven't performed the way we felt like we needed to perform. So that Game 4 was the start of that atonement. And now we've been able to pick up off that in Game 5 and hopefully we can carry it on to Game 6."
The Celtics might be in uncharted territory in terms of orchestrating a comeback from an 0-3 deficit. But a 3-2 series disadvantage? This same group overcame those hurdles against the Bucks (2022) and Sixers (2023) in both Eastern Conference Semifinals over the past two postseasons.
Beyond the talent and potential present on this Celtics roster, Tatum isn't discounting the mettle and mental fortitude that this group has forged over these last few years.
"For some odd reason, even last year — we always seem to make it a little bit tough on ourselves," Tatum said. "But what I do know is that you can see the true character of a person, of a team, where things aren't going well. And our ability to come together, figure things out when it's not necessarily looking good for us — it's unlike any team I've been on, this year and last year.
"The core group of guys, being able to respond and I think that's just a [testament] to our togetherness, obviously how bad we want it. We've got a room full of determined, tough guys that when push comes to shove, you look left and right of you and you believe that the guy next to you is gonna do whatever it takes and go down fighting if it doesn't work out."
Brown said the Celtics are expecting a "dogfight" in Game 6 down in Miami on Saturday night. Jimmy Butler and the Heat will look to land a knockout punch in hopes of avoiding a decisive showdown back at a rowdy Garden on Monday.
But for the first time in a while, it seems like this C's team is ready and willing to punch back.
"Experience is the best teacher," Brown said. "We're a resilient group. We've been through a lot. Obviously, it's the first time being in this situation. But it's the first for everything. So we don't look at it like we're out. You just take one game at a time and just breathe, come out play basketball, take our time, and do what we're supposed to do and I think we'll be fine.
"It's a blessing to be able to play this game each and every night. It's a blessing to be in the playoffs. It highs, it's lows. Intense moments, moments [you're] pissed off. There's moments where you're extremely excited. It's just amazing. These next two games should be fun."
Sign up for Celtics updates🏀
Get breaking news and analysis delivered to your inbox during basketball season.
Newsletter Signup
Stay up to date on all the latest news from Boston.com