Cat Demanding Her 1am Snack From Sleeping Owners Delights Viewers
A cat called Ash has left the internet in stitches after a video of her middle-of-the-night shenanigans went viral on social media.
In a viral pet cam clip, shared on TikTok on Thursday by her owner under the username Laurenjenel12, Ash can be seen jumping on her owners' bed at 1:20 a.m. As soon as she realized her food dispenser wasn't working, she tried to wake them up in every possible way, for hours, with taps, bites and meows, in order to get her snack.
The hilarious post comes with a caption that says: "Pov: you accidentally unplugged your cat's automatic feeder, so she didn't get her 1 am snack." Followed by: "It took ONE WEEK for her to figure out that she gets a snack in the middle of the night." And further down in the comments the owner also joked: "I'm pretty sure she would have kept pulling my skin if I didn't wake up."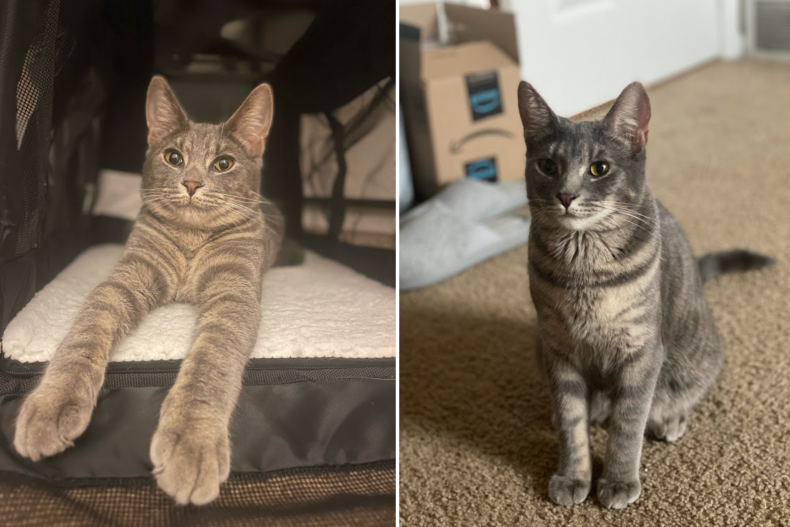 According to the Animal Behavior College, nearly two-thirds of owners sleep with their cats, but even though they may be soft and warm, and pleasant to hug, there are some circumstances when they should be banned from the bedroom.
Their website states: "Never let your cat sleep with a child under 4 or 5, and especially not with a baby. If you or your partner have asthma or allergies, your cat shouldn't be allowed in the bedroom at all."
Laurenjenel12 told Newsweek that Ash is a very chilled out cat during the day, but has an alter ego at night.
She said: "If she is hungry or just simply wants attention, she will find a way to get it. She is only 2 years old, but has the brains of a senior cat. She is extremely smart, always finding ways to make her automatic feeder give her a meal, to bringing her toys into bed while we are sleeping and placing them under us, to simply screaming at us an hour before her dinner time.
"She is the sweetest cat we have both ever owned (my boyfriend and I) and we got extremely lucky with her. Her nightly shenanigans don't matter as much as how much love she brings into our home by just being herself. She is one of the SOFTEST cats I have ever seen and even the vet agrees. She is just so spoiled."
The video quickly gained popularity on social media, attracting animal lovers across the platform. It has so far received over 4.4 million views and 560,400 likes.
One user, Mia Arianna, commented: "In her defense she waited til 1:20." And Nicole Reimer said: "I must not love my cat as much as other people, because this would make me furious. Interrupting my sleep is a crime." Megan added: "The cat biting your arm lmfao."
Angelica Isley wrote: "She was biting and telling you to come with her right now." And Hair and Hay joked: "Cat would have been in the hallway after the first face tap, sorry." VB said: "I would have yeeted that thing lmaooo."
Another user, Morgan Meyes, commented: "Y'all are some heavy sleepers lol. I would have been wide awake right at the 1:20 mark." Sandra Serena said: "Awhh the little tappity taps."
Ladysnow__ wrote: "This is why we close our door at night. No cat while we sleep." And Dreamy turtle joked: "She's mad like ayyy I didn't get my snack. Reminding y'all every hours." TravelsWithTanya said: "You get up and feed that baby ASAP."
Newsweek reached out to Laurenjenel12 for comment. We couldn't verify the details of the case.
Do you have funny and adorable videos or pictures of your pet you want to share? Send them to life@newsweek.com with some details about your best friend and they could appear in our Pet of the Week lineup.