Bruins training camp takeaways: Poitras plays with Pastrnak

Bruins
"I was a little nervous to play on a line and practice with a player of that caliber."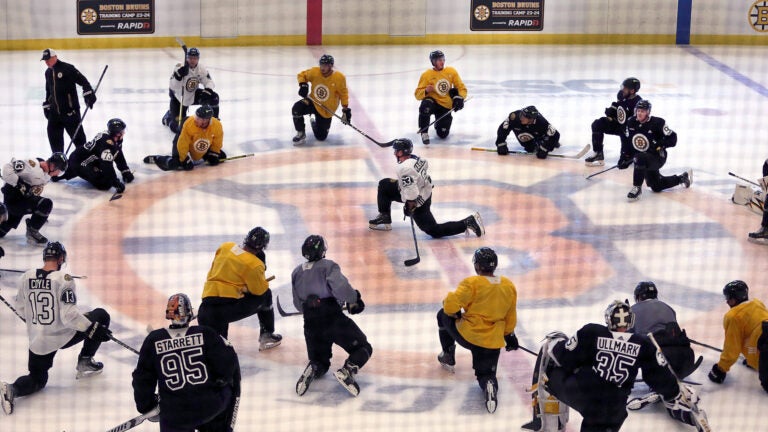 The Bruins opened their 2023 training camp on Wednesday morning, but their first official on-ice session came a day later — with two full-squad skates held at Warrior Ice Arena.
Here are a few takeaways from the start of Boston's training camp:
Blue-chip prospects get an early start with top talent
Boston's next wave of top talent have a steep uphill climb when it comes to leapfrogging both veteran free agents and established incumbents up in the NHL lineup.
But much as he did at the start of camp last year, Jim Montgomery opted to ease some of Boston's most promising prospects into the new season by slotting them into featured roles with top-end talent.
During Boston's Group A session, 2021 first-round pick Fabian Lysell skated alongside Charlie Coyle and Brad Marchand in what stands to be at least two-thirds of Boston's top line this winter.
In the Group B skate, 19-year-old center Matthew Poitras logged most of his reps alongside Boston's top offensive conduit in David Pastrnak.
"He's the best player in the world," Poitras said of skating with Pastrnak. "So any time you can skate with a guy like that, you got to try and raise your level of compete and play. It was really cool. I was a little nervous to play on a line and practice with a player of that caliber."
Given the higher offensive upside that both Lysell and Poitras boast, Montgomery is looking to cultivate some early confidence with some of the younger skaters on the camp roster, especially if they can showcase their high-end talent alongside a gifted playmaker like Marchand and an elite scorer in Pastrnak.
Last September, Lysell opened camp with a few shifts alongside Marchand and Patrice Bergeron.
With Poitras unable to report to Providence (AHL) this season due to the NHL-CHL transfer agreement, the promising pivot will either start the year in Boston — or report back to the OHL's Guelph Storm for another year in juniors.
Setting up one-time blasts for Pastrnak could be a solid way for Poitras to build some early momentum this fall.
He's a high-end thinker, he's shown the ability to make a lot of plays," Montgomery said of Poitras. "He had 80 assists, almost, last year in the OHL — almost one and a half a game, right? So, a playmaking center and see what he can do with a proven goal-scorer. That's the thinking is you want to see if there's chemistry."
Here's a look at Boston's lines on Thursday afternoon: 
GROUP A
Marchand-Coyle-Lysell
Heinen-Merkulov-DeBrusk
Richard-Geekie-Frederic
Harrison-Megna-Steen
Wotherspoon-McAvoy
Lindholm-Walsh
Zboril-Shattenkirk
Callahan-Mast
Edward
Ullmark
DiPietro
Starrett
GROUP B
Boqvist-Poitras-Pastrnak
Van Riemsdyk-Zacha-McLaughlin
Lucic-Beecher-Lauko
Greer-Brown-Chiasson
Lohrei-Carlo
Grzelcyk-Regula 
Forbort-Mitchell 
Brunet-Renouf 
Ritchie  
Swayman 
Bussi 
Keyser
An early glimpse of a bruising fourth line 
You're often playing with fire when it comes to putting much stock in any of the lines that coaches roll out in the first day or two of camp.
But one trio that caught my eye on Thursday was a potential checking-line grouping of Milan Lucic, Johnny Beecher, and Jakub Lauko.
Lucic sure feels like a lock for a fourth-line spot at left wing, where the veteran forward will be expected to bring plenty of heft and dole out a lot of punishment.
But if Montgomery wants to augment that fourth line from a D-zone heavy, shutdown grouping into an energy-sparking, smash-mouth squad, there's a lot to like about what both Lauko and Beecher could bring.
"We're just looking to see if there's chemistry, right?" Montgomery said. "Like [seeing] how is Beecher going to be able to play with guys we expect to be on our team this year."
After exceeding expectations last season in his first stint in the NHL, Lauko could be due for a breakout season as a fleet-footed winger who makes things happen whenever he hops over the boards.
In 23 games with the Bruins, Lauko posted seven points while using his speed and agitating style of play to create chaos on the forecheck and pester opponents after the whistle. He also drew 11 penalties in his 23 games, with his 3.24 penalties drawn per 60 minutes ranking second in the NHL among the 792 skaters with at least 100 minutes of ice time this past season.
"My approach is the same as last year," Lauko said of his mindset entering camp. "There's no guarantees in this league. Now I'm in a position that, compared with last year, there was zero expectation last year. … I just want to take it the same as last year. Just come in here, play the hardest I can and just do the right things."
Beecher stands as the wild card, as the 22-year-old forward has yet to make a sustained push for NHL reps so far in his career. Beecher's offensive capabilities (28 points in 70 AHL games) may not stand out.
But the 6-foot-3, 209-pound forward is an elite skater who can create havoc on the forecheck thanks to his pro-ready frame. His ability to win faceoffs and contribute on the penalty kill could also help him earn his keep with Boston this fall.
"I think if I'm to contribute to the team this year and be able to help them, that's probably where I'm gonna do the best," Beecher said of Boston's vacancy at 4C. "It's not a role that I have any problem playing.
" I've played on so many high-powered offenses, you look back at my time at USA [National Team Development Program], and then over at Michigan, always kind of playing that power-forward role, being heavy, being hard to play against in the D-zone. So it's definitely something I take a lot of pride in."
The Bruins might be focused on setting the groundwork for the 2023-24 season, but Don Sweeney isn't afforded the luxury of remaining entrenched in the present.
Boston may not have a bevy of pending free agents to account for next summer, but one of the few dominos that needs to fall is deciding on what to do with top-six forward Jake DeBrusk.
DeBrusk, who was on pace for 35 goals last season before missing six weeks of action due to injury, is setting himself for a solid pay bump with his next contract.
The 26-year-old forward will be a key cog for a Bruins team that will need its wingers to drive play in a reworked top-six unit this season. But DeBrusk is also looking ahead to the future, noting in an interview with NHL.com last month that he hopes to remain in Boston long-term. 
Based on Sweeney's comments on Wednesday, it seems like the Bruins are getting the ball rolling on contract talks now that camp is underway.
"We're going to have communication with Jake and his representation [and] we'd like to know if Jake indeed does want to be here," Sweeney said. "And hopefully, we can find common ground. Besides that, you guys know enough that I'm not going to comment on anything publicly. But we'd like to see Jake remain with the Boston Bruins."
Sweeney and Boston's front-office personnel usually try to start bridging the gap on contract talks with players a year before hitting free agency, with training camp an opportune time to find common ground before an 82-game gauntlet begins.
Brandon Hagel's eight-year contract extension with the Lightning ($6.5 million AAV) could be a comparable deal for DeBrusk moving forward.
"Jake deserves a lot of credit," Sweeney said of DeBrusk and putting a trade request in the rearview mirror. "He put all those things aside and just went out and performed and was on pace for a really and had a really good year.
"But even more so, battled through a couple of different injuries and came back and played well again. So, I think that's Jake's maturity both as a player and as a person and he's an important part of our club. We hope him to have the season we expect him to do. He's going to be a big part of that."
Odds and ends
There was plenty of snarl doled out in the first official skate of training camp, especially in Boston's Group A session.
During a chippy drill, new Bruins captain Brad Marchand battled with blueliners Charlie McAvoy and Jackson Edward, ultimately planting McAvoy on the ice while fighting for the puck along the boards. Fellow forward and PTO (professional tryout) candidate Alex Chiasson also delivered a few heavy hits, including one against Marc McLaughlin in a classic BU vs. BC exchange.
———
The Bruins will don new sweaters for their centennial season in 2023-24, but Jeremy Swayman also has a brand new goalie mask to mark the occasion. 
———
As for Montgomery's early impression of Marchand's first practice as Bruins captain? "I saw him try and take out Joe Sacco," Montgomery said. "I don't know if he's going right from captain to coach."
Sign up for Bruins updates🏒
Get breaking news and analysis delivered to your inbox during hockey season.
Newsletter Signup
Stay up to date on all the latest news from Boston.com