Brian Walshe Facing Three Charges Over Alleged Murder of Wife Ana
A convicted fraudster accused of misleading police investigating the disappearance of his wife has now been formally charged with her murder—despite her body having never been found.
Brian Walshe's wife Ana Walshe vanished back on New Year's Day when she was due to leave the family home in Cohasset, Massachusetts, to travel to Washington, D.C, for work. The 39-year-old mom to three children, who worked for a real estate company, was not reported missing until January 4 when her increasingly worried co-workers called the police, sparking an investigation.
Brian Walshe has now been formally indicted by a Norfolk County grand jury on charges of first-degree murder, misleading a police investigation, and improper conveyance of a human body, local news channel WPRI-TV reported on Thursday evening. If convicted, he faces spending life in prison without the possibility of parole.
Brian Walshe has always denied killing his wife.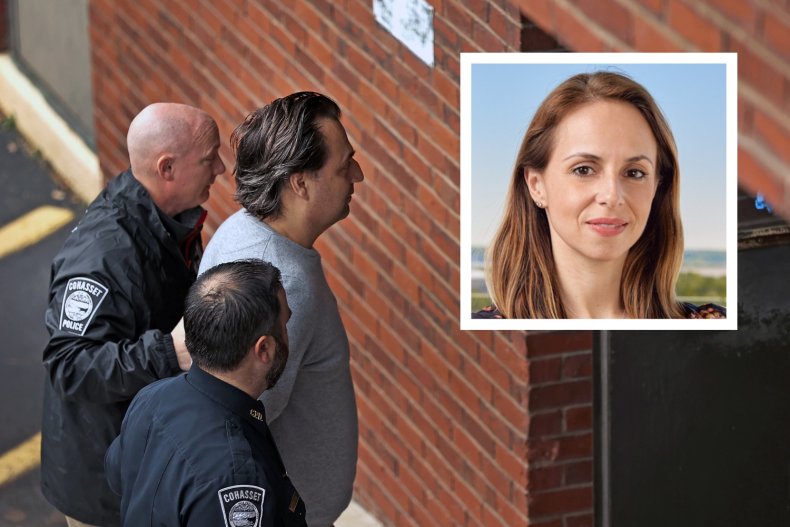 He had previously been arraigned in January on charges of assault with intent to murder, moving a body, and misleading a police investigation. He has been in jail since, and the couple's three young children were placed in the state's custody.
Detectives have accused him of lying about his whereabouts while they were searching for Ana Walshe. The husband said he had taken his son out for ice cream on January 2, but police allege he was captured on surveillance footage buying $400 worth of cleaning products. They have also alleged that a damaged knife and traces of blood were found in the basement of the family's home.
Prosecutors told a January court hearing that they believe Ana Walshe's remains were thrown into a dumpster in Abington before being shredded and incinerated. They also alleged internet searches showed that somebody used a family iPad to search "how long before a body starts to smell?" and "10 ways to dump a body" as well as researching what effect ammonia would have on a corpse.
Brian Walshe was already wearing an ankle tag when he's alleged to have killed his wife because he was awaiting sentencing for fraud over an art scam.
In a court case about a financial dispute back in 2019, he was described by a witness as "a sociopath but also a very angry and physically violent person." And experts have said Ana Walshe may have been a victim of domestic abuse after it emerged she had previously called the police over his alleged threats to kill her.
Norfolk County District Attorney Michael Morrissey said the indictment this week is "only a step in a long process," WPRI-TV reported. He added: "We are thankful to the detectives who have put so many hours into assembling the evidence in this matter and the witnesses who have assisted us in coming to this step."
Newsweek has reached out to DA Michael Morrissey, leaving a phone message seeking further comment.
Tracy Miner, Brian Walshe's defense attorney, told Newsweek: "An indictment contains only allegations. It is not evidence. It will be up to the prosecution to prove those allegations beyond a reasonable doubt, which is significantly more difficult than is obtaining an indictment in a grand jury proceeding where the defense does not have the right to participate or even be present. That is why defendants are presumed to be innocent under our constitution."
Brian Walshe is expected to be arraigned on the new charges in the coming weeks, according to WPRI-TV.