Boston College rallies from 14-point deficit, beats Virginia 27-24

College Sports
Thomas Castellanos threw for 183 yards and two touchdowns for the Eagles.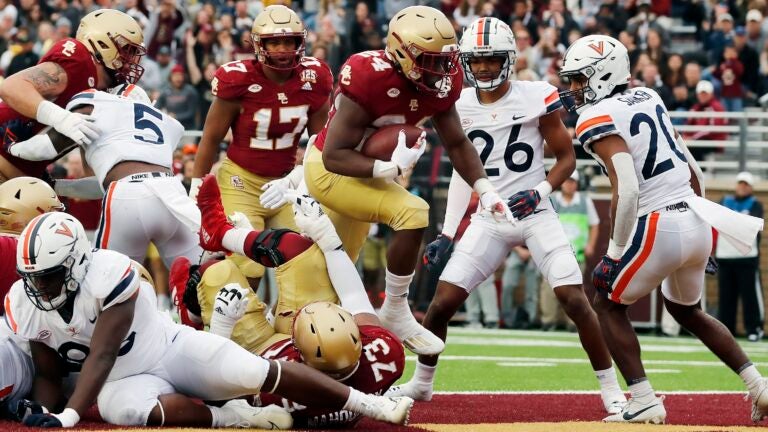 When Virginia extended its lead to 14 points on a 39-yard Hail Mary pass as time expired in the first half Saturday at Alumni Stadium, it appeared as though Boston College was destined for yet another uninspiring loss.
Instead, BC played inspired football in the second half, rallying to earn a 27-24 victory. The Eagles (2-3, 1-2 ACC) scored 17 straight points to take the lead and delivered in the clutch, turning a 21-7 halftime deficit into an uneven yet necessary win.
Two local products helped seal the result. Leominster's Liam Connor nailed the winning 42-yard field goal with 2:11 to play, then a former Catholic Memorial star, freshman Max Tucker of Hyde Park, made a crucial tackle on third down and the final stop on fourth down.
The Cavaliers (0-5, 0-2) took a 7-0 edge on a 5-yard touchdown pass from Tony Muskett to Mike Collins four-plus minutes into the game. Virginia then capitalized on an interception thrown by the Eagles' Thomas Castellanos (16 for 26, 183 yards, 2 TDs, 2 INTs), as Muskett found Malik Washington for an 18-yard TD strike early in the second for the 14-point advantage.
The Eagles pieced together a five-play, 65-yard drive in just 45 seconds — capped by a 2-yard plunge from Pat Garwo — to trim the margin to 14-7 with 47 seconds left in the half. As poorly as it had played to that point, BC was down by just one score and appeared to be carrying momentum into the second half.
Then the Cavaliers drove 80 yards and struck gold on an improbable heave from Muskett to Malachi Fields. The Eagles had three defenders in the area, but Fields elevated and snared the TD reception in traffic.
Though the Virginia lead was just 21-7 at halftime, it felt like a backbreaker for a spiraling BC team that allowed 56 points in a loss a week earlier at Louisville.
But the Eagles responded, outscoring the Cavaliers 17-0, in the third for one of its best quarters of the season. Connor drilled a 42-yard field goal, Castellanos found Joe Griffin for a 4-yard TD, and an Elijah Jones interception set up a 33-yard scoring feed from Castellanos to standout Lewis Bond.
Bond, who has been arguably BC's best player to this point, continued his recent tear with a seven-catch, 104-yard performance. He helped the Eagles take a 24-21 edge into the fourth.
A scary scene unfolded less than a minute into the final quarter, BC wide receiver Ryan O'Keefe and Virginia cornerback Malcolm Greene collided and remained down on the ground for an extended period of time.
Greene eventually walked off under his own power. O'Keefe stayed motionless for close to 10 minutes, as over a dozen medical professionals tended to him. Eventually, he was carted off on a stretcher. O'Keefe gave a thumbs-up as he headed into the tunnel.
The mood was somber throughout the stadium. When the teams returned to action, Garwo fumbled and the Cavaliers capitalized with a 44-yard field goal from Will Bettridge that tied it at 24 with 7:10 remaining.
Castellanos found Bond for a 33-yard completion, then Garwo converted on fourth and 1 to keep the drive afloat. Connor took care of the rest of the offense, then on defense Tucker finished what the Eagles started.
Get the latest Boston sports news
Receive updates on your favorite Boston teams, straight from our newsroom to your inbox.