'American Horror Stories' Season 2 Cast: Who Stars in 'Dollhouse'?
American Horror Stories has a slew of chilling tales to terrify and mystify with its second season.
Each week, the anthology series dives into a new story, with a different cast portraying different characters in a similar vein to how original series American Horror Story does each season.
Here is everything you need to know about Season 2's premiere episode.
'American Horror Stories' Season 2 Cast: Who Stars in 'Dollhouse'?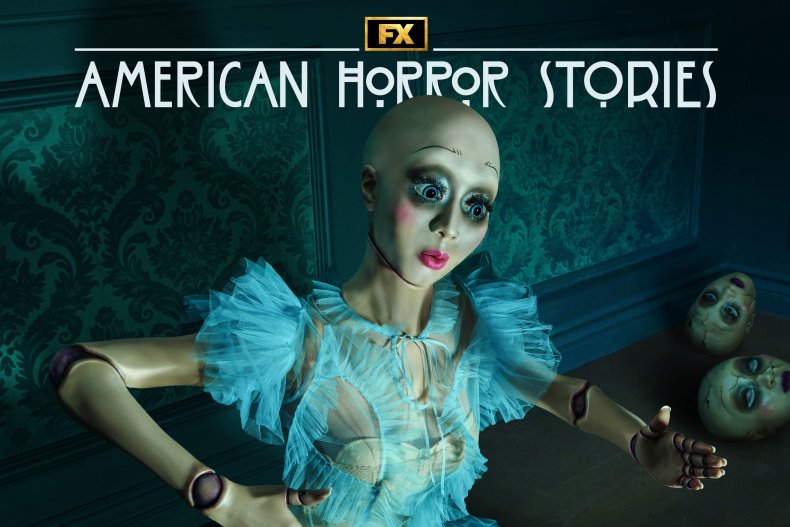 "Dollhouse" is the first episode of American Horror Stories Season 2, and it follows a villainous character named Spalding who targets young women to be part of his aforementioned Dollhouse.
Written by Manny Coto and directed by Loni Peristere, the episode sees American Horror Story alum Denis O'Hare take on the lead role of Spalding.
Spalding is believed to be a doll collector, and in the teaser trailer for the season, a clip from the episode sees him tell one woman he's kidnapped: "This is my private dollhouse. There's only one way out of here young lady, and it's not through any windows or doors."
O'Hare will be joined by a number of cast members, and Kristine Froseth is the woman who appears in the trailer and struggles to escape from Spalding.
Other cast members include Abby Corrigan, Kenia Arias, and Simone Recasner, all of whom are new to the American Horror Stories franchise and whose roles have yet to be revealed.
Also starring in the episode is Matt Lasky, Maryssa Menendez, Emily Morales-Cabrera, and Houston Towe.
From the looks of the trailer, Towe appears to portray a younger version of O'Hare's Spalding as he is seen clutching a doll in a tense scene that shows Froseth's character tied to a gurney.
In Season 1 of American Horror Stories the spin-off added to AHS lore in its first two episodes titled "Rubber(wo)ManPart 1 and 2," set in the haunted mansion that is the setting for the original show's first season "Murder House."
The location was revisited later in the spin-off's season as well with the episode "Game Over," which marked the return of Dylan McDermott's Dr. Ben Harmon who continues to haunt the house he died in.
While this meant the spin-off was firmly placed within AHS lore, it is not clear if the new season of the show will add to any of the horror franchise's previous seasons. Fans will have to wait and see if it will or not.
"Dollhouse," for its part, does not appear to have any connection to the original series even if it is set in a creepy home and O'Hare has appeared in six seasons of the flagship show over the years.
American Horror Stories Season 2 premieres on Thursday, July 21 on FX on Hulu.