Alexandria Ocasio-Cortez Tells Off Transphobe In Capitol Encounter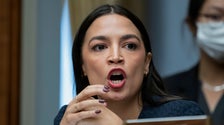 The encounter started friendly enough, as Raichik appeared to withhold her identity at first as they posed together for a picture. Then she said to the progressive lawmaker: "I just delivered an ethics complaint to your office because you lied about me in a committee hearing."
"I actually didn't, because you're actually super transphobic, and I never want to share a space with you. Thank you!" Ocasio-Cortez snapped back before storming off.
A trans-rights activist also shared the clip, lauding Ocasio-Cortez for shutting down Raichik "straight to her face."
"You bet I did," Ocasio-Cortez replied on Twitter. "NYC doesn't play with bigots and transphobes and neither do I."
Raichik, known for her anti-LGBTQ activism, had just visited the lawmaker's office to hand over a complaint accusing Ocasio-Cortez of defaming her at a recent hearing. The lawmaker said Raichik's 2022 tweet claiming that Boston Children's Hospital provided gender-affirming hysterectomies for young girls was "false information." A doctor from that hospital discussed the procedure in a video, but did not say who was eligible.