A Sporty, Capable and Expensive Vessel
The term flagship used to mean an automaker's most luxurious, expensive and large sedan. Now more often companies are using it to describe their biggest and most luxurious SUV. With the loss of the large Acura RLX sedan, the new fourth-generation, three-row MDX fits that bill and adds a bit of sport to the equation with the Type S edition.
The front- or all-wheel drive 2022 Acura MDX stands more upright than its predecessor and gains 2.8 inches of wheelbase with a 1.4-inch wider stance. A new grille is punctuated with new four-element LED headlights with a "chicane" daytime running lights below.
Sharp air intakes separate them from the LED fog lights below. The windows are framed in either chrome or black; in back the taillights use the same chicane design as the front. Standard wheels measure 19 inches, 20-inch wheels are offered.
The 2022 Acura MDX is offered in two new colors called Phantom Violet Pearl and Liquid Carbon Metallic. Apex Blue Pearl returns as an exclusive color offered on the MDX A-Spec.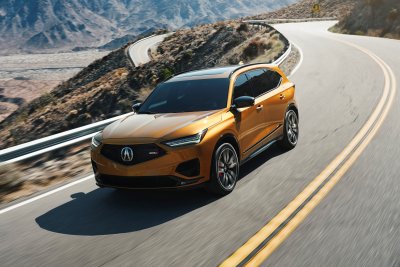 Inside, the third row has more headroom and legroom, and gets light from the panoramic moonroof. In MDX Advance trim, third-row occupants have their own USB charging ports. Cargo space has been increased to 16.3 cubic feet and offers 71.4 cubic feet with both second and third rows folded. The new MDX also features expanded under-floor storage behind the third row.
The 2022 MDX comes with a 12.3-inch digital driver instrument cluster with different displays for the main gauges and a customizable section for navigation, trip computer, maintenance, tire pressure, all-wheel drive status and a G-meter. The 2022 MDX with Advance Package comes with a 10.5-inch head-up display.
The MDX continues with a touchpad interface, and though it works better than previous models, it still takes some getting used to. A 12.3-inch infotainment screen features a more powerful CPU and physical controls for volume and tuning.
That touchscreen has a hand rest for steadying while trying to poke at the pad. It is laid out in a 1-to-1 ratio so the upper left of the touchpad corresponds to the upper left of the screen. The child-angering window locks also lock the main driver window buttons, which is unexpected. Like the touchpad, the push button transmission is annoying at first but after a couple of days it becomes second nature.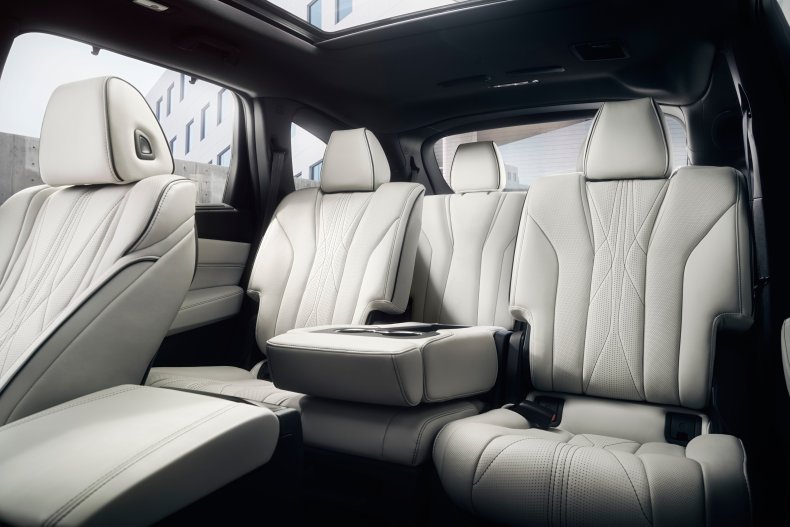 The white leather seats are comfortable and supportive with tons of adjustment in addition to the massaging function. White leather is not advised in a four-season climate, but it looks great. Apple CarPlay worked perfectly and the child seats were easy to install.
2022 Acura MDX Type S
As opposed to the standard MDX with a 3.5-liter V6 making 290 horsepower (hp), the Type S comes with the company's new turbocharged 3.0-liter V6 delivering 355 hp. Both versions come with a ten-speed automatic transmission.
The Type S is only available with all-wheel drive. This tester also included the Advance Package with 16-way adjusting, nine-way massaging front seats with quilted-stitching, a premium audio system and a power, hands-free liftgate. Additionally, the Type S adds a sport steering wheel, navigation, wireless charging, remote start, rear cross traffic alert and a few other bells and whistles for a grand total of $73,090 including destination.
The V6 is strong and smooth on the road, but even in the Sport drive mode it still has a slight hesitation when taking off from a red light. Once going, the power comes smoothly and shifts from the ten-speed are easy. That automatic transmission will kick down several gears at a time during passing maneuvers. It sounds angry at full throttle and the brakes are sensitive and with a short pedal stroke.
Comfort mode loosens up the adaptive suspension for a floatier feel on and off the highway.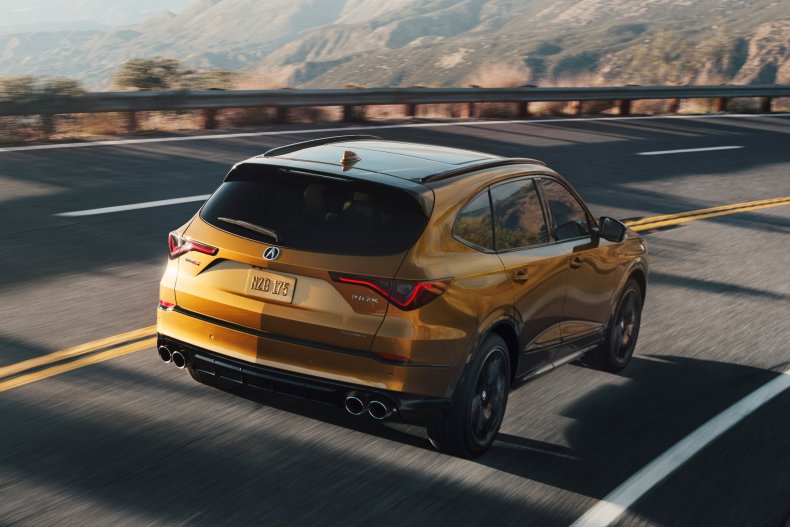 The MDX Type S includes a Lift drive mode that adds another couple inches of ground clearance. It automatically lowers once a certain speed is reached. With Acura's all-wheel drive the Type S is almost impervious to slippery and dirty roads. It rolls over slick grass and gravel and goes exactly where the driver points it. The steering is medium weight at speed, but eases up when going slow in parking lots.
The 2022 Acura MDX competes with other near luxury and luxury three-row SUVs like the GMC Acadia Denali, Infiniti QX60 and Lexus RX-L. The BMW X5 and Audi Q7 could also be cross shopped. The Infiniti has better styling than it ever has before while the popular Lexus RX recently gained a third row of seats.
The base Acura MDX comes in at over $49,050. The Lexus RX L starts at $48,150 and the QX60 is $50,395. So, they're all very close in starting price. The BMW and Audi are both closer to $60,000.
The Acura stands out with its performance all-wheel drive system and excellent new styling. However, Infiniti stylists are climbing back to the top as well. The Lexus is the easiest to drive and live with, hence its popularity.
Those three should be the first test drives. If they don't spark a buyer's interest, more expensive options also await.