6 takeaways from Book Club's author discussion with Laura Zigman

Book Club
"I felt like this was the book I always wanted to write but didn't know how to write."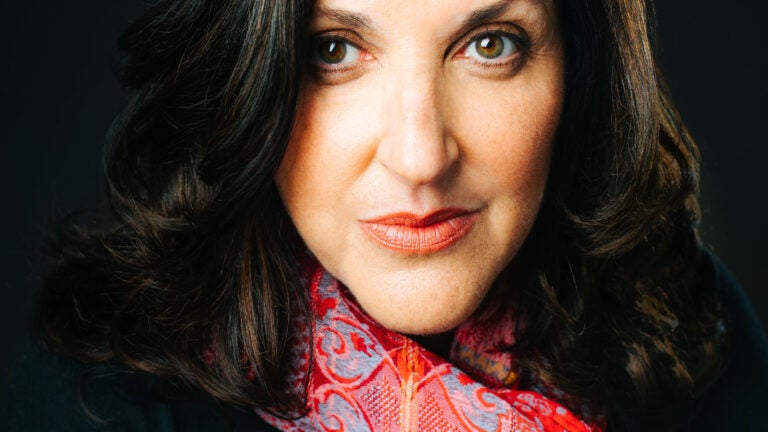 For Laura Zigman, author of "Animal Husbandry," "Separation Anxiety," and four other novels, writing a book is a lot like getting a plane up into the air before you've figured out how to land it. 
"I have no idea where it's going and all these threads have to come together. And that's the mystery and the terror and the magic of writing," she said. "Somehow you have to figure it out, and you do."
The threads of her latest novel, "Small World," all started in her real life. The story is about sisters Joyce and Lydia, who are both divorced and living together in an apartment in Cambridge. While fictionized, the story was inspired by her own relationship with her sister and their shared memories of a third sister who died very young. 
Writing the book was Zigman's way of processing her own story and sharing it with the world.
"It really was a way for me to understand myself, and a way for my sister and I to understand our relationship. I showed it to her when it was done and…we've had some of the most amazing conversations afterward," the Newton native said.
Boston.com recently hosted a discussion with Zigman and Megan Birch-McMichael, general manager at The Silver Unicorn Bookstore, about her latest novel. The two talked about mining personal experiences for fiction, writing with sensitivity toward marginalized groups, and what it was like to write a book during COVID lockdowns. 
Read on for takeaways from their discussion and sign up for more Book Club updates.
"Small World" started as a memoir.
Zigman's oldest sister, Cheryl, died at age seven after battling a rare bone disorder for most of her life. While the author and her surviving sister, Linda, didn't have much time with Cheryl before she died, her loss had a profound impact on her childhood. Zigman attempted to write a memoir about what it was like to grow up in a family that had lost a child but found she couldn't tell a complete story. 
When it came time to write this novel, Zigman returned to the 75 pages she'd previously written to flesh out her characters' family history. 
"When I was starting to work on this book, I realized it wasn't just going to be a comedic novel about sisters and annoying people upstairs. It was going to go into this whole backstory of their childhood," she said. "And lo and behold, nothing's wasted. I had all this material and while I ended up changing a lot of it and fictionalizing a lot of it, it was so great to have written pieces that I could then draw from."
The book centers on people with disabilities and the people in their lives.
In the novel, two sisters move in together as adults and finally revisit their memories of their sister, Eleanor, who died at age 10. Eleanor had cerebral palsy and a seizure disorder, and her disabilities transformed the lives of their parents who act as her primary caregivers for the first nine years of her life until she was sent to stay at a center for people with disabilities. Their mother, Louise, becomes an advocate for disability legislation while their father, Lenny, falls into depression after his daughter's death. 
Zigman said the book was sent to sensitivity readers before publication to ensure that the writing did justice to the story she was trying to tell. 
"It's always better instead of saying, 'a disabled person' to say 'a person with disabilities' or whatever. And if I can make that [change], why not say it the way that makes it better, you know? I'm very open to those changes."
Writing this novel helped Zigman understand herself better.
When she finished writing the book, Zigman felt that she'd been able to unpack her own personality and her relationship with her sister. The book also allowed her to have open conversations with her family in ways that were discouraged when she was a child and the prevailing wisdom was that children shouldn't be burdened with family tragedy, even as it deeply affected Zigman. Even though the book is fictionalized, a lot of it comes from a "really real place," according to the writer. 
"I felt like this was the book I always wanted to write but didn't know how to write," she said. "When I wrote it, I felt like it was the book that kind of explained who I am."
Zigman has learned to be careful about every line she writes.
Zigman sold the novel during COVID-19 lockdowns and needed more time to complete the first draft as personal and world events got in the way of her writing. Although Zigman said her writing process is typically more scattered, she used regular word count goals to complete the draft in four months. 
"There are lots of writers who will say they write every day and they have a very regimented [schedule]. I'm not like that. I go for very long periods of time where I don't write and then I am very intensive when I have to do it. When I'm in it, I'll work on it every day."
As she's grown as a writer, she's learned to be more deliberate in her writing and editing process so the book feels more complete when she sends it out for publication. 
"I have a really very high bar for myself for when it's ready," she said. "I'm a better judge of it now, I think than I was when I started. Just like, 'Oh, this feels right.' This ending feels right. The way the pacing is working. I mean, you can never really know until you show someone but I sort of felt like it was right."
She wrote her first book while working in book publishing.
Before becoming a published author, Zigman worked in the publishing industry in New York City for a decade. During that time, she worked on her first novel, "Animal Husbandry." It wasn't until she moved from New York to Washington D.C. for a "quieter life" that she had the time to sit down and polish her draft. 
"When I wrote 'Animal Husbandry' it never occurred to me that anyone would even buy it," she shared. "All I wanted to do was finish it. I thought, 'If I can just finish this book and get it out of my head.'"
Since then, she's published multiple books, including 2020's "Separation Anxiety," which was recently optioned for television by the team who created "Mare of Easttown."
Zigman's next book is also set in Massachusetts. 
"Small World" takes place in Cambridge and the city is not just a setting, but a character, in the novel. The author grew up in Massachusetts and uses the state as a backdrop for several of her novels. Her next book is about a woman who becomes an adult driver's education teacher and moves to Gloucester after she gets divorced and her son moves away from college. Zigman said she's spent a lot of time in Gloucester but plans to steep herself in the town while writing the book. 
"It's about friendship, and what do you do when the first party life is over and you're starting again," she said, and joked, "I just started it, and of course terrified that I'll never figure it out, but I know I can."
Stay up-to-date on the Book Club
Catch up on the latest Boston.com Book Club pick and join the virtual author discussions.