Why Too Hot To Handle's Cam & Emily Got Back Together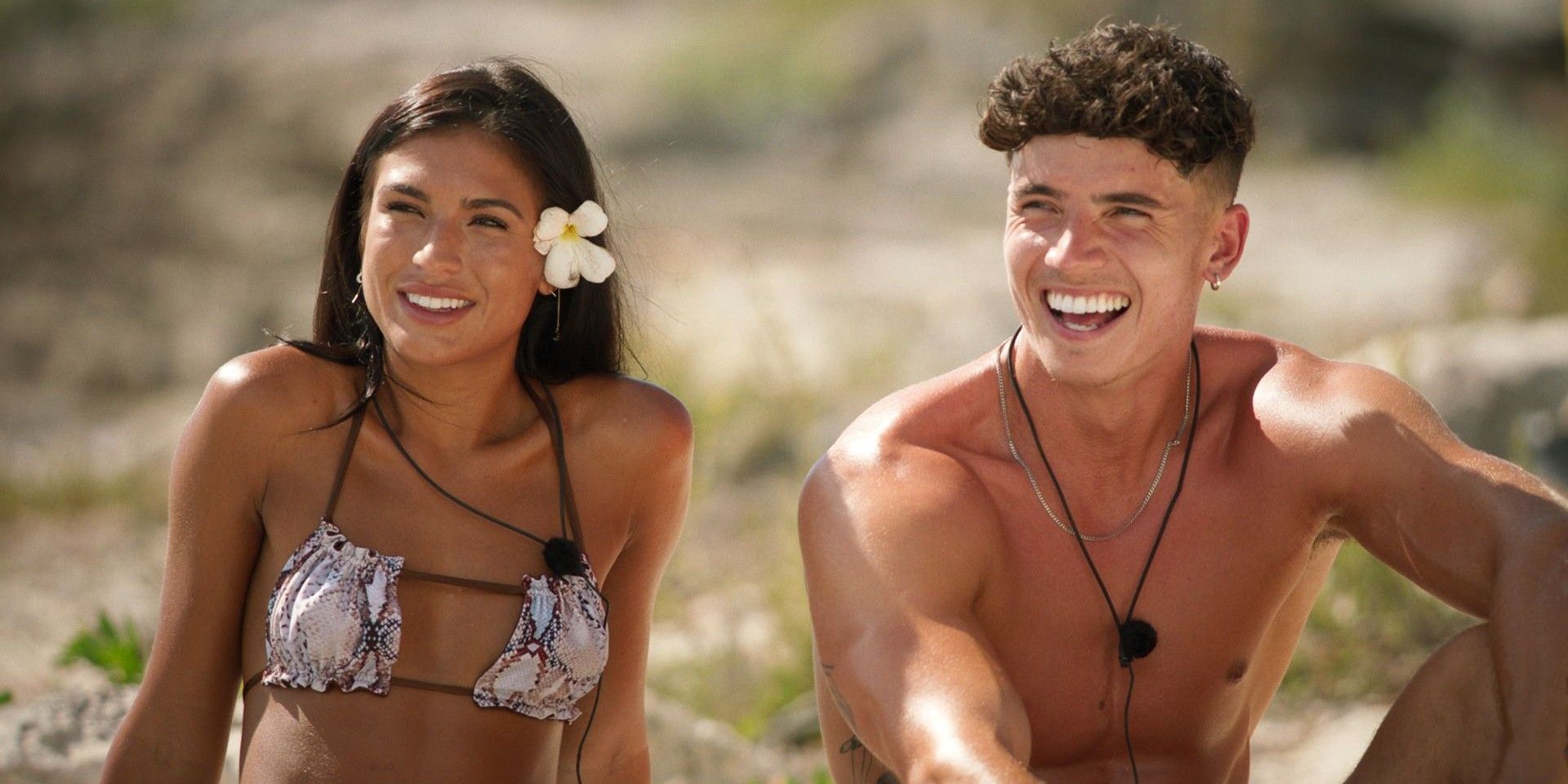 Emily Miller and Cam Holmes have experienced various trials and tribulations in their relationship since they met on Too Hot To Handle season 2. While Emily set her sights on Cam as soon as THTH season 2 premiered in June 2021, Cam wasn't as single-minded after he almost stepped out with Christina Carmela and Tabitha Cliff. However, the duo's connection continued to grow throughout the season, and although Emily and Cam didn't win, they left the Turks and Caicos villa together and moved in shortly after.
It was devastating when Emily and Cam unexpectedly split in April 2022. While the two didn't directly address their breakup, rumors quickly spread that Cam had cheated on Emily while on vacation, which Emily seemed to confirm when she described herself as, "single af" online. Luckily, Emily and Cam appeared to rekindle their relationship by that summer, and as of June 2023, the THTH season 2 stars are happier than ever. In September 2022, they finally reflected on their short split, after participating in a Q&A on their YouTube channel. Here's how the popular THTH couple reconciled.
Emily & Cam Figured Out How To Work Through Their Issues
Being in the public eye isn't easy, so when Cam and Emily briefly spent time apart, they resolved to work things out away from social media. Both stars admitted that they, "weren't in a good place" at the time, and although they didn't confirm nor deny Cam's alleged infidelity, Emily did comment, "At the end of the day, we're human. Things happen. People make mistakes." Emily and Cam could move forward and give their relationship a second chance because they consciously decided not to put their business on the Internet. "Our relationship is real; it's not for PR, [so] we didn't want to address it [publicly]," Cam explained.
Emily's Ectopic Pregnancy Brought Her Closer To Cam
Unfortunately, Emily and Cam's relationship hit some bumps last year, when Emily had to undergo emergency surgery. In June 2022, she revealed that she was hospitalized, and after being diagnosed with an ectopic pregnancy, Emily had her fallopian tube removed. Emily shared photos of the devastating experience on Instagram. She indirectly confirmed that Cam was the father, and revealed that he remained by her side during the ordeal. Although Emily and Cam's loss undoubtedly impacted their lives, the experience helped bring the Too Hot To Handle couple closer together, which they briefly referenced in their Q&A video.
Although Emily and Cam's relationship has continued to stand the test of time despite the slight hiccup, the same can't be said for the couples introduced on Too Hot To Handle season 4 in December. Recent winners Jawahir Khalifa and Nick Kici were involved in serious online drama before they admitted to breaking up. At the same time, Kayla Richart and Seb Melrose have also gone their separate ways. While most couples on THTH fail to thrive outside the villa, Emily and Cam have proven to be the exception as the only couple still together from THTH season 2.
Sources: Cam & Em/YouTube, Emily Miller/Instagram