'The Morning Show' Season 3 Review
This review was written during the 2023 WGA and SAG-AFTRA strikes. Without the labor of the writers and actors currently on strike, the series being covered here wouldn't exist.
After two long years, The Morning Show is finally back — even if only one of the characters is still hosting the titular program, and on a part-time basis at that. While the second season took place in 2020 and covered the early days of the pandemic, season three sees a time jump to 2022 (save a mid-season flashback episode, but more on that later). Alex (Jennifer Aniston) has long recovered from COVID, is more beloved than ever, and is hosting a successful UBA+ interview series called Alex Unfiltered. Despite a break-up from Laura (Julianna Margulies), Bradley (Reese Witherspoon) is thriving on the evening news desk and gaining massive acclaim for reporting on the January 6th insurrection from inside the Capitol. Things seem to be going relatively well for everyone involved. But that doesn't last long — this is The Morning Show, after all.
The main drama stems from the fact that UBA is struggling to keep the lights on. Cory (Billy Crudup) thinks he's found an answer in Paul Marks (Jon Hamm), the CEO of space exploration company Hyperion who gives serious Elon Musk vibes, but not everyone is fond of him or his plan. The result is a season-long Succession-esque fight for control of the company and its future. There's backdoor deals and backstabbing, there's snooping and smooching, and there are moments that will make your eyes water mixed in with a couple that will make them roll. There are still way too many storylines going on — a common critique of the first two seasons — but it does feel like it's gotten closer to finding its footing and focus, and while it's still trying to do too much, at least none of those things are boring.
'The Morning Show' Season 3 Skillfully Explores Current Affairs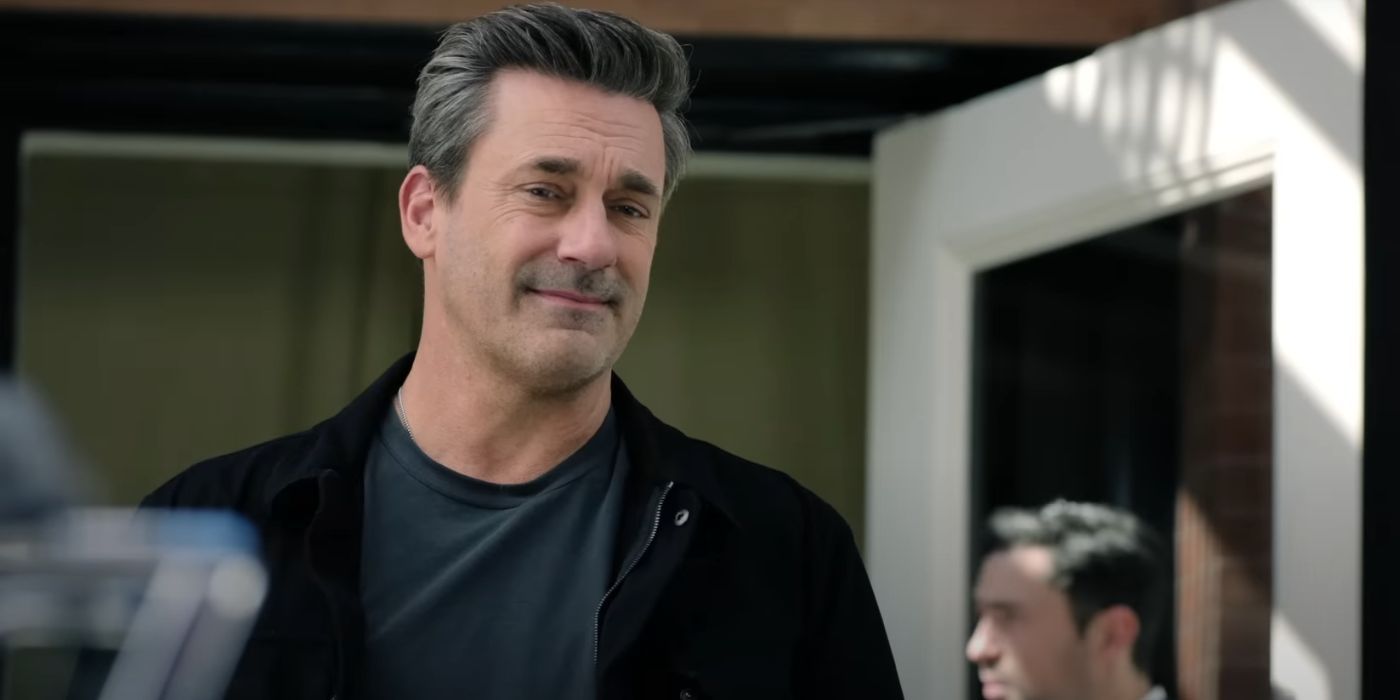 The Morning Show has always been known for reflecting real life. Season 1 took on the #MeToo movement, whereas Season 2 revolved around the start of the pandemic. And while it's always had its finger on the pulse of the present moment, the degree of effectiveness with which it's handled those issues has been mixed.
The Morning Show Season 3 bites off a lot, but it does a pretty good job chewing it all, and the way the topics are brought up feels natural. (As opposed to that puzzling Mitch in Italy storyline that so much of the sophomore season revolved around.) The political climate forces Bradley to face some ugly truths about her past and once again be torn between her loyalty to her conservative family and the love she still has for Laura. She and all the women, especially new anchor Chris (Nicole Beharie), have to painfully grapple with how to cover stories on abortion — a task that gets more difficult once Roe v. Wade is devastatingly overturned.
RELATED: 'The Morning Show' Season 3 Needs To Fix This Major Problem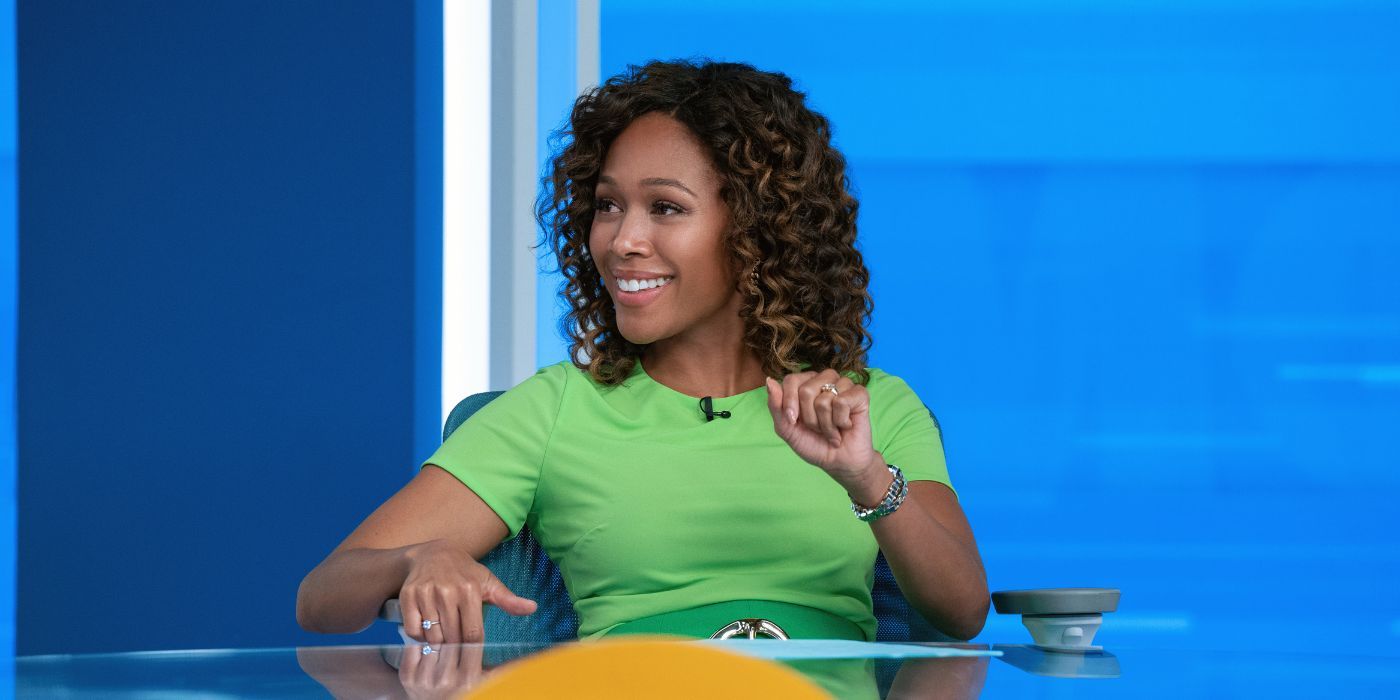 Speaking of Chris, both she and Mia (Karen Pittman) are affected by the BLM protests as well as misogynoir and pay inequality in the workplace. The war in Ukraine hits home for Mia in an unexpected way, and it's great to see Pittman — consistently one of the best parts of the show — get to explore more of Mia's personal life.
The overarching themes that span the entire season and touch every character in some way couldn't be more timely. The threat of Big Tech and the power of billionaires to buy and dismantle companies is eerily familiar to Elon Musk's purchase of Twitter/X. The question of the future of legacy media, the corruption of the UBC board, and the frustration of the crew with their working conditions couldn't be more relevant with both the WGA and SAG on strike.
The strongest of these, however, might be an echo of where The Morning Show began with the #MeToo movement. This season explores different facets of it by giving powerhouse rising star Greta Lee's Stella a meatier storyline, as she has to constantly juggle doing what's best for the company and herself. One of the most memorable and horrific moments happens when Stella must make a harrowing choice between sticking with her morals or closing an important deal with two powerful, sexist advertisers — one that affects her deeply and one she feels the ripples of when she's put in the position to do similar things again and again. Alex, too, has to navigate her precarious sense of power when she gets involved with an influential man. There are so many intricacies and double standards, and The Morning Show does a nice job of diving into them in a nuanced and interesting way.
'The Morning Show' Season 3 Is at Its Best When It Puts Female Dynamics Center Stage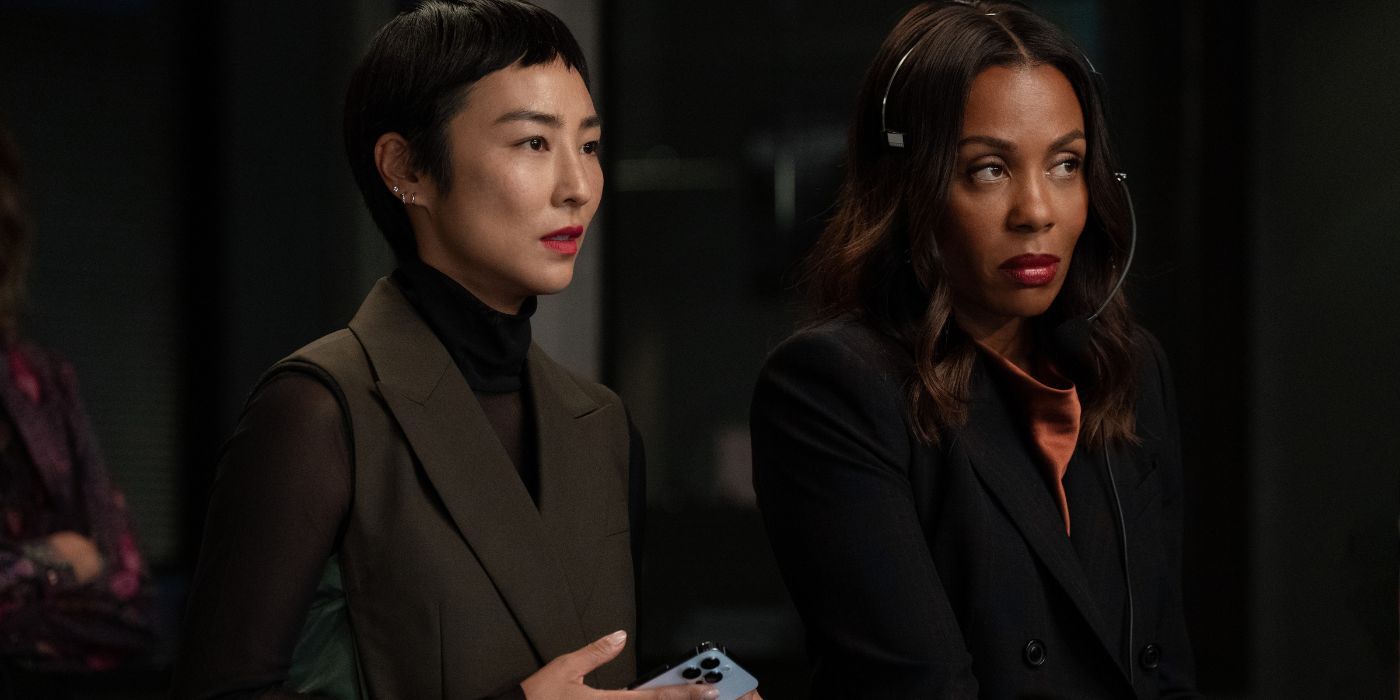 The Morning Show's main draw and focus in Season 1 was the complicated relationship between Alex and Bradley. The constant ups and downs between the frenemies were compelling, and seeing Aniston and Witherspoon go head-to-head and find common ground made for delicious viewing. It's puzzling, then, why The Morning Show seems adamant about underutilizing what sold the show in the first place. Just like in the second season, the two of them spend much of the time frustratingly separated. It's a shame, because when they do touch base in a meaningful way almost like clockwork — in the premiere, in one episode smack-dab in the middle of the season, and in the finale — it's electric and a reminder of what made the show work to begin with.
Luckily, The Morning Show spends this season delving deeply into newer relationships that are just as intriguing. The most surprising and delightful may be the friendship between Mia and Stella. From talking out issues facing the company to giving each other advice in more vulnerable moments to an absolute blast of a scene that sees them getting drunk at a bar to blow off steam, it's refreshing to see this nuanced and supportive relationship unfold between two characters who have been disappointingly relegated to the background up until this point.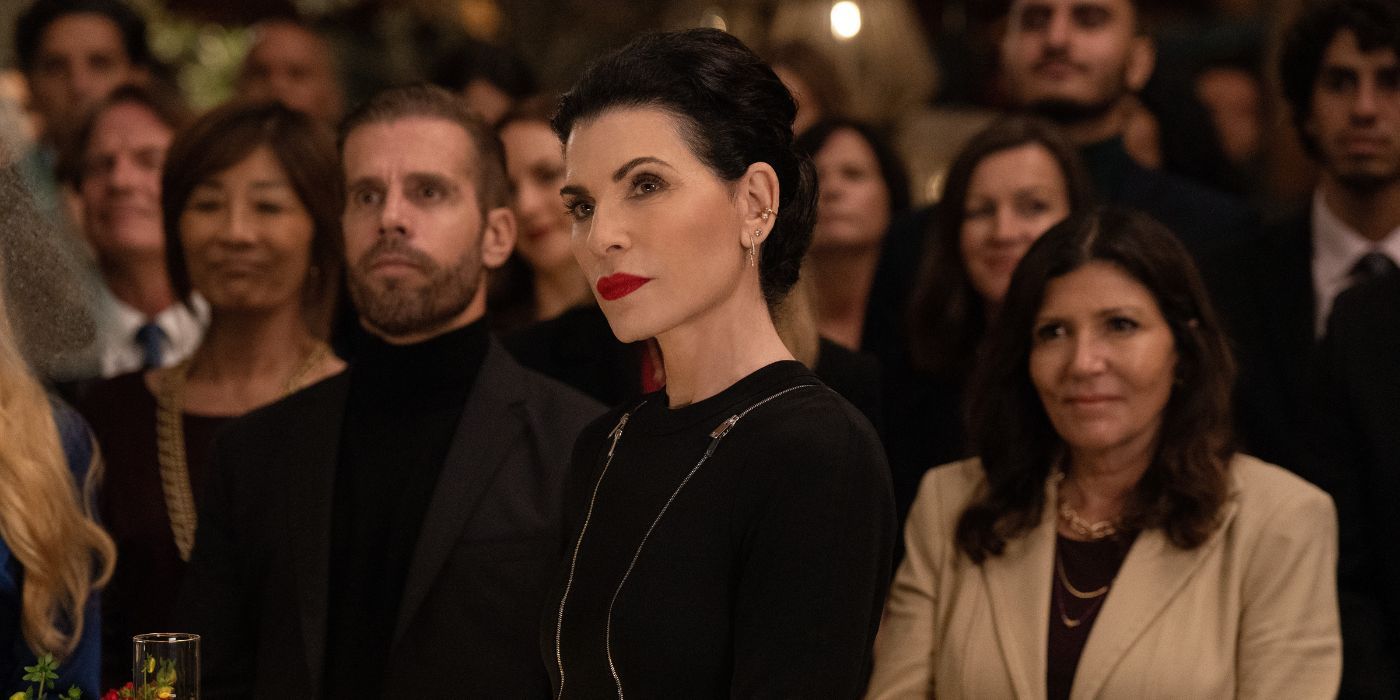 Arguably one of the most exciting developments of Season 2 was Bradley exploring her sexuality and getting into a relationship with accomplished fellow journalist Laura Peterson. Calm, logical, and a big proponent of therapy, Laura couldn't be more different from Bradley, and their opposites-attract dynamic makes for a rich, albeit complex, romance. One of the strongest episodes of season three actually takes us back to 2020 to see how and why their relationship unraveled over the course of quarantine. It's a risky choice, as devoting an entire episode to going backward could very easily halt momentum, but the two are so riveting and fun to watch play off each other that it pays off in spades. It also gives the audience important context that becomes key after a shocking revelation that changes the course of the back half of the season.
Another standout episode of the season is Episode 3, which revolves around a scandal after a hack has exposed an email from board member Cybil (Holland Taylor) making a racist joke at the expense of Chris. Beharie gives a masterclass as she attempts to walk the line between standing up for herself and holding Cybil and the network accountable while not giving the world any reason for the world to stereotype her as the angry Black woman. It's easy to root for Chris from the start, as Beharie gives her a plethora of dimensions and constantly pulls out a subtle, lively, and often heartbreaking performance. Taylor, too, gives Cybil depth, making for a cautionary character study of a flawed woman desperately clinging to her family's legacy.
'The Morning Show' Still Has Too Many Characters — and Often Focuses on the Wrong Ones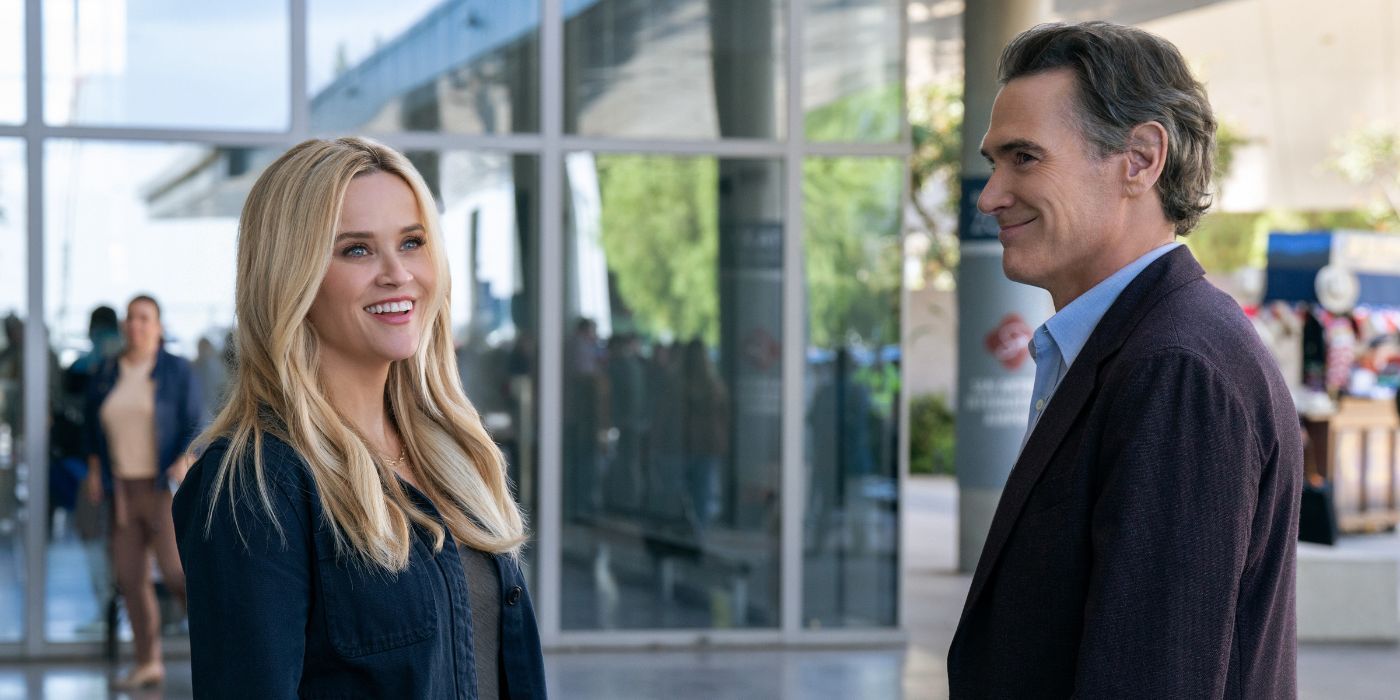 The Morning Show has a strong ensemble, which is both a blessing and a curse, as it simply doesn't have time to do every character justice despite its bloated tendency to have every episode run nearly a full hour. After highlighting Chris toward the beginning of the season, she slowly fades into the background with Yanko (Nestor Carbonell), who once again is given absolutely nothing to do. Though new this season, Paul makes for a smart addition, as his own storyline is solid and surprising while also adding texture and giving us background on more established characters like Stella and Cory.
But I can't help but question if we need this much background on Cory — or if we need as much Cory as we get at all. At times, especially toward the beginning of the season, he ends up like the main character — an odd and frustrating choice for a show that starts with two female protagonists. Crudup is an incredible actor, but characters like Cory have had their stories told time and time again. The insistence on centering him as much as The Morning Show does instead of giving other more interesting characters the spotlight is lazy. The layers the show tries to give him end up ringing false and hollow, and his relationship with Bradley is repetitive and played out at this point.
Too many characters is a problem that The Morning Show has had from the beginning, and while it unfortunately doesn't seem to have learned from its mistakes, it also hasn't lost the elements that made it great, either. There are still some zingers that give the show nice beats of comedy and wit, showing that despite its sleek exterior and heavy topics, it doesn't always take itself so seriously. In addition to the new supporting characters, we also get the gift of June Diane Raphael in a recurring bit part as the sassy anchor of a conservative news program. The needle drops remain immaculate as well — St. Vincent's "Pay Your Way in Pain" and David Bowie's "Lazarus" are especially memorable and effective at punctuating big moments.
The Morning Show takes on a lot this season, but it impressively succeeds at most of it. By integrating topics in a way that's natural and featuring riveting friendships, romantic relationships, and power struggles, it gives the majority of its characters their moments to shine. While the central topics may have evolved with the times and most of the characters have moved on from the fictional morning show featured in the series, this still very much is The Morning Show we fell in love with.
Rating: B+
The Big Picture
Season 3 of The Morning Show skillfully explores current affairs, addressing topics like abortion, pay inequality, and the power of billionaires in a timely manner.
The show is at its best when it focuses on female dynamics, with the complicated relationship between Alex and Bradley being a highlight, although the season also delves into new relationships that are intriguing.
The Morning Show still struggles with too many characters, with the focus often on the wrong ones, and it feels like the show hasn't learned from its past mistakes in this regard. However, it still retains elements that made it great, including humor and excellent music choices.
The Morning Show Season 3 premieres September 13 on Apple TV+ and will release new episodes every Wednesday.