Raising Money For ALS With MLB 9 Innings & OOTP Baseball
MLB 9 Innings and Out of the Park Baseball will begin special charity initiatives this week in order to benefit ALS research. Both games come from Com2uS Studios, with the latter being a collaboration with subsidiary developer Out of the Park Developments. Through their many iterations over the years, these series have allowed players to manage teams and become a part of their favorite franchises, and now fans will have new ways to get involved for a good cause.
Though both allow for player management, MLB 9 Innings and Out of the Park Baseball do have their differences. Out of the Park Baseball is a text-based simulator, focusing heavily on the behind-the-scenes aspects of the game, while MLB 9 Innings also takes players out on the field to play ball. This week, Com2uS will be hosting two special events involving these titles: an OOTP 24 tournament where MLB stars Todd Frazier and A.J. Pierzynski will compete against each other, and an MLB 9 Innings stream with creator JayFish where viewers can control his team through donations. Both are part of an overall charity initiative with The ALS Association.
Related: Collect New Topps MLB Cards In Out of the Park Baseball 23
Screen Rant sat down with Rich Grisham, the Director of Business Development at Com2uS, to discuss the upcoming events, the importance of The ALS Association, and how players can help the cause.
Screen Rant: I'd love to hear how this initiative came about and how Pierzynski, Todd Frazier, and JayFish all got involved at some point as well.
Rich Grisham: So the short answer is: it's something that we've been wanting to do for a while, and because of a combination of agreements that we've signed and partnerships that we have created, we were really able to put it all together in 2023. It might sound trite, but when you have all of the different stakeholder organizations that you do with something like this, it can be really complicated. It's not even so much that it's difficult, it's just there's a lot of different groups you have to bring together and make sure that it's all going to work right. So obviously, at Com2uS, we're a global corporation, we're headquartered in South Korea with a significant US presence, so we have to get all of those groups lined up.

Of course, we have a great, tremendous partnership with Major League Baseball, with the Major League Baseball Players Association, with the Major League Baseball Players Alumni Association, all of whom are part of this as well. And then we have the individual players, for example, Lou Gehrig, Jackie Robinson, those groups manage their estate. It's something that we've been wanting to do in a more coordinated way for several years, and because of all of the agreements and the partnerships we were finally able to establish them for the next several years that really made 2023 the year that we can put it all together, and then launch them across different platforms.
Can you describe a little bit about what players can expect from the Out of the Park tournament and the MLB 9 Innings stream?
Rich Grisham: Yeah, one of the great things about our different games at Com2uS, is that they are different games, right? MLB Nine Innings is the world's most popular mobile baseball MLB game, and they're a very tight knit community, and JayFish who is our weekly streamer has a great rapport with the community. So that is going to be a very fun live stream for charity where basically as donations come in, the community is going to see JayFish do a lot of different things to his team, his team that he's been building up over time, and based upon the different things happening he'll be changing out players and doing all sorts of different things related to MLB Nine Innings.

On the Out of the Park side, you've got former major league ballplayers managing a couple of different versions of their team. So for example, A.J. Pierzynski, he was on a World Series championship Chicago White Sox team, he's going to take that team against Todd Frazier's division-winning Reds team. And Out of the Park is a strategy game, whereas MLB Nine Innings is strategy, but also more action. They're going to set their lineups, and they're going to manage the game as if they were the managers of those teams. And as donations come in, the people watching that stream will be able to get potential rewards and prizes and things like that. So two different games, two different communities, two different events, each really focused around the strengths of those games, as well as what the community likes best in those kinds of situations.
There are gaming-based charities that are dedicated solely to hosting events, but having existing titles lead their own initiatives, how would you say that can help make important change in a different sort of way?
Rich Grisham: Well, one of the things that we've seen, because this won't be our very first time doing charity events, but we were able to do a lot more coordination and a lot more scale now. What these different games offer to their communities are really an opportunity for people who play the games and participate in the communities to really step up. Every time that we've done anything charitable, we've always been blown away by the generosity and the kindness of the people who play our games. And so by tailoring the experience to the individual games and to those communities, we feel like it puts everybody in the best position to feel like they're doing good and that's what this comes down to.

Without trying to sound pompous or anything like that, we want to be a force for good. Video games – it's a very large business, it's a very large industry, there are millions of people around the world who play these games. And, again, given the right opportunity, we've always been really impressed with what they can do. So we'd like to tailor the experience to the community and really talk to them in the way that they're most familiar with, and then utilize the assets like Lou Gehrig or Jackie Robinson, the assets of these great historical players to tailor the experience to them. What it comes down to is the community always steps up and does a great job, and so we want to deliver the most compelling way for them to do that with our games.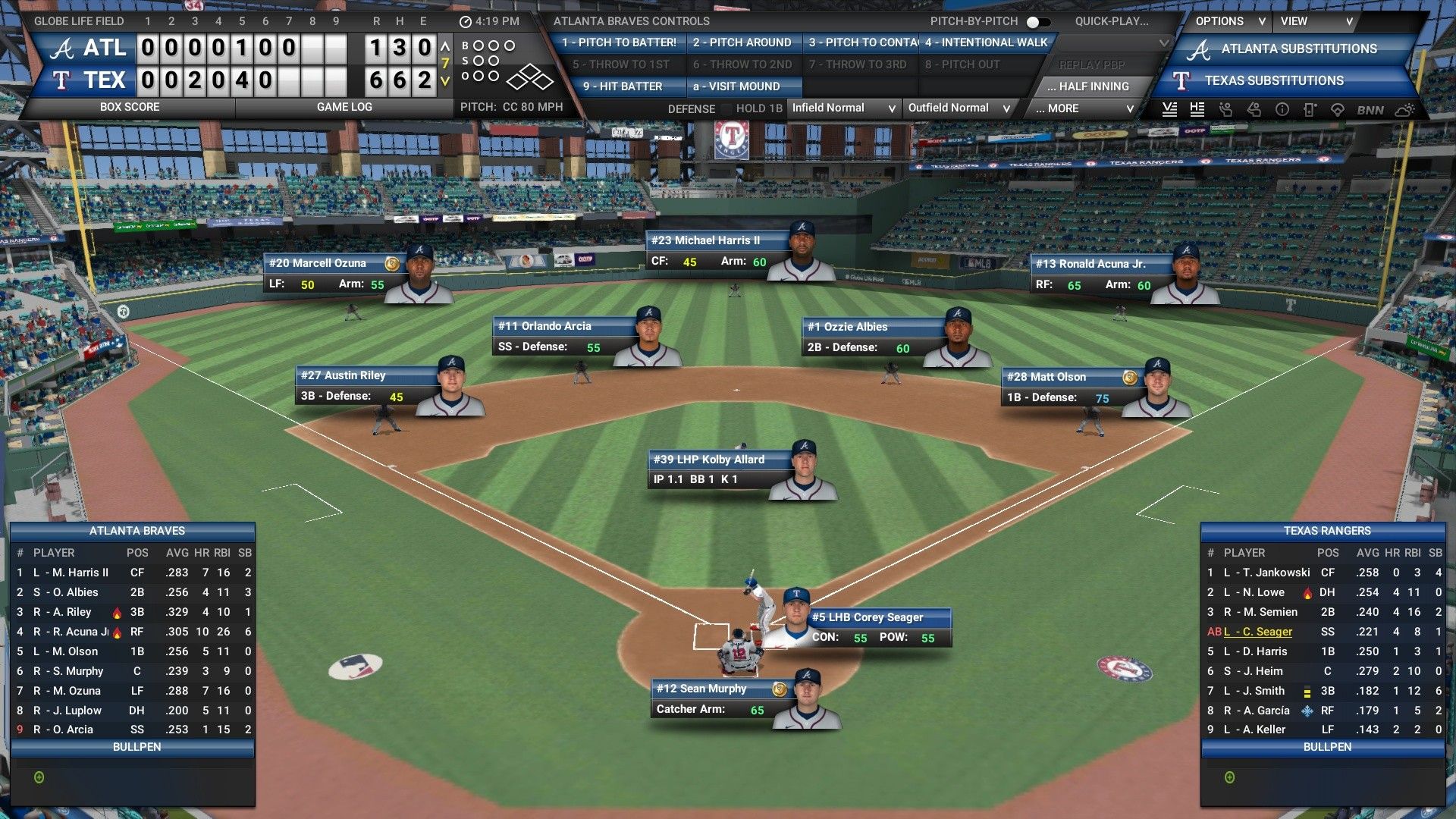 And why is this particular cause important to you?
Rich Grisham: Well, simply put, I've seen colleagues of mine who have dealt with ALS in real life. I still remember when I was a little kid, I saw the Gary Cooper Lou Gehrig movie, and it really struck me. And I've been able to be blessed enough to participate in the world of Major League Baseball via video games, and feel the impact and meet people at the ALS Association; all of these things have really combined to personally for me to just sort of take a step back and say, "It would be nice to do a little something," for lack of a better word.

I know that anything specifically that we're going to do isn't necessarily on its own going to change the world, but to be a participant in driving research and driving hope and in supporting people who need it, to me it's just something that it feels right to do. And everyone in the organization feels the same way. I commend Com2uS for – no pun intended – stepping up to the plate and supporting this. And it's just something that really just feels like the right thing to do. It's not easy, but it's an easy concept, and then just takes a little bit of hard work to put it in motion, and that's what it comes down to.
Related: Highest MLB The Show 23 Roster Ratings At Launch
How else can players get involved with ALS charity besides just donations?
Rich Grisham: So the ALS organization has tremendous resources. I think probably a lot of people might remember the Ice Bucket Challenge from a few years ago that went viral on social media. If you go to their website, there are all sorts of different ways that you can get involved. A lot of the Major League clubs have their own initiatives as well. The ALS Association makes it very easy to get involved, and I commend them for that. So that would be my top recommendation, is if you want to do something other than donating or in addition to donating, just check out the ALS Association website, they've got a lot of great resources there.
Is there anything else you want players to know about these events or ALS charity in general?
Rich Grisham: Just that it's important, every little bit helps. We're all in different places in our lives, financially and emotionally and with what we can do at different times, and we just want to make it easy for fans and players to feel like they can help in whatever way that they can – that's what this comes down to. So the live streams are a fun thing, but the links for donation will be live for a while.

And this is just the start; we're going to have several of these over the next several years at a minimum, where we're building out this program in a way that we really want to be a part of the solution to a really serious problem. And there have been a lot of strides made in terms of research and awareness of ALS in particular, and we just want them to know that this is something that we're committed to for the long term. We hope that we can eventually, ultimately see a cure to this disease, because it is so devastating to so many people, unfortunately, around the world.
Source: MLB 9 Innings 23/Twitter
Players can donate to the MLB 9 Innings and Out of the Park Baseball funds via their respective pages on The ALS Association website.