Quasi Trailer: A Satirical Reimagining From The Minds Behind Super Troopers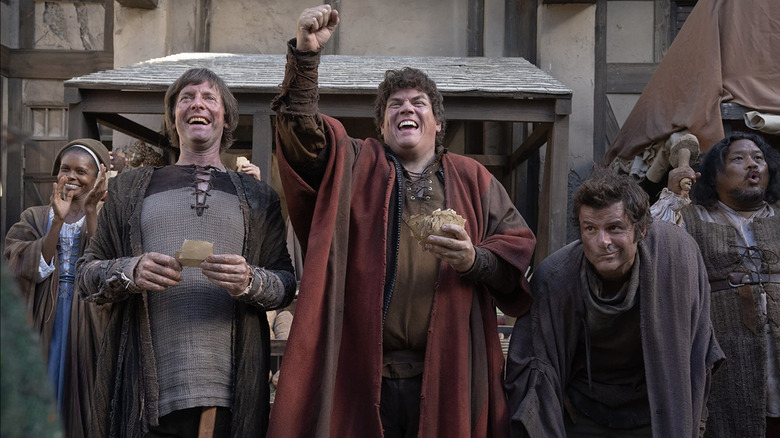 The "Monty Python" film series is something of a legend in and of itself. The franchise is utterly beloved by comedy enthusiasts, and though we've had a lot of great comedic groups come together to make films since — The Lonely Island, anyone? — none have had quite the same spark as those English comics. That said, we may finally get our generation's answer to "Monty Python's The Holy Grail" in "Quasi," a new Hulu comedy that centers on a satirical look at Quasimodo, aka the Hunchback of Notre Dame.
In the film's trailer, we meet Quasi, a hunchback who wins the papal lottery in his village and gets to have his confessions heard by the visiting Pope — a prospect that is seemingly positioned as a way for him to turn his life around with a stroke of a miracle he never expected. Considering this is a comedy from the team that made "Super Troopers" and "Beerfest," though, it should come as no surprise that chaos subsequently ensues after Quasi's selection.
According to Searchlight Pictures via YouTube, the film's synopsis is thus: 
"A hapless hunchback yearns for love, but finds himself in the middle of a murderous feud between the Pope and the king of France when each orders the hunchback to kill the other."
Monty Python For A New Age
In a world full of remakes and reboots — the likes of which have become the norm these days — it's nice to see when one of these rehashings takes a different stance on the source material in a way that works. One of the things that made the "Hunchback of Notre Dame" story a cultural touchstone via the Disney film was its heart and dedication to true love in the face of any odds. "Quasi" seems to be turning that entire concept on its ear; While still being committed to finding love, this new take veers into parody and leans into situational and physical comedy. This applies broadly but, If it's a different take, I'll give it a shot.
The cast of "Quasi" consists of Steve Lemme, Kevin Heffernan, Jay Chandrasekhar, Erik Stolhanske, Paul Soter, and Adrianne Palicki, with the four guys being touted in the trailer as playing at least two roles each. The film is a collaboration of the Broken Lizard comedy group—which is made up of five members, the male cast and the film's director Heffernan— who use a classic comedy group tactic in casting each member in multiple parts. All five group members also have screenplay credits for the film, as well as executive producer credits. Matthew Medlin served as co-executive producer.
"Quasi" arrives on Hulu on April 20, 2023.
Read this next: The 95 Best Comedy Movies Ever
The post Quasi Trailer: A Satirical Reimagining From the Minds Behind Super Troopers appeared first on /Film.