'Lower Decks' Boards the Enterprise
Star Trek: Strange New Worlds has released the first official image from the highly anticipated Season 2 Lower Decks crossover episode. The upcoming episode was announced last year during the Star Trek Universe panel at San Diego Comic-Con. The new image, featured above shows Tawny Newsome and Jack Quaid bringing their animated characters, Ensigns Becket Mariner and Brad Boimler to life in live-action for the first time.
The new crossover episode will be directed by Star Trek legend Jonathan Frakes. Frakes is beloved for his role as Will Riker in The Next Generation and Picard and has had a turn behind the camera for nearly every Star Trek series made in the past 30 years. Along with the new image we also got a new trailer for Season 2 featuring footage from the episode.
The full ensemble cast of Strange New Worlds is set to return for Season 2 including Anson Mount, Ethan Peck, Rebecca Romijn, Babs Olusanmokun, Jess Bush, Christina Chong, Celia Rose Gooding, and Melissa Navia. Carol Kane is also set to join the cast for Season 2, along with another appearance from Paul Wesley's Jim Kirk.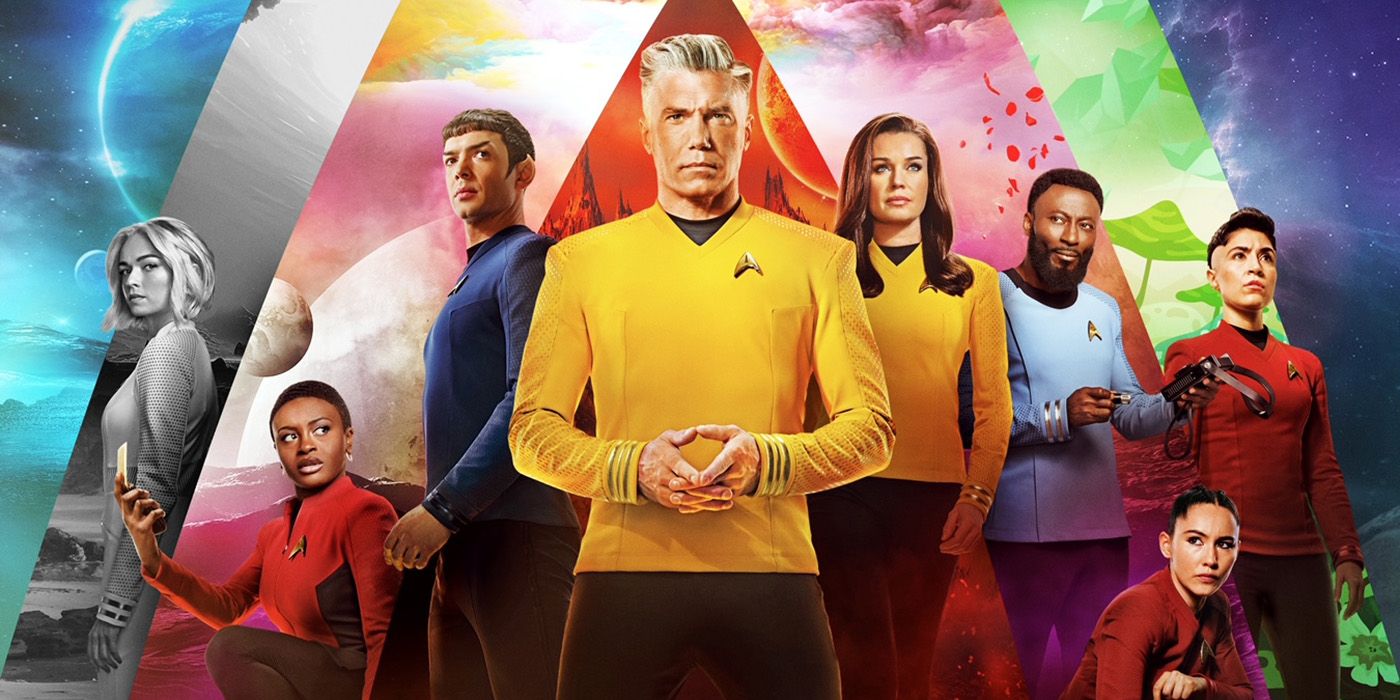 RELATED: First 'Star Trek: Strange New Worlds' Season 2 Trailer Takes the USS Enterprise to Such Great Heights
The Future of the Star Trek Franchise
In addition to the new seasons of Strange New Worlds and Lower Decks coming later this summer, the Star Trek future is looking brighter than ever. Strange New Worlds has already been renewed for Season 3, and Lower Decks has already landed a fifth season before their second and fourth season premieres. A new season of the animated series Prodigy is set to air this fall, while the fifth and final season of Discovery warps onto Paramount+ early next year.
Paramount has also greenlit a new Section 31 movie starring Oscar winner Michelle Yeoh as Phillipa Georgiou, a mirror universe character who originated on Discovery. We can also look forward to a new Starfleet Academy series, likely set in the same era as Discovery. Both projects are expected to begin filming later this year. Further, while Picard aired its series finale last month, fans are calling for a Star Trek: Legacy spin-off series with showrunner Terry Matalas at the helm.
Star Trek: Strange New Worlds arrives on Paramount+ on June 15. Until then you can watch the newly released trailer down below.