'Killing Eve's First Season Is Still Its Best
The Big Picture
Season 1 of Killing Eve had a clear and compelling storyline, with a perfect balance of tension between Eve and Villanelle's love and hatred.
The characters of Eve and Villanelle were most well-defined in Season 1, with their contrasting personalities and shared attraction making their dynamic intriguing.
Ultimately, the heart of Killing Eve is the complex relationship between Eve and Villanelle, and their interactions in Season 1 showcased the best and most captivating moments of their connection.
Killing Eve is the genre-disrupting, highly addicting and astounding TV show created by Fleabag's Phoebe Waller-Bridge, featuring a cat-and-mouse chase between assassin Villanelle (Jodie Comer) and ex-MI5 agent Eve (Sandra Oh). The astonishing ability of the lead actors, sharp writing (largely in credit to Waller-Bridge), and the tantalizing ambiguity of Villanelle and Eve's love-hate relationship made the first season exemplary within the TV sphere — and easily the best season within the show itself. Despite Killing Eve's blistering start, and its heartfelt end, the seasons in between were often muddy in plot, tone, and theme, consequently losing sight of the deft exploration that kicked everything off.
'Killing Eve's Storyline Was Its Slickest in Season 1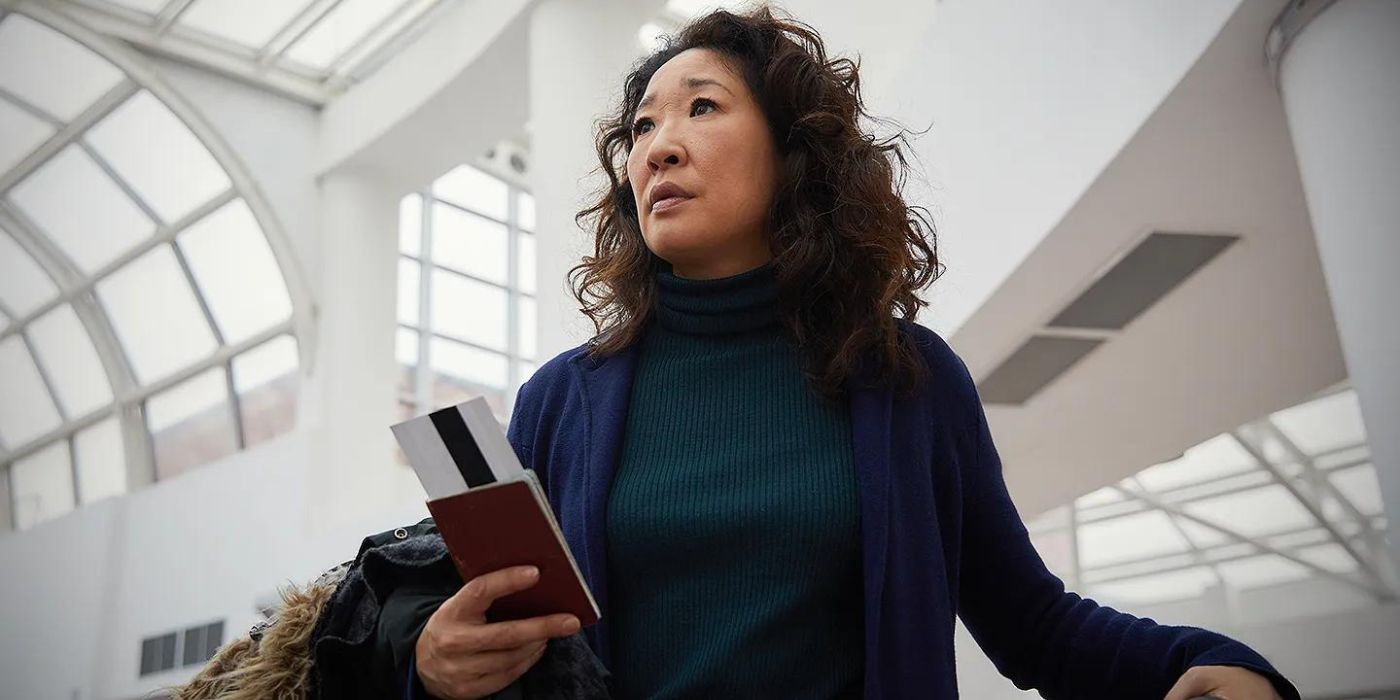 What could be more searing, more unforgettable than an insatiable ex-MI5 agent hunting down a prolific yet shadowy assassin, and then becoming increasingly fascinated, enamored even, with them — with this infatuation being gradually returned by the killer in question? In Killing Eve Season 1, we follow the often late, rule-breaking Eve as she experiences highs and lows in such quick succession that no sane person could easily withstand. She is fired from the job in which she is so close to catching a lead; re-hired in her covert dream job to finish the task; her close colleague and best friend dies tragically, in front of her eyes; her marriage reaches its breaking point; she becomes utterly obsessed with catching the killer in question, Villanelle. The series of events are clear-cut, and all serve a purpose. This is in stark comparison to the convoluted way in which events unfold in later seasons, during which it becomes hard to follow the motives of new characters (which is part of the point, to be fair), who is doing the double-crossing and who is being double-crossed, who the group of assassins "The Twelve" actually are, and what MI6 agent Carolyn's (Fiona Shaw) background actually signifies.
In this way, the story is at its best in Season 1, where the real magic is to be found in the tension between the love and hatred that Eve harbors in equal measure towards Villanelle. Eve has to wrestle with her complicated feelings towards Villanelle, with her motivation to avenge her best friend driving the majority of her actions, and simultaneously, Villanelle's undeniable allure bubbling under the surface at every turn. This is poignantly captured in the last episode, in which Eve breaks into Villanelle's gorgeous Parisian flat, at first merely nosing through her things, and then being compelled to trash everything within sight. Villanelle returns, and Eve spills how much she has been obsessing about her, including every mundane detail of her life. Villanelle meets Eve on her level, in a moment of rare, vulnerable honesty, revealing that what she really wants is "Normal stuff… Someone to watch movies with." After this, they proceed to lie down on the bed together, and the moment they're lying face-to-face, in the most trusting and intimate position yet, is when Eve decides to stab Villanelle. This shocking U-turn reflects her still-conflicting feelings and creates chaos at the end of an episode that had been peacefully winding down. Such was the structural mastery of Season 1.
RELATED: 'The End We Start From': Release Date, Cast, Plot, and Everything We Know About the Jodie Comer Drama
Eve and Villanelle Were Most Clearly Defined in Season 1 of 'Killing Eve'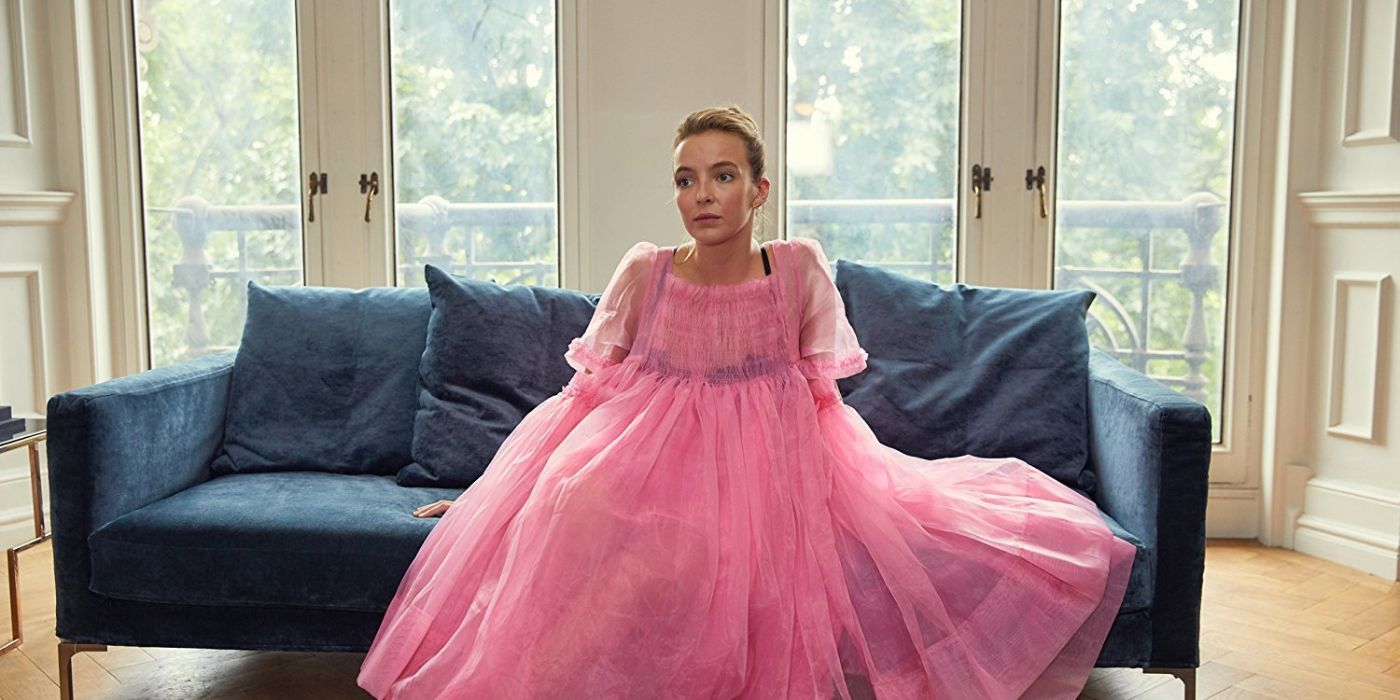 Not only was the plot of Killing Eve at its most concise and impactful in Season 1, but its characters were more clearly defined, too, especially Villanelle and Eve. The series follows their perspective in parallel, initially establishing that they are total opposites, then gradually revealing that there is something undeniable pulling them together. Villanelle is introduced as a slick, glamorous, merciless killer with a wicked sense of humor, and child-like playfulness. She knows how to manipulate others for her own gain, and seems wholly in control of her life. Eve, on the other hand, is hungover and running late to work when we are first introduced, is fired by the end of the episode, and works in very unglamorous, grayscale London settings. Therefore, their contrasting agent-assassin dynamic is at its most striking when the women are first introduced and then becomes all the more beguiling when lines start to become blurred.
Gradually it is revealed that Villanelle and Eve have far more in common than was originally thought. To start, they share a mutual attraction, which is clear from their original chance meeting in the hospital bathroom where sparks fly, with Villanelle suggesting that Eve should wear her hair down. Eve also studied criminal psychology, and already has a fascination with female killers; Villanelle is fascinated by watching someone die at her hands, choosing to maintain eye contact in their final moments. They also both break the rules, with Eve going rogue at her job by conducting illegal investigations, and Villanelle becoming increasingly blatant and cocky with her killings, landing her in trouble. This season rewards us the most, with its slick dissolution of the boundaries between moral and immoral, agent and assassin.
Ultimately, 'Killing Eve' Is Only About Two People…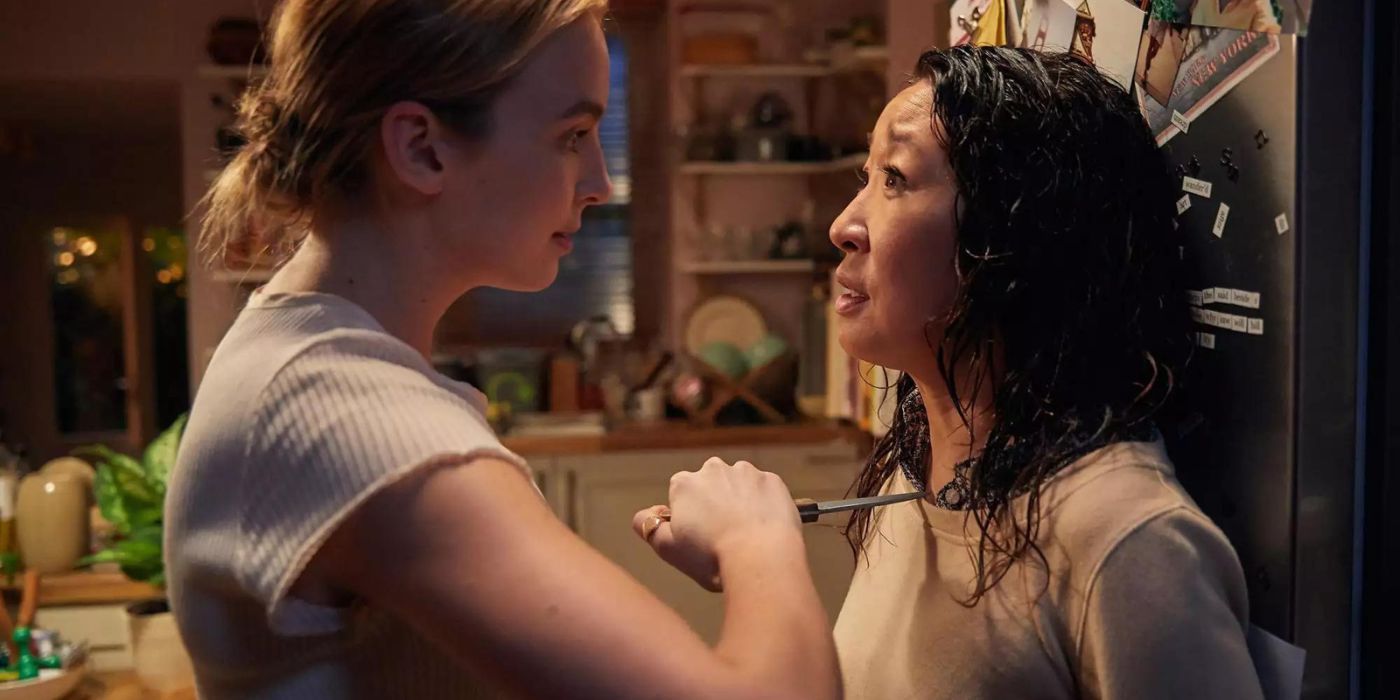 …Eve and Villanelle. These two characters, and the actors that portray them, are the real draw to Killing Eve and keep us watching with bated breath throughout its four seasons. It is without question that the fourth and final season of Killing Eve undoubtedly contains moments of gut-wrenching heartbreak, preceded by stunning moments of joyful romance; the scene in which Villanelle smiles tearfully as she watches Eve dancing to "Candy" by Cameo at a wedding is the most surprisingly heartfelt moment of any TV show. Just… chills. That said, the twists and turns of their relationship are most confidently portrayed in the first season. They hurt, attract, and pursue each other in equal measure, as played out in the deliciously funny sequence in which Villanelle breaks into Eve's house, cornering the terrified and struggling Eve, only to reveal that her pretext for breaking and entering is to have dinner with her. Eve then proceeds to heat up a homely shepherd's pie in the microwave, in a scene that hilariously juxtaposes the terror of having an assassin in your home with everyday domesticity. It is this humor played out via these juxtapositions that allow Eve and Villanelle to shine.
Whilst we love the vital queer representation that is fully realized in Season 4, the way it is played out runs the risk of slipping into placid conventionality, which these two women have never been aligned with. Furthermore, the various plot lines of the entanglements between undercover agents and assassins give Killing Eve a brilliantly twisty backdrop, but the often toxic, sometimes heartbreakingly sweet, never boring relationship between Eve and Villanelle is what we're really here to see, so flawlessly captured in Season 1.