Everything We Know So Far
Reservation Dogs, the heavy and heartfelt dramatic comedy that follows four Indigenous teens as they face coming-of-age struggles in rural Oklahoma, has been renewed for a third season. In its first two seasons, Reservation Dogs received well-earned critical acclaim. The series, with its hilarious and touching spirit world moments and tales of petty theft, shows the beautiful inner workings of close-knit Native American communities. From jokes about spirituality to the recipes they will not share, the show celebrates parts of Indigenous culture that many non-Native people have never experienced before, or may even be afraid to explore. The ingenious Indigenous creative team behind the show manages to tell a weighty story of loss in a groundbreaking way, creating truly unique, yet deeply relatable scenarios, with community-specific slang and inside jokes thrown in.
With Season 3 expected to debut this year, here's everything we know so far about the new season of Reservation Dogs.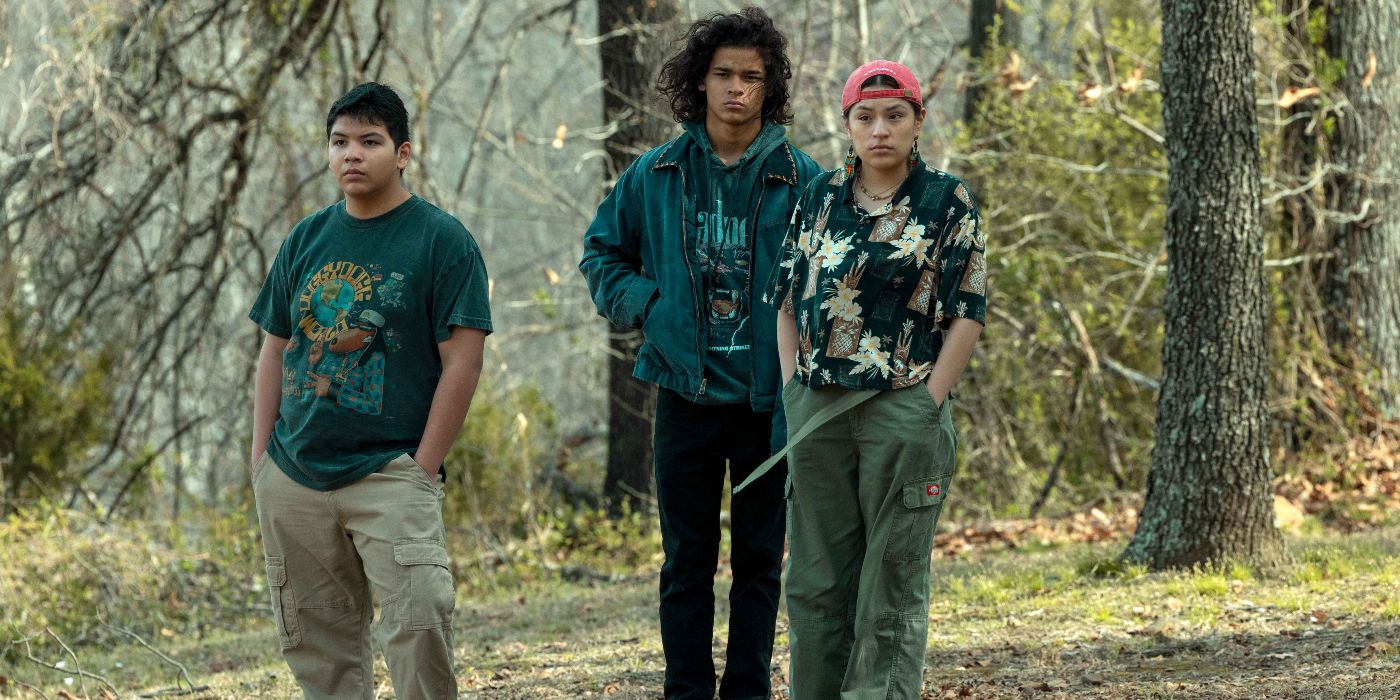 Related:'Reservation Dogs' Season 2 Perfectly Captures the Emptiness of Influencers
When Will Season 3 of Reservation Dogs be Released?
As the emotional and cathartic Season 2 of Reservation Dogs was still airing, the announcement came that Season 3 had been given the green light by FX. The previous two seasons were released in August 2021, and 2022 respectively. Fans have high hopes that the early renewal means that the third season will make its way to screens by August 2023. Like the first two seasons, viewers will be able to stream Reservation Dogs Season 3 on Hulu. With the first season consisting of eight episodes, and the second adding two more for a total of ten, there are 18 episodes to rewatch or get caught up on before the next season's premier.
Is There a Trailer for Reservation Dogs Season 3?
While there is no trailer available just yet, series co-creator Sterlin Harjo's Instagram page is a great place to stay updated on the progress of the show. In between posts about his Variety Showrunner Award and meeting Jeff Bridges, Harjo shares how he is feeling about the third season, including sharing an image of Uncle Brownie thrusting a knife at the sky while shouting "I'm not scared of you!"
Which Cast Members Are Back in Reservation Dogs Season 3?
Along with its team of writers, directors, and crew, the cast of Reservation Dogs is a triumph of Indigenous representation. The actors were found in the communities that the show represents, rather than in Hollywood. By all accounts, this has created a powerful and dynamic connection between the actors and their characters. In Season 3. viewers can expect to see the return of Young Warrior Bear and his thuggy-ass friends.
D'Pharaoh Woon-A-Tai, who portrays Bear Smallhill, began his acting career in 2018 with his portrayal of Chase in the family drama series Holly Hobbie. In the 2020 film Beans, he worked alongside his co-star Paulina Alexis, appearing as Hank, a member of a Mohawk tribe who faced off against government forces in Quebec in 1990. As Bear Smallhill, Woon-A-Tai brings a dark broodiness and emotional desperation to the character, who is dealing with the loss of his best friend and abandonment by his out-of-work rapper father.
Prior to her role as Elora Danan Postoak, Devery Jacobs was known for her portrayal of Sam Blackcrow in the Starz series American Gods, the television adaption of the synonymously titled Neil Gaiman novel. Along with her numerous acting roles, Jacobs has worked as a writer for a number of short films, as well as being a staff writer for Reservation Dogs. In her role of Elora, Jacobs' character is bold and strong, but reaches her breaking point. As tough as she tries to be, she finds that she is stronger with the support of her friends and the community that she previously wanted to run from.
Paulina Alexis had an enormous impact on the direction her character took. Willie Jack was originally written as a male character, and with Alexis in the role, showrunner Sterlin Harjo has stated that he doesn't often need to give her much direction, and instead, "[gives] the actor the space to take the series to new places". Alexis' character Willie Jack is a fan favorite. Willie Jack is known for being hilariously brazen, frustratingly wise, and wonderfully foul-mouthed.
Lane Factor brings a humble and sweet comedy style to his role of Cheese, a kind-hearted teen who cares deeply for his friends and never makes a big deal out of his own troubling circumstances. Reservation Dogs was Factor's first acting role. Since then, he has appeared in the 2022 film The Fablemans and is set to appear in the upcoming short film Ghosts, which tells the story of three Kiowa boys who escape a government boarding school in Anadarko, Oklahoma. It is not yet known if we will see the return of Dalton Cramer as Daniel, the gang's friend whose death they have been dealing with for the first two seasons. Daniel's story seems to have come to an end with his friends meeting his spirit in the Pacific Ocean at the end of Season 2.
Audiences will likely see the return of Elva Guerra (Dark Winds) as Jackie, the gang's rival/companion, as well as Sarah Podemski (Resident Alien) as Rita, Bear's mom, who is dealing with the struggles of single motherhood, as well as the dismal local dating pool. Also expected to return is the reservation's police force, with Zahn McClarnon (Into The West) as Officer Big, who still has yet to solve the mystery of the field of fish. Dallas Goldtooth portrays William Knifeman, who died in the fight against General Custer, or on his way to the battle, when his horse hit a gopher hole, rolled on top of the potential great warrior, and squashed him. Surely Bear would be lost without the return of the spirit character in the third season. Goldtooth is not only a source of comedic relief and inappropriate wisdom throughout the series, he is also credited as a writer on the show. Another spirit expected to return in Season 3 is the Deer Lady (Kaniehttio Horn), whose mysterious origin has yet to be explained, and whose return was confirmed by Harjo.
Related:Amber Midthunder on Her 'Reservation Dogs' Character and the Positive Reaction to 'Prey'
What Is the Plot of Reservation Dogs Season 3 About?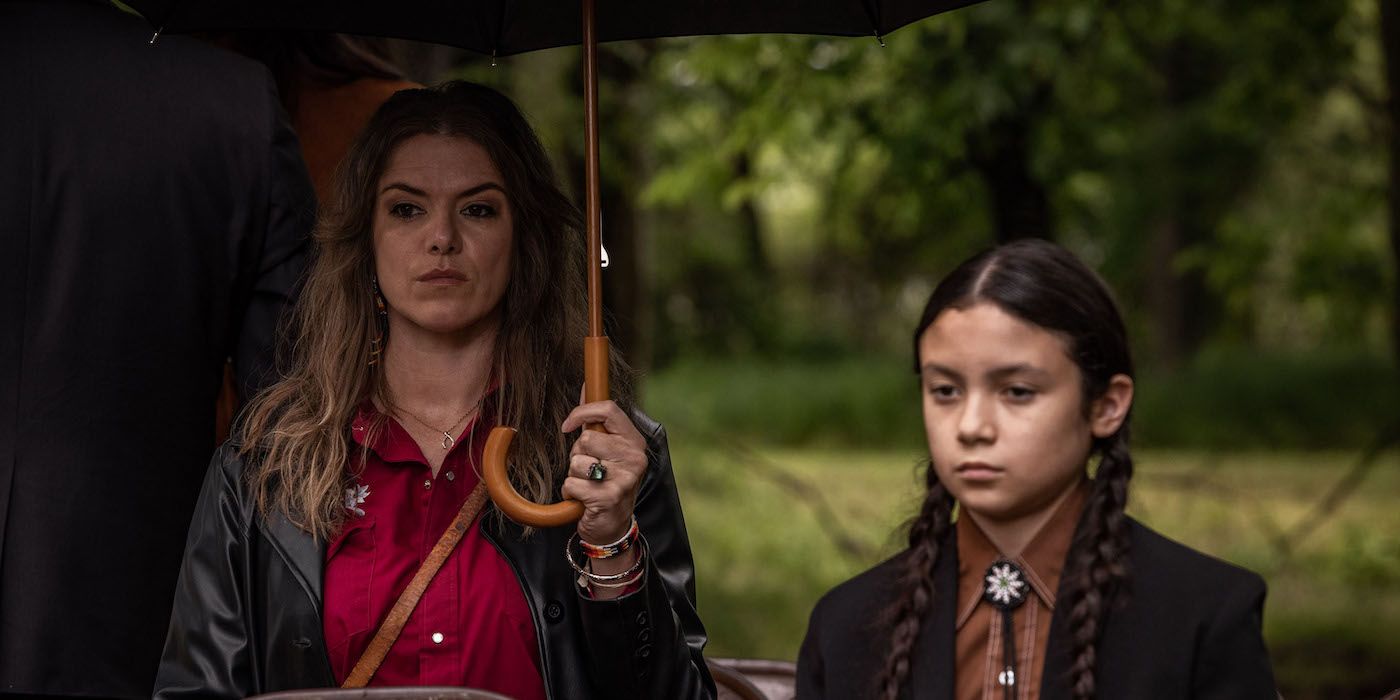 The first two seasons of Reservation Dogs were full of comedic twists and dark turns. The talented team of writers mixed the joy of close friends and community with the pain that comes with losing someone you love, the struggle of trying to get out of a rural small town, the betrayal of friends, and the pain of parental abandonment. If you thought that the first two seasons were dark, prepare for Season 3 to be darker. While Reservation Dogs tells a story with a lot of heart, it details a lot of hardship as well. In a recent interview, Sterlin Harjo stated that there is a darkness coming in Season 3. After everything that audiences have witnessed the gang endure in the past two years, it is hard to imagine what trials they will face next, though, we know that it will be masterfully balanced out with plenty of jokes and laughter.
At the end of Reservation Dogs Season 2, the gang finds peace with their loss of Daniel as they meet him as a spirit in the Ocean, having finally made it to California. With this heartfelt piece of the story coming to a close, fans wonder where the story will go next, and it seems that Harjo wants the audience of Season 3 to be unable to tell where the story is headed. With expectations of Season 3 to be even crazier than the seasons before, what we can assume is that Harjo is planning on bringing the series back to its home.
When and Where Is Reservation Dogs Filming?
At SCAD TV Fest, Harjo hinted that the four friends would make their way back to Oklahoma, stating "the show does not particularly like shooting in Los Angeles". Previous seasons of Reservation Dogs were filmed in Okmulgee, Oklahoma. Locations where the series has previously been filmed include Okmulgee, Tulsa, Sand Springs, Beggs, Inola, and Terlton, and Season 3 could very well return to any or all of them. As for when the new season will be filmed, the latest reports online suggest the cameras will start rolling in March 2023, but that's not been officially announced, so take it with a grain of salt.
Who Are the Creators of Reservation Dogs?
The team of all-Native writers and Indigenous filmmakers has done something incredibly important by creating a piece of media that depicts the lives of Indigenous people from their own perspective. Series co-creator Taika Waititi, believes that "people need to tell their own stories and especially from whatever area they are from". While he relates to the story as an Indigenous person, his heritage is that of the Maori people of New Zealand. In a way he feels that this is not his story to tell; instead, it is a story with its roots in the past of showrunner/director Sterlin Harjo, who is from Oklahoma. Harjo loosely based many of the story's plotlines on his own childhood experiences, and the series is set and shot in rural parts of his home state. Harjo, whose background is in independent filmmaking, centers his work around the lives and stories of Indigenous people, with his most recent project being the television series Osiyo, Voices of the Cherokee People, an Emmy-winning documentary series celebrating the tribe's culture and traditions.
Waititi is known as an actor, as well as a writer and filmmaker. Audiences may recognize him as Viago in the horror comedy series What We Do in the Shadows, Korg in the MCU, and Ratcatcher in the DCU. As a filmmaker, he is known for Jojo Rabbit (2019) and the latter Thor movies beginning with Thor: Ragnarok (2017). He's also one of the co-creators of What We Do in the Shadows. Showcased in Reservation Dogs, Waititi is talented in his ability to balance emotional drama with comedy.