Beneath Us All Featured, Reviews Film Threat
Director Harley Wallen and screenwriter Bret Miller re-team for the horror feature Beneath Us All. The picture follows 17-year-old Julie (Angelina Danielle Cama), who is very protective of her foster siblings, Sarah (Hanna Wallen), Erica (Emilia Wallen), and especially Stephen (Malachi Myles). Unfortunately, her foster parents, Todd (Sean Whalen) and Janelle (Maria Olsen) Gibbs, are neglectful and often talk down to Julie. One day, while walking in the woods, Julie finds a Yggdrasil pendant and in retrieving it, awakens the ancient Viking Frey (Yan Birch), who was locked away after murdering a child. She takes pity on the non-verbal man, stowing him away and offering to nurse him back to health.
Meanwhile, overworked social worker Rebecca (Kaiti Wallen) pays a visit to the Gibbs household to check in on things. While it would appear everything is in order, she can't help but feel something is amiss. As her visits increase, Todd and Janelle get more and more standoffish. It also dovetails with dead bodies being found all over town and the surrounding terrain. Is Frey, who somehow managed to survive for centuries, back to his killing ways? Is it Julie succumbing to her pent-up rage after all these years?
This is undoubtedly the most ambitious and creative movie Wallen has created so far. Beneath Us All is one-half family drama and one-half vampire story as a coming-of-age narrative. Miller's screenplay expertly balances both angles. Audiences feel great empathy for the intelligent Julie and her familial plight. The Gibbs come across as caring to a point, and their flaws feel authentically human. The frightening sequences are uneasy and tension-filled. When Detective Booker (Harley Wallen) is called onto the scene for the first body found, it's grisly. The ending mixes Julie's dramatic woes, finding herself, and the scares into a bloody ballet that will leave jaws on the floor. Without giving anything away, it is just about the only one this story could conclude.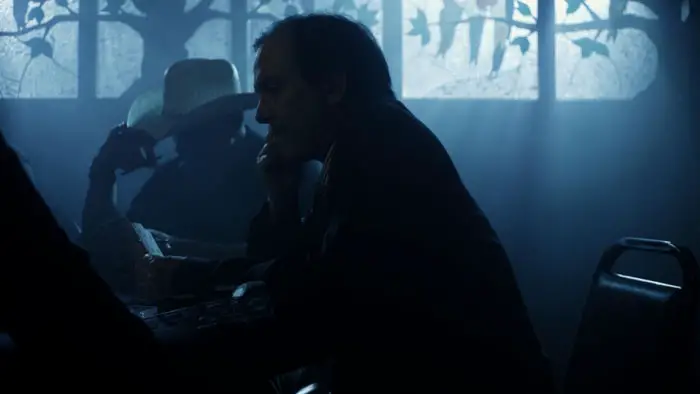 "…Julie finds a Yggdrasil pendant and in retrieving it, awakens the ancient Viking Frey..."
Cama gives her role everything she's got. After revealing that Rebecca wants to help her apply to colleges and whatnot, Janelle chides Julie because how could anyone want to help her? The actor reacts in an understated way, making all watching sympathize with the lead immediately. Olsen has a sizable role as the foster mother, and much like her supporting parts, she delivers a searing performance that will leave audiences hating her. Whalen is just as despicable and loathsome. Birch is all guttural grunts and physicality as the maybe vampire and proves most creepy and scary. Kaiti Wallen gives a career-best performance, feeling overworked yet needing to do the right thing authentically. When she is told to go on vacation, her desire to keep working yet need to relax is felt.
Wallen directs Beneath Us All with a steady hand, slowly ramping up the fear factor until it all boils over. While the filmmaker's other flicks are good, they have poor CGI, off-lighting, plot holes, or that DTV look and feel. But here, there's a polish that shows just how much the director is growing and improving with every title he makes. Plus, this is the best distillation of Wallen's favored themes of family discord paralleling an ever-growing horror culminating in either tragedy or redemption, possibly both. Julie and Stephen's relationship is so natural and caring that the ending works without needing copious explanations or gratuitous flashbacks to fill in the void. Even Janelle and Todd make sense as a loving couple if only they loved their foster kids that same way.
Beneath Us All is Wallen's best film to date. From its perfect cast to its deep script, the movie hits everything it aims for and then some. The cinematography is fantastic, aiding the atmosphere the director takes great pains to maintain throughout. This is dramatic and horrifying all at once, so go see it as soon as possible.
For more information, visit the Beneath Us All Facebook page.