Arnold Schwarzenegger Is the Star of Every Netflix Show in 'FUBAR' Promo
Netflix may have appointed Arnold Schwarzenegger as their Chief Action Officer, but now they're letting him take over the multiverse. The streamer released a new video for their new technology titled "FUBAR mode" which imagines a reality where the Governator is the star of every series on the entire platform. It's all in the name of promoting his hit new action comedy FUBAR while flaunting their slate of shows in an uncanny, funny, and sometimes horrifying way.
The video begins with Schwarzenegger declaring his intentions not just to be on Netflix but to be the streaming platform. With "FUBAR mode," the monkey's paw curls and reveals the Schwarzenegger multiverse starting with the action star popping into the recently-renewed Ginny & Georgia for a hilarious line made only slightly unsettling by seeing his face over Brianne Howey's. It then flashes through glimpses of the Governator in Queer Eye, The Queen's Gambit, and as both Joe Goldberg (Penn Badgley) and his obsession in You before having him take the place of both Ralph Macchio and William Zabka in Cobra Kai as they're about to fight. The video continues to cycle from hilarious to horrifying as his face pops up in everything from Emily in Paris to Umbrella Academy until it reaches peak nightmare fuel when his face becomes that of the Teletubbies Baby Sun. It wraps with a big reveal of him as Uncle Fester (Fred Armisen) in Wednesday and as Red Forman (Kurtwood Smith) before calling it a day.
Schwarzenegger admits that it's better to enjoy the real thing with FUBAR which truly puts him back in the saddle as an action star. His first foray into television and grand return to action-comedy has been well-received so far in spite of some lukewarm critical reception. In the most recent Netflix Top 10, he managed to overtake Queen Charlotte to become the king of the platform alongside his fellow action star Jennifer Lopez who ruled the movie side of things with The Mother.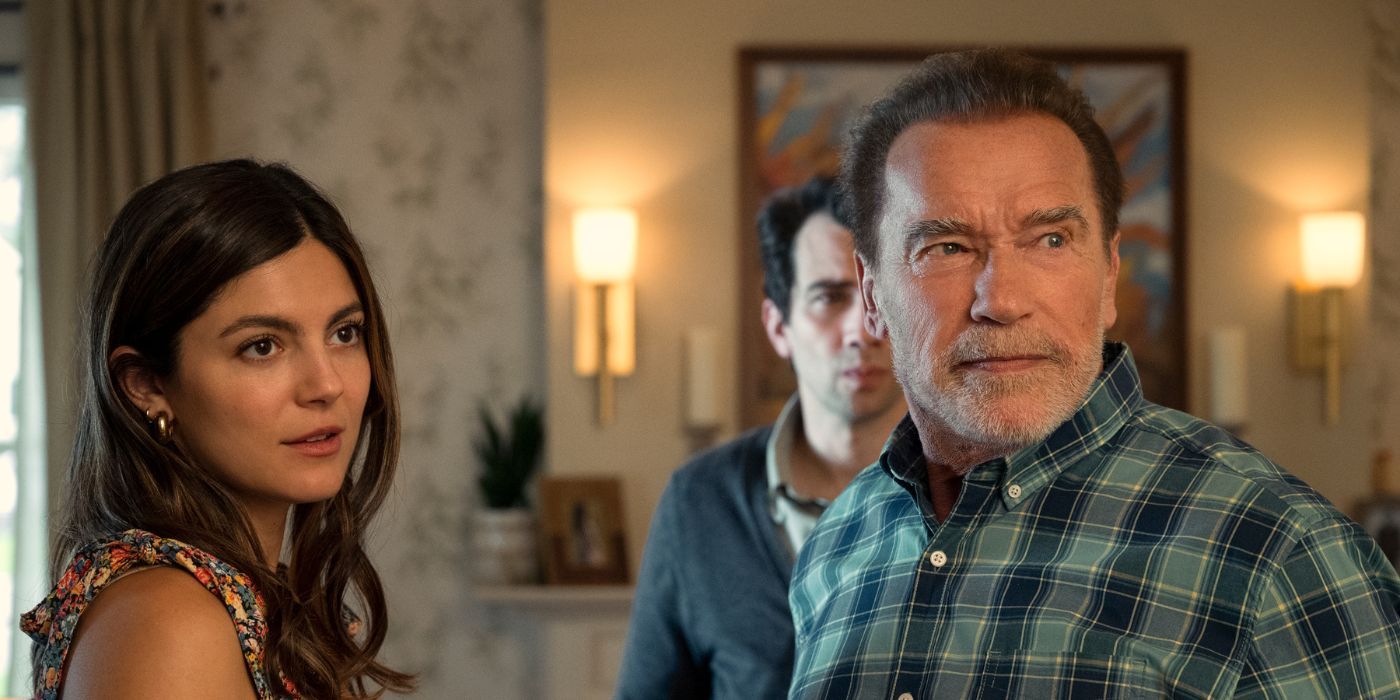 RELATED: Arnold Schwarzenegger on Whether He'll Return in 'The Expendables 4'
What's In Store With Schwarzenegger's New Show FUBAR?
Schwarzenegger shares the spotlight with Monica Barbaro in FUBAR which sees the pair play father and daughter Luke and Emma Brunner. Although they've lived under the same roof for years, neither is aware of the other's status as an action-hero CIA agent until they are called upon to work together on an operation to save the world. Confronting both family drama and bad guys in equal measure, they'll need to re-learn who they both truly are while attempting to stop the use of a WMD that has fallen into the wrong hands.
Schwarzenegger and Barbaro are joined by a fun cast in the action comedy including The Last of Us star Gabriel Luna, Fortune Feimster, Fabiana Udenio, Travis Van Winkle, Milan Carter, Jay Baruchel, Andy Buckley, Barbara Eve Harris, and Aparna Brielle. The series also features appearances by Schwarzenegger's True Lies co-star Tom Arnold along with Scott Thompson, Devon Bostick, and Adam Pally.
FUBAR is currently streaming on Netflix. Check out the new Schwarzenegger multiverse video below to see how you, too, can enable "FUBAR mode" if you dare.