'Aquaman & the Lost Kingdom' Character Posters Put Jason Momoa on a Mission
The Big Picture
Aquaman and the Lost Kingdom, the sequel to the DCEU's successful Aquaman film, is set to release next month and the marketing campaign is in full swing with new character posters.
The character posters highlight Aquaman, Orm, and Black Manta, each with a word showcasing their journey in the upcoming sequel.
The film follows Aquaman and Orm teaming up against Black Manta, who is seeking revenge for his father's death.
It may have been a rough year for the DC Universe on the big screen, but Aquaman and the Lost Kingdom looks to end 2023 on a high-seas note for the famous comic brand. The sequel to the DCEU's only $1 billion film crashes into theaters next month. Because of that, the marketing for the film has been ramping up with new trailers, posters, Funko Pops, and action figures. Now, the latest character posters for the Lost Kingdom highlight the returning heroes and villains.
The three characters here are Aquaman (Jason Momoa), Orm aka Ocean Master (Patrick Wilson), and Black Manta (Yahya Abdul-Mateen II) who all have a word characterizing their journey in the upcoming sequel written across a close-up shot of their faces. Aquaman, seen in his new high-tech stealth suit, has "Protect" as he's now the king of Atlantis and a new father. Orm has "Redeem" as, after trying to take over the world in the first film, he has to team up with his half-brother to stop Black Manta. Speaking of the villain in question, Aquaman's big bad has "Avenge" front and center on his poster as he's still seeking out the DC hero after he killed his father in the first film. These up close and personal posters do a great job conveying the emotional state of each Lost Kingdom main character. Particularly Manta, whose red backdrop highlights the literal scars of the character so sinisterly.
What Is 'Aquaman and the Lost Kingdom' About?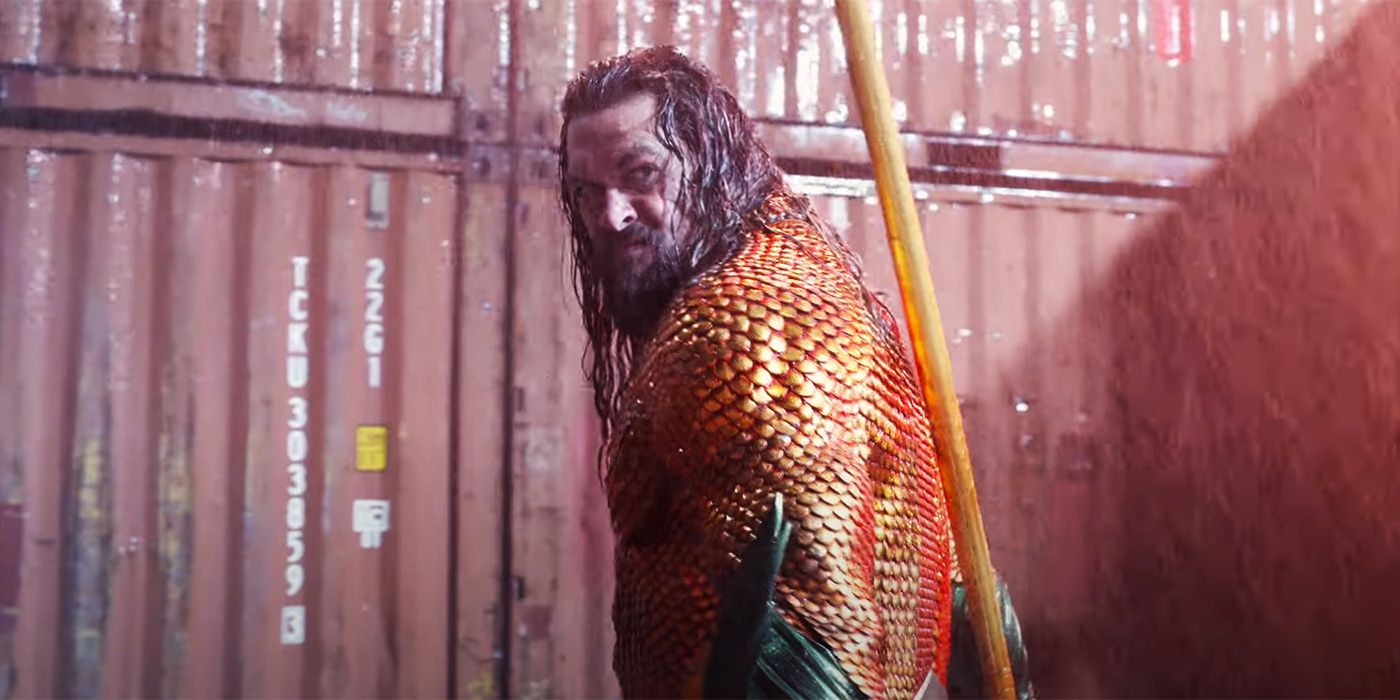 Lost Kingdom sees Aquaman and an imprisoned Orm forced to team up together after Black Manta gets his hands on the black trident. Manta is looking to kill everyone Aquaman loves, putting his son, Mera, Altanna, and his father in danger. If they're going to save Atlantis and the rest of the world, the duo have to stop Manta before it's too late. However, that's easier said than done. If the first Aquaman was a romantic comedy between the famous DC hero and Mera, Lost Kingdom is a brotherly buddy comedy between Aquaman and Orm. As the former villain's poster reads, redemption is going to be a major part of Orm's arc in the sequel, whether he likes it or not. It also means we're going to get a lot more scenes shared between Momoa and Wilson. The pair had electronic chemistry in their first underwater adventure, with Aquaman's goofier nature clashing with Orm's ultra-serious tough guy act perfectly. Rest assured, there's going to be a ton of butting heads in the sequel.
When Does 'Aquaman and the Lost Kingdom' Release?
Aquaman and the Lost Kingdom swims to theaters on December 22, 2023, and tickets are available now at the link below. It'll be interesting to see how the film fairs financially, given that it's set to officially end the current DCEU at a time when comic book films are no longer guaranteed box-office hits. However, the one thing we do know is that Lost Kingdom's stacked ensemble cast is going to bring the heat. While DC fans wait for director James Wan and Momoa's potential Aquaman swan song, you can view the new Lost Kingdom character posters below.
Arthur must enlist the help of his half-brother Orm in order to protect Atlantis against Black Manta, who has unleashed a devastating weapon in his obsessive quest to avenge his father's death.
Release Date

December 20, 2023

Director

James Wan

Cast

Jason Momoa, Yahya Abdul-Mateen II, Amber Heard, Patrick Wilson, Dolph Lundgren, Temuera Morrison

Genres

Superhero, Action, Adventure, Fantasy

Studio

Warner Bros. and DC

Writers

David Leslie Johnson, Paul Norris, Mort Weisinger

Franchise

DC